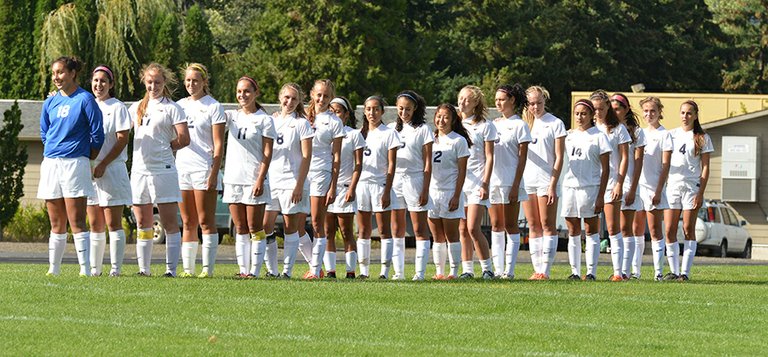 Saturday, September 6, 2014
With five seniors, eight juniors and six returning All Conference players on his roster, fifth-year head coach Kevin Haspela is looking at the next few months with great optimism. This year's Hood River Valley High School varsity girls soccer team, he says, has the highest potential he has seen in his tenure with the Eagles.
"This is one of the strongest teams and the most technically sound team I've seen yet," Haspela said this week. "We're going to play more of an attack formation this season; we're going to try to get more players forward on the field and get more goals in the net."
The Eagles will have a target on their backs as they return to the Intermountain Conference as four-time defending conference champions. Last season they went 4-0-2 in CRC action to claim the league title outright, but with a 7-5-2 record and 11th place state ranking they were forced into a post season play-in round to make the state tournament, which they lost 3-1 against Wilson, who went on to win three more playoff games to face Summit in the state finals (Summit won 4-2).
HRV players Collete Zach, Cielo Rivera and Sophie Grace return to the lineup as First-team All-Conference players and Kara Kiyokawa, Monique Diaz and Vanessa Silva return after earning Second-team honors last season. Grace, one of the team's most experienced senior players, returns with the additional accolade of last year's CRC's co-player of the year and First Team All-State player.
"I'm really excited with the group we have this season," said Haspela, named last year's CRC Coach of the Year. "We've got several returning all-stars who should make a big impact on the field."
Up front, Haspela says he'll look to Zach, a senior captain, for her power and leadership on the attack. Returning to the equation this season is junior Kassidy Davidson, who is back on the pitch this fall after taking a break from soccer last season. Along with a solid touch, Davidson – an All-State sprinter — brings an immense amount of speed to the wing position, which Haspela says will be invaluable in moving the ball up field and into scoring territory.
Games this week
HRV girls soccer opened its season this week with home games Tuesday against Rex Putnam and Thursday against Newberg. Tuesday's game started flat defensively for the HRV girls, as they gave up two first-half goals a another in the second for a 3-1 loss. Mona Diaz scored in the first half off an assist by Kassidy Davidson. Thursday's game ened in a 1-1 draw, with Lily Zega scoring off an outside shot in the second half to tie the game after Newberg took the first half lead.
Anchoring the midfield will be senior captain Lily Zega and sophomore standout Cielo Rivera. Zega returns with the distinction of being a four-year varsity player for the Eagles, and Rivera, a sophomore, returns after a standout season on the varsity lineup as a freshman. Like Rivera, sophomore Mona Diaz returns to the midfield after a solid freshman year on the varsity lineup. The three, along with powerful senior Lucy McLean, will be a force to be reckoned with at the midfield, and will be backed by an equally effective defensive line.
Senior Hannah Bergemann assumes the role of defensive captain this season and will be accompanied by returning All-leaguers Grace and Kiyokawa. As the last line of defense, sophomore goalie Vanessa Silva brings height and power to the position, and will look to improve on last season's stingy defensive numbers that included seven shutouts.
"We were one of the best defensive teams last season in terms of goals allowed," Haspela said (last season the Eagles allowed just 14 goals in 14 games – a tie for the fifth-lowest in the state). "We know we're solid in the backfield, so this year we're going to focus on playing more of an attack formation."
Haspela said the team is setting its sights beyond the CRC title this season.
"We've never gone 6-0 (in the CRC)," he said. "It's never a cakewalk through our league, but that's one of our goals this season. In my time we've never been beyond the top 16 (in the state), and we expect to go beyond that."
To do that, he said, the team will need to perform well from the get-to and win early-season games to keep its state ranking as high as possible.