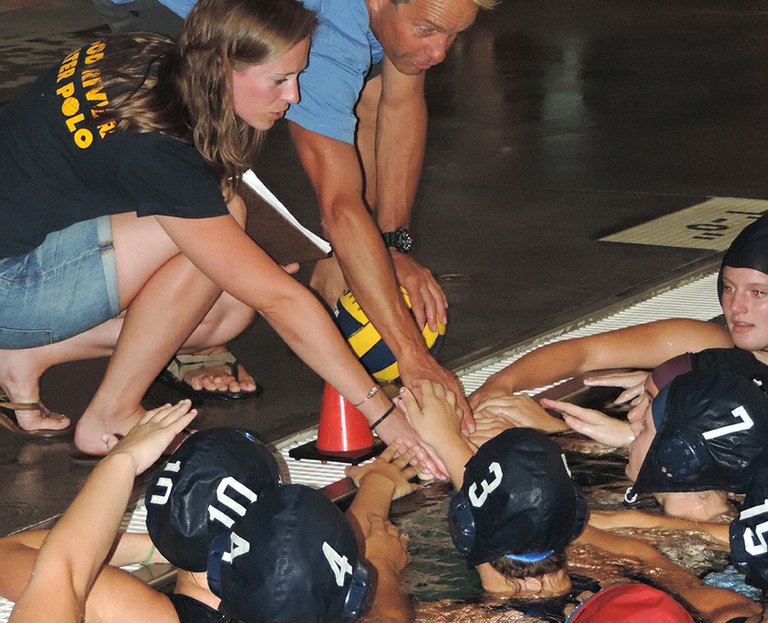 Saturday, September 20, 2014
After a successful first season competing at the varsity level last year, the Hood River Valley High School water polo team is bigger and better as it returns to the pool for the fall season. In its third year since being formed, the team has grown considerably over the off-season and, in addition to having full varsity and JV squads for the first time, now has enough members to field a separate female team.

"We went into last season cautiously optimistic about how things would end up," coach Dave Cameron said Thursday after the boys team's 22-9 home opener win against Hillsboro two days prior. "This season we're starting with a similar attitude, but instead of just focusing on the Mt. Hood Conference, we're looking at the state level and how we can be competitive against the top 5 teams in Oregon, not just in our conference."
Along with the varsity boys, the JV boys lineup won Tuesdays game 9-1, while the girls team – still learning the basics of the sport – lost 17-7. The boys then went on to play an away game at Centennial Thursday, where varsity won 17-2 and JV won 7-1. The girls team didn't play due to Centennial not fielding a team this year.
"We have 15 girls this season, which is pretty cool," Cameron said. "The first two years we had just two girls (Joselyn Pedrotti and Emily Burns) and they played with the boys. Once we got five or six girls on board, things snowballed and really started happening for the girls."
The girls team will be coached by Kellie Dunn, who co-coached with Cameron the last two years and was a member of a two-time state champion Westview High School team before moving on to play for Div. 1 Santa Clara University. Cameron says that although almost all of the female players are new to the water polo, they're all athletic and bring backgrounds in other sports that will prove useful once they learn the basics.
"It was fantastic; it was really exciting," Anneka Martinez said after Tuesday's game. Martinez, like most of her teammates, took up water polo just a few weeks ago. "It's exciting. It's like we kind of made history. I'm learning a lot about strategies and having a really good experience with teamwork."
"It's a super fun sport," teammate Marelie Voister added. "I've always liked ball sports but not really the running. But in water polo you can't even stand – players swim or tread water at all times. That took a little getting used to. By now I'm a little better at it."
Voister she said the main skill to work on as a newcomer to water polo is "being a fast swimmer, and having dedication — just pushing through the exhaustion."
On the boys side, Cameron again uses the term "cautiously optimistic" in his outlook on the season.
"Last year we were one win away from making the state tournament," he said. "This year I'm much more confident about our abilities, and the exciting thing is, we only have one senior."
The team's lone senior is Stan Ochesky, whose size and athleticism has been a formidable presence in the pool over the last three years and whose positive attitude and leadership, Cameron says, has made an important impact on team camaraderie.
"He's our captain this year and we're lucky to have him," Cameron said of Ochesky.
The team, officially a club sport at HRVHS, is part of Oregon High School Water Polo's Mt. Hood Conference along with Centennial, David Douglas, Gresham, Reynolds, Barlow, Parkrose and Sandy. In all, Oregon has 57 high schools from eight leagues participating in the sport. HRV plays games two or three times per week through the regular season with the hopes of making the state tournament in early November. The team hosts home games nearly every Tuesday between now and then starting at 5 p.m. at the Hood River pool.