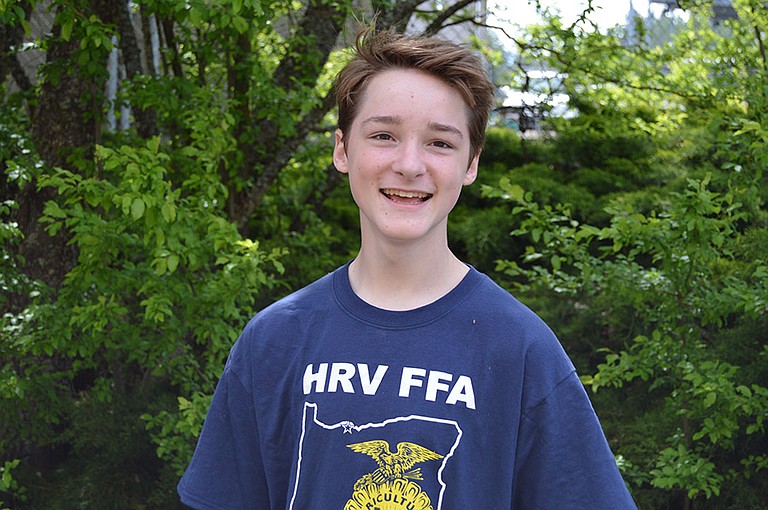 Tyson Miller, 16, Hood River Valley High School sophomore, has been busy the past few weeks, helping get ready for the school's 8th Annual FFA Steak Feed and Silent Auction fundraiser, held today (April 25) in the HRVHS cafeteria and Commons beginning at 6 p.m.
A second-year member of FFA (or Future Farmers of America), Miller said that although the Steak Feed is a one-night affair, it takes students all year to plan: they are in charge of organizing the event and gathering all of the donations (and, in some cases, crafting or bringing in items themselves), as well as setting up beforehand and cleaning up when it's over. During the event itself, you'll find members welcoming guests, serving food and drinks, and helping carry large auction items to cars when the evening is over.
8th Annual FFA Steak Feed and Silent Auction
will be held April 25 beginning at 6 p.m. at the HRVHS cafeteria and Commons, 1220 Indian Creek Road, Hood River. Tickets are $10 and are available at the door.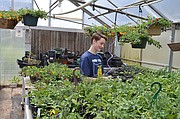 It's a fun — and maybe slightly daunting — project that enjoys widespread community support.
"It's fun to come even if you're not buying anything," Miller said.
Nita Bozarth, one of three FFA advisors at HRVHS, said the funds raised Saturday go directly back into the program, sending kids to career development events, putting on the annual Touch and See Day for elementary students, hosting shop skills and floriculture contests, and even food and activities for monthly meetings.
FFA is "inter-curricular with high school agriculture classes," Bozarth said. "Students must be in an ag class to participate in FFA. Students learn skills in class and practice them in FFA career development events." Students can join FFA starting in eighth grade.
It's a separate program from 4H, although students can participate in both. Miller was a 4H member for six years, until this year, when he decided to pursue just FFA.
"They're similar in just a few ways, (like) the fact that anyone can join, and the activities at fair," Miller said.
While Miller raises goats and ducks for fair (more on his goat breeding program in a moment), he also takes photography classes. FFA isn't just about traditional agriculture, he said — the program covers wood and metal shop, photography, and speaking, too.
Back to goat breeding: It's a year-long endeavor, whereas ducks have a shorter time commitment because "they mature much faster," Miller said. He has two female goats, which he sends to another farm for breeding. Five months later, after they've given birth, "I get to raise the babies and the moms together," he said, at home. "During fair, there are special classes where I show against other people who are also taking their breeding goats. This year, I had five babies born, and they are all doing great.
"Goats have fun personalities," he added.
Next school year, he'll take on even more responsibility — he was recently elected as FFA secretary for the 2015-2016 school year.
"I thought it would be a fun experience, being one of the leaders," he said.
To be eligible for election, he had to complete a process that included filling out an application, being interviewed by advisors and, finally, being voted in by his peers. He joins new president Jackie SantaCruz, vice president Mayra Cordova, treasurer Courtney Castaneda, reporter Gaby SantaCruz and sentinel Gloria Garcia.
"Tyson has a wide open future in front of him," Bozarth said. "He is willing to get involved and is a motivated FFA member … (He) has already shown leadership potential in our chapter. We are very excited for what next year brings."
While he hasn't decided if he wants to pursue a career in agriculture, he's enjoying being involved in FFA.
"I like it all," Miller said. "Probably my favorite is meeting new people — you meet people from all over the state.
"Even classes — the agricultural classes — the whole thing is fun in general."