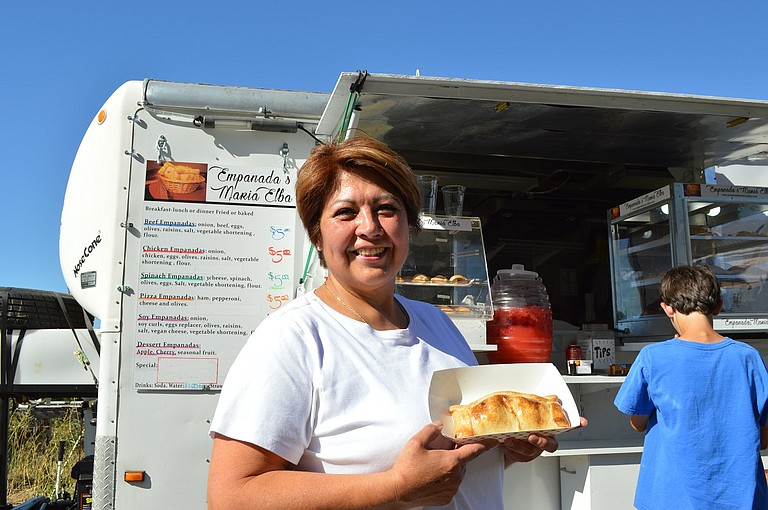 Norma Vega — or Normy, as she's also known — is the woman behind Empanadas Maria Elbas, the Chilean empanadas food cart open every Thursday at Gorge Grown Hood River Farmers' Market, located at Hood River Middle School through November.
For more information on Empanadas Maria Elba's, visit Vega's website, www.empanadasmari..., or her Facebook page, Facebook.com/Empanadas MariaElba. She delivers in the Hood River area.
Vega has been selling at the farmers' market for the past three seasons, and enjoys sharing "South American Chilean flavors" with the community.
"Making empanadas in the USA is very special to me because I bring a little of Chile to my new home, Hood River," Vega said. "This place has been very wonderful to me and my family, so in return I want to share the food I love with the people in this town."
The Vegas — Normy and Pablo, son German and daughter Victoria — came to Hood River from Santiago, Chile, in 2000. German came first, to go to Hood River Middle School (and live with her sister Patricia Cooper, then teacher there), and the family soon followed. Now, it includes son-in-law Jeff Baron and granddaughter Brinklee Sophia.
"My younger sister and my parents (German and Norma Ortega) were living here in Hood River at the time," she said. "When my family made the decision to move to the USA, we naturally chose Hood River as our new home."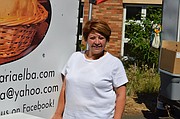 The food cart is named in honor of Vega's maternal grandmother, a hardworking bakery owner whose recipes are the ones Vega now uses.
"I grew up with the aroma and the flavor of these empanadas," she said. "Every time we visited (my grandmother), she would take the time to share all the secrets of her business and her recipes. She was so empowering and inspiring to all of us. I think that is the reason I am following her footsteps, and my business is in her honor.
"She raised all her kids on her own and was very successful," Vega said. "I know she would never have imagined that I will continue with her legacy here in the USA."
South American empanadas differ from the Mexican version, largely because the latter are mostly sweet. In Chile, empanadas can be served at all meals, and are made with several different ingredients, she said.
"If you go to Chile, you will find about 30 different types of empanadas, and they are sold everywhere," Vega said.
She makes several different varieties, including fruit, beef, chicken, organic spinach, pizza and vegan. The secret is special spices she imports from Chile, and the high-quality ingredients she uses.
"I have been very happy to see people are willing to try something different, and I have got great feedback," she said.
Besides the Hood River Farmers' Market, she also sells empanadas at the Gresham Saturday Market, Hood River Harvest Festival, The Dalles Rodeo and County Fair, the Bingen Huckleberry Festival, the White Salmon Spring Festival, and Marylhurst University's Art Burst I. Pablo is in charge of driving the truck to its different locales and helping set up.
This was her first year selling at the Hood River County Fair — she had lots of family help to make that happen — and, while she was scared to try a venue with such a large crowd, "it was a wonderful experience," she said. "…It was my big test."
Now that her name is getting recognized in the community, business is growing. She has customers who come every Thursday to the farmers' market with their order, and she takes online orders, too — although she requires two days advanced notice, because she uses fresh ingredients.
She decided to start the business because, quite simply, she's always wanted to run her own. Noticing there weren't many South American restaurants in the Hood River area — and because if she wanted an empanada, she had to drive to Portland — she decided it would be a good fit.
It's also something she's able to do with her husband.
"We are a team," she said. "He's a hard worker too."
This is not Vega's first career. In Chile, she was a licensed accountant, helping run several businesses. She's using those skills now with Empanadas Maria Elbas.
"I feel very blessed now that I will get to use my accounting skills, running my own business," she said.
But her dream is to find a permanent location.
"I am working hard to open a restaurant here in Hood River, so people can have the opportunity to try and enjoy the Chilean and South American flavors," she said.