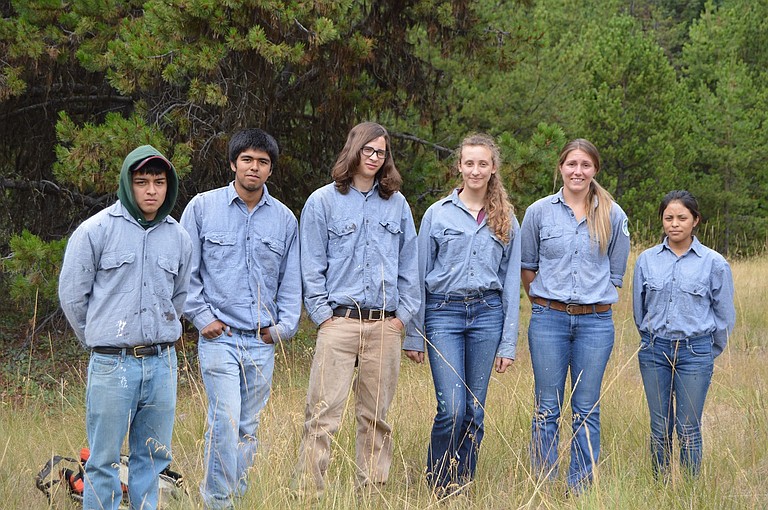 Saturday, August 15, 2015
Some might go into the woods to live deliberately, but in the case of five Hood River County teens, their time in the forest this summer has been hard work.
Well, hard work and a lot of fun.
Mt. Hood National Forest Youth Conservation Crew members Alina Watt, 16, and Eduardo Casillas, 15, of Hood River, Gabby Pille, 16, and James Baeza, 17, of Parkdale, and Grant Adams, 16, of Odell, along with crew leader Susan Owen and Forest Service YCC manager and community engagement specialist David Gross, have spent the past eight weeks working on a variety of forest and conservation projects. Their last day was Aug. 14.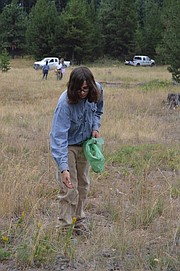 "It's a program that can change people's lives," Gross said. "It's an instructional experience that gives them the chance to do something they wouldn't have done otherwise."
The program, which began in 1974 — Gross was there at its inception — used to be federally funded, but is now paid for by the Forest Service and community partners. In the Gorge, they include the Hood River Juvenile Department and the Wasco County Soil and Water Conservation District.
It also relies on private trusts seeking to provide positive experiences for teens in all populations and ability levels. Finding funding each year can be a challenge.
Gross is thankful for the financial supporters who keep the program going, as he sees the positive influence it has on the teens. They get a lot of work done in their 8-hour shifts, but also learn responsibility (they're required to get themselves to the Mt. Hood Ranger Station in Parkdale Monday through Friday), how to work as a team, and about themselves in the process.
"It wasn't intended that way," Gross said. "When you're given good supervisors and direction, it just happens."
The crew leader is crucial to the program's success, and he's been fortunate to have found good ones over the years, he said, like Owen. This was her first year in that role, although she's worked with teens the past three and served as a YCC crew member, working out of Heppner.
"It's rewarding because the projects benefit everyone, so everyone can enjoy these beautiful places," Owen said. "Everyone appreciates the work they do."
YCC pays minimum wage and often gives teens aged 15 to 18 their first taste of employment, she said. "They're learning responsibility as they work on projects. They worked hard all summer doing good, quality work."
This summer, the crew brushed out trails, painted Forest Service and fire warning signs, picked up garbage, cleaned out drains, removed barbed wire and built rock cairns in places like Lost Lake, the Pacific Crest Trail, and Tamawanas Falls.
On Monday, the team was out collecting needle grass seeds — very good for deer because it stays green the longest — with district botanist Susan Nugent. The seeds will be used to regenerate grass in devastated areas, should the need arise.
And having the teens on the job was a big help.
"It would just be me out here — the botany program doesn't have much money at all," she said. "What we will accomplish in one day would take me three."
One of the most memorable aspects of the summer — aside from visiting places some of them had never seen before — was a mini-career fair highlighting Forest Service careers.
"It's an opportunity to connect with people in different fields, connect to the Forest Service," said Watt. "You see the career options and (learn) how they ended up working for the Forest Service."
Another highlight was working together.
"You connect to people you wouldn't be close to in other circumstances," Watt said. "You find common things with different people."
"It improves teamwork," agreed Baeza.
"I'm just happy with the job," he added. "You just can't put a price on the connections you make and the relationships with people. It's pretty great what David has created."