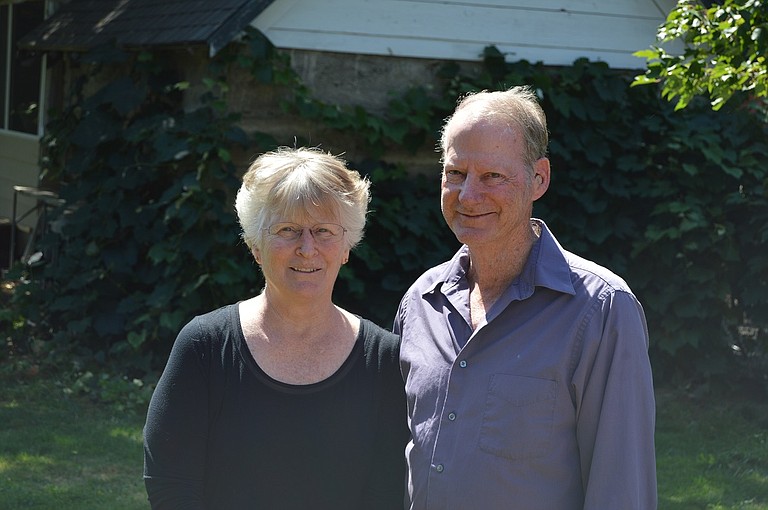 Saturday, August 29, 2015
Betsy Berens has always had dogs. She has not always been a doggy foster parent.
But that changed two years ago, when she and husband Chris saw on Facebook that Hood River Adopt A Dog had a sudden intake of 10 dogs.
"I said to my husband, 'they're going to need foster homes with 10 dogs coming in," she said. "We came in and said, 'we're here to foster dogs,' and they were like, 'you're here at the right time.' That very day we went home with two dogs from that intake."
They already had four dogs at home. Now they have five — and have fostered 55.
"We haven't been without one or two since then," Betsy said. "When our dogs get adopted, we usually come home that day with another foster dog.
"For us, it's been a really easy thing to do. We've enjoyed all the different dogs that have come through."
The Berens are fairly open to whatever dog needs them — and their pack is, too. Their current foster, Bob, is a high-energy Jack Russell Terrier who fits in just fine with Breezy and Sparky (two "foster fails," as Betsy calls them), Melee, Mosh Pit and Rico.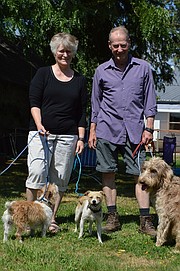 Of all the dogs they've fostered, Bob's in the top ten, said Chris. "He's an easy dog. He's a keeper."
It can be hard to give up a dog — "Some you think, 'we're going to miss that one.' We miss many of them," said Betsy — but what keeps them going is seeing how much progress a dog makes in its time with them, as well as the faces of the adoptive families.
A couple have been hard to give up, and that's why Betsy refers to them as foster fails. When Sparky came to them, he had "a rap sheet an arm's length long," she said. "We felt we just needed to keep this dog. He was six and a half years and had already been in five homes. He'd been returned to the shelter a couple of times — he had such a bad rap of being a chipmunk killer and cat chaser, and he's not the cutest dog.
"When he came, I was like, 'oh my gosh.' I fell in love with him and adopted him right away. He's a Terrier so he has Terrier energy, and he's done really well."
The key is understanding where the animal is at and meeting it there.
"You have to be very tolerant of dogs that come in," she said, noting many are stressed. "So you have to be the kind of person that isn't going to rush the dog — just meet the dog where it's at and work with them there."
Another important factor to consider: Many need medical care during their stay.
"We've had to go through the spay and neutering process — most of the dogs we've had are male dogs that have not been neutered, so you might have them a couple of days, then they're back with pain meds and a cone if they need it, so you go through that process," said Betsy. "You have to be willing to give meds and take care of these little guys when they come back."
Being a good dog walker wouldn't be amiss, either. That's Chris' territory.
"My husband walks them every day, three to five miles," said Betsy. "I know a lot of people in our neck of the woods think of him as that guy who walks up to nine dogs at once."
The Berens have had dogs anywhere from two days to six months, and Betsy said that fostering is a great opportunity for someone who can't have a pet fulltime.
"You have the opportunity to have pets come in and out," she said. "You can still have a relationship with a lot of great dogs and not actually own a dog."
The animal shelter pays for all necessary medical care, flea and tick treatments, and certain shampoos, as well as crates, bedding and leashes if needed. Food is available at the shelter, but there's not a stipend.
That's because Adopt A Dog is run, with the exception of two paid positions, by volunteers. And volunteers are always needed.
"One thing people might not be aware of is that Hood River Adopt A Dog's adoption counselors, and people who care for dogs in foster and in the kennel are all volunteers," said Betsy. "If you're not able to foster dogs, we have a need for dog walkers, adoption counselors, bathing dogs, evaluating dogs, marketing, writing up little things about the dogs — we have a great volunteer program, and the basis of the caretaking of the dogs is the volunteers."
For more information on the foster and adoption programs, visit Adopt A Dog's website at hoodriveradoptadog.org.