Saturday, August 29, 2015
The Hood River Valley High School cross country team has been out there all summer, pounding the pavement, putting the work into their workouts. HRV XC head coach Brandon Bertram is confident that once the race schedule starts in earnest next month, all that hard work will pay great dividends.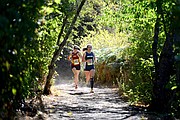 "We are very optimistic about this year's team on both the boys and girls side. It is a confident and experienced group which understands the relationship between working hard, team success, and enjoying the process," said Bertram, who is in his second year as head coach. "The varsity team dedicated themselves this summer to prepare for the fall through daily summer runs, running camps, and team events. We have an experienced team returning five boys and five girls from last year's varsity teams looking to build from last year's success."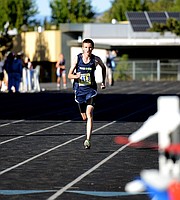 After not being able to field both a girls team and boys team at state in at least 14 years (online cross country records for Oregon high schools only date back to 2000), HRV was able to bring both teams to last year's 5A state championship in Eugene, where they both placed eighth. Bertram was pleased with the result, but feels like his team is strong enough to accomplish even more this fall.
"The goal is to improve from last year's finish," he said. "It will be a learning process every time we toe the line leading into those championship races, but we always aim to put together our best race at district and state."
Bertram said that team members were busy throughout the off-season encouraging new runners to join the team and that the girls team "grew substantially and is now at 19 runners" while the boys team is similarly-sized at 18 runners.
The program will lean on its senior leadership as well as "several younger impacting runners" to improve over last year's season. Bertram said that captains Justin Crosswhite and Quinn Fetkenhour will "lead a motivated group of boys along with Jesse Wiley, Connor Truax, and Jacob Bromham. These guys spent a lot of miles together this summer."
The girls team, which lost only one varsity runner to graduation from last season's roster, will be helmed by captains Lauren Robinson and Denali Emmons. Bertram said he expects "a great season" from the girls team especially this fall.
"This is a very cohesive group that knows what it takes to be a successful team," he noted.
Both teams are looking to improve on their 2014 performances at the Columbia River Conference championship, where the girls were runners-up to The Dalles and the boys placed second behind Hermiston. Bertram expected both teams to be competitive once again this season.
"Hermiston boys and The Dalles girls are the defending CRC champions and both third in the state last year," he said. "Both are returning strong teams again. The HRV runners know what color of jerseys they need to be around when conference and state take place."
The Eagles' season began on Thursday with a night meet in Wilsonville and on Friday with the Portland to Coast race. As in past years, HRV will only have one home meet: the Skip Sparks Invitational on Wednesday, Sept. 16, which is held at the high school. The meet will feature elementary, middle school, and high school races that Bertram says "will be a cool contrast of Hood River youth running ages 6-18."
The HRV XC team will also be hosting a 4-mile community run on Sept. 27 at Kickstand Coffee (corner of 12th and State streets) at 9 a.m. to raise funds for uniform and participating scholarships. Bertram says there's "no pre-sign up: just show, donate, and run." Those with questions should email Bertram at brandon.bertram@hoodriver.k12.or.us.