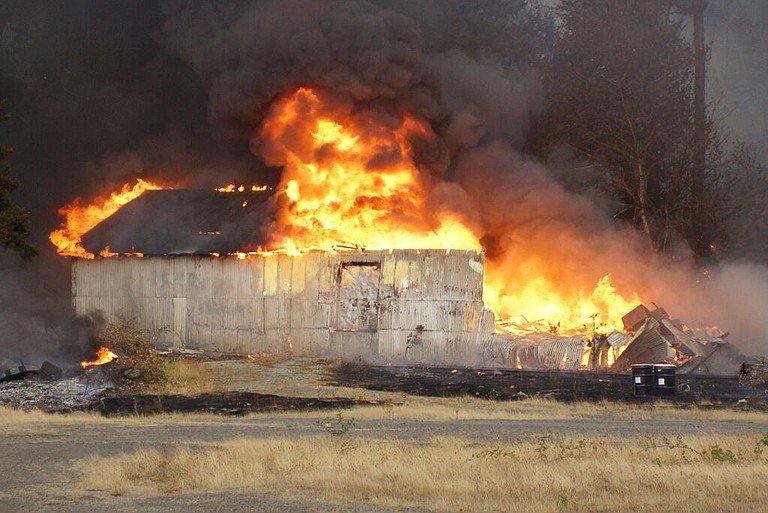 Saturday, August 29, 2015
The most destructive wildfire of 2015 in Hood River County took out two buildings but no homes, forced evacuations, and charred trees and brush on a hillside near downtown Cascade Locks Thursday night.
A total of 20 to 30 homes were put on evacuation notice, but only 10 were required to leave their homes, in the Lakeside neighborhood, according to Lt. Jessica Bennett of Cascade Locks Fire Department.
The fire started around 6:35 p.m. Thursday on flat ground and climbed a wooded hillside on the north side of WaNaPa Avenue across from City Hall. It burned a small shed at the top of the hill, next to a home on WaNaPa, and a Port of Cascade Locks storage shed at the base of the hill.
NOTE: All residential and industrial burning is banned; no chainsaws or motorcycle use allowed on public lands, and homeowners may not use unscreened fire pits.
Port and City leaders were meeting at City Hall when the fire broke out, said Paul Koch, Interim General Manager for the Port of Cascade Locks.
Bennett said the cause is unknown, and she plans to investigate the fire by light of day Friday, with help from investigators from valley fire departments.
"We heard the pop and shortly after that, the fire and smoke," said Koch. "Gordon and I took crowd and traffic control until the sheriff's (department) got there." Gordon Zimmerman is Cascade Locks City Manager.
The fire "wiped out" the Port's equipment shed, destroying a year's worth of fertilizer, Christmas decorations, leaf blowers and light equipment.
Luckily, the building was insured, and was "dilapidated," said Koch.
"The metal building stayed intact for an incredible amount and caved in," said Jim Klaas, who was sailing on the Columbia and photographed the fire (photo, A1). "If there had been even a two-mile-per-hour wind, the entire row of houses along the river probably would have been lost," Klaas said.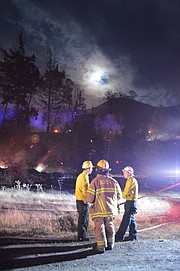 Other than the Port's maintenance building and a resident's storage shed, no other structures were damaged, though the flames did come close to several backyards, according to Hood River County Sheriff Matt English. The source was near the Union Pacific rail line but not on rail property, according to Bennett. The residential shed was located about 30 yards from WaNaPa, just behind a home.
The entire city was out of power for more than three hours. City Hall and connecting WaNaPa neighborhoods south of WaNaPa were restored by 9:30 p.m.
"I was driving home from Portland when I saw the plume at Multnomah Falls, 13 miles away," Bennett said.
Crews from Hood River, Westside, Wy'east, Skamania, Oregon Department of Forestry, and Oregon State Police and ODOT responded to the scene. Witnesses reported as many as 20 fire engines on scene, and sent multiple pictures and videos to the Hood River News, which showed flames dozens of feet high writhing in the brush and trees along WaNaPa.
n
Fire danger remains high throughout the Pacific Northwest, and matters could worsen this weekend given the pending change in weather. While these involve predicted rainfall, it will take more than a few days of rain to have any measureable dampening of the extremely dry nature of the fuels that are burning in dozens of forest- and wildfires throughout the region, according to Hood River Fire Chief Devon Wells.
"It might limit (fire) activity in grasses, but it will take many days of rain at this point to have an effect on forests," he said. The fuels that are flaring up are both the trees themselves and the ground-level foliage as well as smaller debris and the thick mats of fine materials, known as "duff" that covers most forest floors. Duff, known to be tinder dry, is a compact layer that resists penetration by moisture and can also hold in heat, leading to flare-ups.
Wells also said that the winds that come with the change in weather patterns are also a concern for their impact in intensifying existing fires and leading to their expansion.
Also remember that local smoke levels can rise and fall rapidly, depending on weather factors including wind direction.
People can conduct a visual assessment of smoke levels to quickly get a sense of air quality levels and take precautions. If people have additional concerns, they should contact the nearest regional or local public health agency for the latest in health conditions from smoke.
Visit the Oregon Smoke Blog (oregonsmoke.blogspot.com) for more information regarding active fires and air quality, along with tools to help people assess smoke levels in their area.