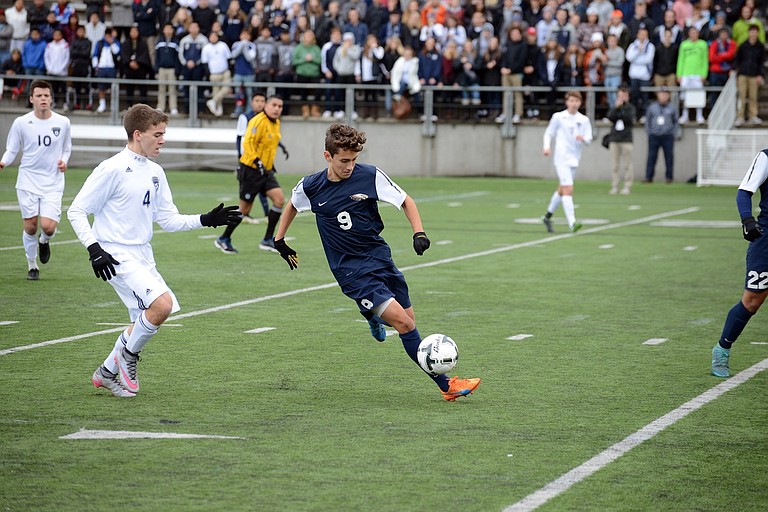 Wednesday, December 2, 2015
On the heels of receiving numerous All-Conference awards, Hood River Valley High School athletes have had a healthy showing the past couple weeks in the All-State awards category, as coaches from Class 5A teams from around the state recognized the achievements of Eagles athletes. Multiple sports received recognition including boys and girls cross country, boys and girls water polo, and boys and girls soccer. As of press time, votes for football were still not in; we will provide in update in a later addition if any HRV football players receive awards.
The most notable of HRV's many All-State awards went to the boys soccer team, which won its second-consecutive 5A state title last month.
Head Coach Jaime Rivera was named 5A Coach of the Year for the second year in a row. Rivera, who took over the program six years ago, helped lead the boys to their second-consecutive title and undefeated season.
Also notable was junior forward and captain Noe Magana, who was named the 5A Player of the Year. Magana scored 10 goals and tallied 14 assists throughout the season and scored the game-winning goal in HRV's 2-0 defeat of Wilsonville in the 5A title match. Magana follows in the footsteps of his brother, Gio, who was named 5A Player of the Year for boys soccer in 2014 and 2013.
Below are the remainder of the boys soccer awards, as well as other HRV sports that received All-State honors so far this season.
Boys soccer:
First team: Noe Magana (11), Andres Baeza (12), and Marco Cuevas (12). Second team: Gil Evangelista (12) and Mario Sandoval (12).
Girls soccer:
First team: Jenissa Ramirez (12). Second team: Sindy Magana (12).
Boys cross country:
Third team: Justin Crosswhite (12) and Quinn Fetkenhour (12). Honorable mention: Jesse Wiley (11) and Connor Truax (10).
Girls cross country:
Third team: Daisy Dolan (11).
Girls water polo:
First team: Lauren Orr (10). Second team: Jocelyn Pedrotti (12), Rose Finstad (10), Jamie Robinson (9), Kat McElderry (10). Honorable mention: Emily Burns (12).
Boys water polo:
Boys first team: Myles Cameron (12). Second team: Russel Grim (12). Honorable mention: Arthur Finstad (12), JJ Mears (10), and Adam Cameron (11).