Saturday, December 5, 2015
Giving Tree starts at John L. Scott
John L. Scott Columbia Gorge is sponsoring its 21st annual Christmas Giving Tree. Gifts tags can be taken from trees located at any of the following offices:
Hood River — 512 Cascade Ave.
Bingen — 1000 West Steben
The Dalles — 3206 West Sixth
Stevenson — 138 NW Second
Return a new, wrapped gift with its tag by Dec. 14 to the same John L. Scott office; gifts will be distributed to local children in need.
For more information, call 800-414-5031.
The annual giving tree of Cascade Locks is back up at City Hall at 140 SE WaNaPa Street.
The tree provides an opportunity for generous folks in the community to anonymously provide Christmas gifts for local children in need this holiday season. To participate, visit the tree in the City Hall lobby, pull off a gift tag (or several) with details of an anonymous child's age, gender, size, etc. Have fun shopping for that little one, then return the unwrapped gifts to City Hall by Dec. 11.
City staff then enjoy wrapping and distributing the gifts to local families. To be fair to the kids, this year there is a price limit on your gifting. If you don't feel like shopping or are stumped for ideas, a simple cash donation for the city staff elves to shop for you is also welcome!
Anyone who knows of local youth who should be registered for the program, the city is still accepting them.
'Share the Warmth' coat and blanket drive The "Share the Warmth" coat and blanket drive, a long-standing tradition for Windermere Realty offices throughout Oregon and Southwest Washington, kicked off Nov. 2 in 31 offices, including five in the Gorge serving as donation drop-off sites. Community members are invited to take part and help their neighbors in need this winter by donating coats and blankets to Windermere offices in Bingen, Hood River, Stevenson and The Dalles through Dec. 18.
Bring new or gently used and laundered coats (for children and adults) and blankets to the following Windermere offices during the designated drop-off hours:
Bingen — 900 W. Steuben, Monday-Friday from 10 a.m. to 4 p.m.
Hood River — 504 Cascade Ave. and 315 Oak Street, Monday-Friday from 10 a.m. to 4 p.m.
Stevenson — 220 SW Second Street, Monday-Friday from 10 a.m. to 4 p.m.
The Dalles — 122 E 2nd Street, Monday-Friday from 10 a.m. to 4 p.m.
Donated items will be distributed to those in need by local charities and shelters.
Christmas party for Native Americans
Gifts are being sought for all ages to pass out at a Christmas party for Native Americans at Lone Pine and other locations in the Gorge.
The party is Friday, Dec. 18, from 5 to 8 p.m. at the Mid-Columbia Senior Center in The Dalles. The event has been organized by Lana Jack, a Celilo Village resident.
She is the founder of the Columbia River Indian Center, an organization in the process of gaining nonprofit status.
She has made it her mission to help displaced and impoverished Native families.
Jack is seeking wrapped gifts labelled "female child," "male child, "adult female" and "adult male" prior to the party.
She also invites community members to make the event more festive by contributing a favorite dish.
Another priority of Jack's is to provide basic needs — clothing, food and shelter — for families spending the winter at one of the in-lieu sites.
High on her list are blankets, plastic tarps, rope, candles, sleeping bags, batteries, gas and propane vouchers, coats, towels, warm clothing for all ages and both sexes, hygiene items, and both boxed and canned food items.
She can be reached at 541-965-1679 to arrange for donations of food and clothing to be picked up or dropped off.
Dale Walker of Secure Storage in Hood River invites anyone with non-perishable donations to bring them to his facility, 1400 Tucker Rd., next to Nobi's, between noon and 5 p.m. Monday through Saturday. There is no charge and they will be kept for Jack to collect and distribute
Extended Application presentations
Volunteers are needed to judge the first semester Extended Application presentations on Tuesday, Jan. 26 and Wednesday, Jan. 27 at Hood River Valley High School. Packets and refreshments will be handed out in the foyer beginning at 5:45 p.m. on Jan. 26 and 3:45 p.m. on Jan. 27. Staff will be available to answer questions during that time for those that have not volunteered before and/or reviewed the information at our website and still want further guidance. Information to help you understand what is involved in preparing an EA, and what we ask of our volunteers when judging is located at our website www.hrvhs.com. In the menu bar click on "Academics" and then click on "Extended Application;" there you will have access to all the information needed. Volunteers will be assigned in groups of two or three to a room and students will be presenting their projects in 10 minute time slots, with judges having another 10 minutes to score. If you are interested in volunteering for either and/or both dates please contact Wendy Herman at 541-387-5034 ext. 1 or e-mail at wendy.herman@hoodriver.k12.or.us.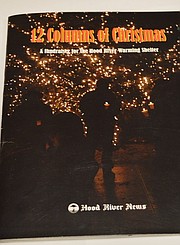 Warming Shelter
Sales of "12 Columns of Christmas" go to the Hood River Warming Shelter, which provides a warm place to sleep, two hot meals, and access to laundry and other services to homeless people. "12 Columns" contains 12 Christmas Day editorials from the Hood River News from 2001-12, along with other essential information about the shelter, now located at The Fruit Tree building on Westcliff Drive, FISH food bank (now on Tucker Road) and Hood River Christmas Project. It was produced by Hood River News/Columbia Gorge Press. Purchase "12 Columns" at Hood River News, 419 State St., or contact editor Kirby Neumann-Rea if you wish to buy multiple copies for distribution by your church or organization.
Call 541-386-1234 or email kneumann-rea@hoodrivernews.com.