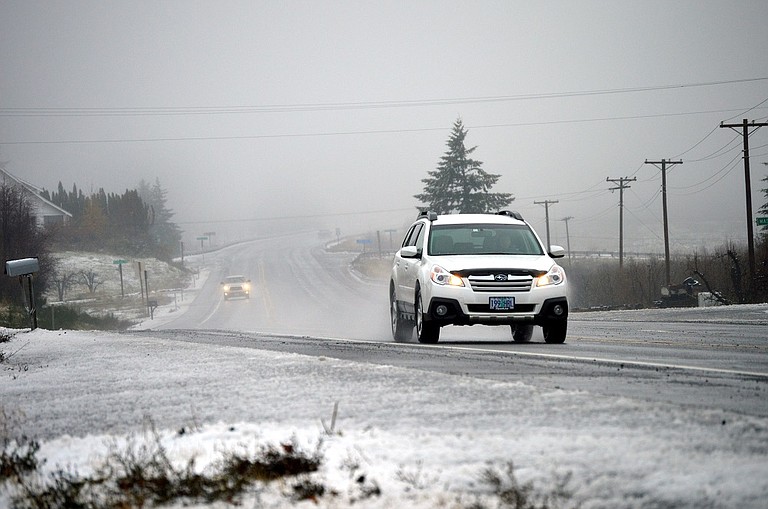 Originally published December 15, 2015 at 1:43 p.m., updated December 15, 2015 at 1:43 p.m.
The National Weather Service station in Portland reported this morning there will be a storm watch in effect for Wednesday evening through Thursday afternoon in the Central Columbia Gorge.
The Gorge floor -- Hood River, and routes along the Columbia including Interstate 84 and Washington Highway 14 -- are expected to pick up two to eight inches of snow. Up on Mount Hood, that amount could range from eight inches to a foot and a half. Sleet and ice may accompany the snowfall, meteorologists say.
After that will likely come "plain rain" Thursday afternoon or evening, washing over the region.
"Driving could be really treacherous in the Gorge," said Hood River County Emergency Manager Barb Ayers.
Here is the full message from the NWS station:
---
...WINTER STORM WATCH IN EFFECT FROM WEDNESDAY EVENING THROUGH THURSDAY EVENING FOR THE CENTRAL COLUMBIA GORGE...
THE NATIONAL WEATHER SERVICE IN PORTLAND HAS ISSUED A WINTER STORM WATCH FOR HEAVY SNOW...WHICH IS IN EFFECT FROM WEDNESDAY EVENING THROUGH THURSDAY EVENING.
TIMING...LIGHT RAIN IS EXPECTED TO CHANGE TO SNOW AS
PRECIPITATION INTENSIFIES WEDNESDAY NIGHT. HEAVY SNOW IS
POSSIBLE LATE WEDNESDAY NIGHT AND THURSDAY MORNING...POSSIBLY
CHANGING TO A PERIOD OF SLEET OR FREEZING RAIN BEFORE CHANGING
TO PLAIN RAIN THURSDAY AFTERNOON OR EVENING.
ACCUMULATION/SNOW LEVEL...HEAVIEST ACCUMULATIONS WILL OCCUR
ABOVE 500 FEET IN ELEVATION...WHERE 8 TO 18 INCHES OF SNOW ARE
POSSIBLE. NEAR THE GORGE FLOOR...2 TO 8 INCHES OF SNOW ARE
POSSIBLE.
ICE ACCUMULATION...THERE IS THE POTENTIAL FOR SIGNIFICANT ICING
IN THE CENTRAL GORGE WITH THIS SYSTEM...BUT AT THIS POINT IT
APPEARS THE HEAVIEST PRECIPITATION WILL FALL AS SNOW OR SLEET.
IMPACTS...INTERSTATE 84 AND WASHINGTON HIGHWAY 14 WILL LIKELY
BECOME SNOW AND/OR ICE COVERED...MAKING TRAVEL TREACHEROUS
THROUGH THE GORGE. AREAS EAST VIENTO STATE PARK ARE LIKELY TO
BE IMPACTED THE HARDEST.
PRECAUTIONARY/PREPAREDNESS ACTIONS...
A WINTER STORM WATCH MEANS THERE IS A POTENTIAL FOR SIGNIFICANT SNOW...SLEET...OR ICE ACCUMULATIONS THAT MAY IMPACT TRAVEL.
CONTINUE TO MONITOR THE LATEST FORECASTS.