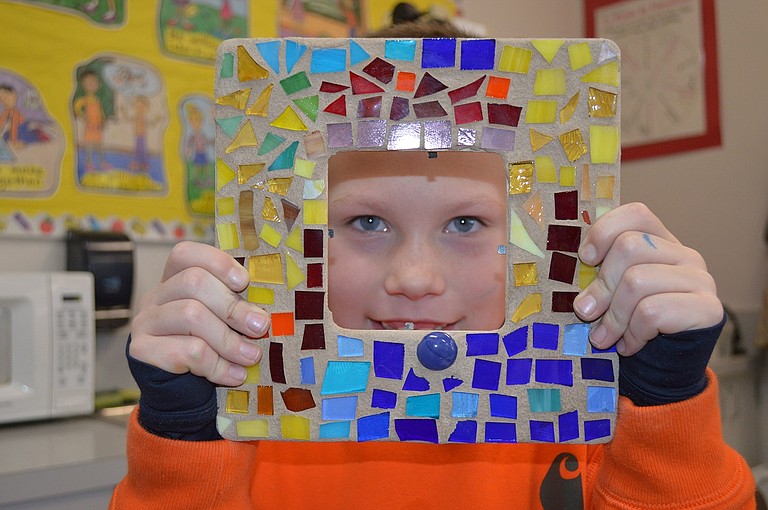 Wednesday, December 16, 2015
"Tracks to '26," a yearly inquiry into what drives and inspires six young hearts and minds, returns for installment 3 of 13.
Here are new answers to the annual set of questions from the "Tracks" sextet, now aged 8 and in the second grade.
Each year we will ask the Tracksters what was a good thing that happened on (or near) that day, and then the five recurring questions:
1. What are your thoughts about school these days?
2. What are your favorite things to do?
3. What is a challenge for you?
4. What do you want to be when you are an adult?
5. What are your thoughts about the future?
"Tracks to '26" refers to the year these youngsters will graduate from high school, and is a living yearbook of the ideas, insights and experiences of these six young people. They always have some new and different things to say, and we'll be checking in with them annually until December 2025, and again on the eve of their graduation in 2026.
We first met Jess Aubert, Diego Bustos, Trinity Evans, Jack Miller, Sofia Rodriquez and Nicholas Tuttle in November 2013, when they were kindergartners.
In terms of life changes, nothing major: Nicholas transferred this year to May Street from Horizon Christian School and Trinity was joined at Cascade Locks School by her kindergarten brother, Ryhin.
You can see their confidence level growing, along with their sense of humor. Some had hugs ready when they arrived for their interviews. Also, most of the Tracksters remembered the questions from a year ago, as well as some of their 2014 answers, and all were ready to put down new tracks.
Yet there is the occasional question that they just don't have answer for. Not now anyway, but maybe next year …
~ Editor Kirby Neumann-Rea
Framing the second grade: answers for 2015
Trinity Evans, Cascade Locks
What is something good or interesting that happened today?
"I've been writing a book with my cousin (Alex Evans) for fun. It's about animal habitat, like a bear lives in a cave. He just asked me if I wanted to make a book with him and I said yes." Asked for an interesting fact about habitats, she said, "Prairie dogs dig to make their habitats."
"Good. I'm making lots of friends. Math is very fun. I can learn more equations and times."
"Math. Playing outside. If it's snowing I like to play in the snow. I go to the park and ride my bike."
"Times in math is a challenge. Learning to take the really big numbers and add them all together. Sometimes I have to learn like … 10 times a hundred."
"A vet. Because I like to help animals. I have two dogs and a cat."
"I think about having my own house."
("We're learning a Christmas song right now. It's called 'Snow is Falling.'" Asked to sing a few lines, Trinity said, "I don't really remember.")
Sofia Rodriguez, Mid Valley
("Sofia, with an 'A,'" she said, correcting the discrepancy — in 2013 we introduced her as "Sofie.")
What is something good or interesting that happened today?
"Today I'm excited for two things. My sister Cecy is going to graduate college. Today is her last day. At Portland State. And the next thing I'm excited for is we're doing our Santa letters and I'm on my final draft."
"Good. My teacher is (doing) a thing called self-manager. It's where you're safe, responsible, kind and respectful and I got the medal. Being safe walking in the halls, being responsible by like bringing your homework and being respectful by not hitting people and being kind by helping people who fall in recess. I was helping my friend when he doesn't understand English." Asked how she learned English so well, she said, "Hearing my brothers and sisters." (In photo above, she holds her medal.)
"Math. Because I'm learning times with my brothers. And recess, playing outside and on the swings."
"Having to do times and divide by big numbers, like today I did nine times eight, it was a little hard for me." Asked the answer, she said, "72."
"A teacher. Because I want to have a chance to teach kids, and teach in Spanish or English."
"When I get up to bigger grade like fifth grade it will be a little harder. I want to go to Oregon State when I grow up. My sister Lulu goes there."
(In 2013 Sofia mentioned that a hard word she was trying to learn was "metamorphosis." She gave her six-year-old version (mettemorfess) of the synonym for change, and when asked to spell it this month, recited "M-A-T-A-M-O-R-F-I-S-E-S." When she heard the correct spelling, she said, "It's from using the f not the ph," in Spanish.)
Jess Aubert, Parkdale
What's a good or interesting thing that happened to you today?
"Can it be like four days ago? I was at the gingerbread party at Town Hall and Shelby accidently burned me with the glue gun. She kind of turned the wrong way," he said, showing a half-inch burn on the side of his neck. "I went to get an ice pack." Asked if he cried, he laughed and said, "I tried to hold it in."
"Good. It's a lot of work. We have to write a lot and read a lot."
"And my favorite thing to do is color. Right now we're working on gift wrapping. And we got to paint a lot."
"School. All the work." Do you have to do homework? "Right when I get off the bus. My Mom makes me. And I don't like homework."
"Fireman."
"I don't know." Jess added, "We're making Christmas presents," referring to picture frames, which he said, "We made out of glass, a little box in the middle and wood in the little box, and we put glass around it and we put grout, and then I made a little smiley face."
Diego Bustos, Westside
What is something good or interesting that happened to you today?
"My little cousin came to my house and we played. We call him Chucho. His real name is Jesus. He's one. He's cute. We were on my Mom's bed, and we were playing with toys. He knows how to walk."
"Good. I like math. I like numbers. School is hard. You have to do a lot of tests."
"Play football. And soccer. We play tackle. I play with my cousin. He's 11. It's fun."
"I don't know. Not too many things."
"Be a chef. My dad is a chef, at Brian's."
"It will be good. Because I get to work."
Nicholas Tuttle, May Street
What's a good or interesting thing that happened to you today?
"I got a new book. 'Diary of the Wimpy Kid.' My Mom ordered it. I just started it."
"Good. We're learning harder stuff. We get better readers — harder books."
Asked how May Street is different than Horizon, he said, "At Horizon, we didn't have stairs. There's a lot more rooms and a lot more people."
"Go somewhere with my friends. Hiking and mountain biking."
"Riding my skateboard is kind of hard." (He started two months ago, and asked if had fallen, he pointed to his leg and said, "I have like a scab.")
"A wrestler."
"I'm gonna be a good mountain biker. I'm gonna be a good skateboarder."
Jack Miller, May Street
What's a good or interesting thing that happened to you today?
"Well, me and my friend Deacon won basketball at recess."
"Good. We are closer to the playground. We're usually out (for recess) first."
"Ride my bike, and go with my sister Gigi — or Grace. I like to call her Grace."
"Multiplication and division."
"A scientist."
"Hard but easy. Being a scientist is hard."
'Tracks' from December 2014
Here's a look back at the students' 2014 answers
Trinity Evans
"It's fun. I have a desk. I had a table in Kindergarten. We can open it. I can put my stuff in there. I like to play at recess."
"Go to Ethan's house. I get to play with him. Board games. We play Monopoly."
(Thought about it but couldn't name one.)
"Get a job. At the Charburger. To take the orders."
"It's long way away. It's where there's robots and stuff. I'm going to be older. I'll be in a different classroom. I like going to the Cascade Locks park. There's a plank that I can walk on. It's attached to one side and the other side and it wiggles."
Sofia Rodriguez
"It's fun. We get some specials, and we go to places and we go to recess every day. And I like first grade because we get marbles and Paw Powers. It's because we have four B's. One of the B's is Be Responsible, Be Respectful, Be Safe and Be Kind, and right now we're working on kindness, like helping people because maybe then people will help other people."
"Math and … drawing. I like to draw my family and me.
"Trying to spell words in English."
"A doctor."
"That school is going to get harder. And when snow will come. In January."
Jack Miller
"It's really good. I get to do two recesses, and I get to do writing. I'm getting better at writing sentences. I like to write about my dog Mabel." (Jake could not remember before the family had Mabel, "a mix.")
"Ride my bike, walk, play games, play at recess." (The game "Sorry" is a favorite.)
"Math, reading, and that's it." (What are the challenges?) "Subtraction … and sounding out the words."
"A chef."
"It's kind of cool. 'Cause you don't know what you're gonna do."
Nicholas Tuttle
"First grade is pretty fun with our teachers and friends that we have." (His teacher is "Mrs. R.")
"My favorite thing is to go to my cousins' and sometimes we play games, and Legos, and cars, stuff like that." (Travis, Emily, Taylor, Trisha and Lee.)
Something hard for you to do? "That I have to go to wake up at 7 and I want to wake up at 7:12 or something. I really want to wake up at 8."
"Be a football player." Seattle Seahawks, "I forget the Seahawks' quarterback – No. 3. He threw like a 60-yard pass to someone, and the Giants I think threw it and 31 like jumped up in front of the Giants and got an interception. He ran it back and ran fast, and someone was right in front of him and he jumped and the other guy grabbed his leg."
"I think the future is like … it's going to be fun." Prompted, he added, "We already got our Christmas tree, two or four days ago."
Jess Aubert
"We have to learn more. Terrible."
"Play Legos. We have tons. Oh, random stuff."
"Getting ready for school. I have a lot of stuff to put on and a lot of stuff to do. Take a shower, get my clothes on, have breakfast, get my stuff ready for school."
"I don't know."
"It might be fun because when you grow up and you're done with your job you get to retire and you don't have to work anymore."
Diego Bustos
"I like that we get to play things at PE. Games. I don't know their names."
"Play Legos. I like to play at school at recess." If you could play one thing at recess, what would you choose? "Play soccer." Do you like being goalie? "Yes. I like I can touch the ball with my hands."
Milo the Chihuahua is somewhat of a challenge: Who takes care of Milo? "Me and my sister. He's scratching me. He always does that. Whenever I wake up and go, 'Milo,' he starts scratching me."
"A policeman."
No answer.