Wednesday, February 4, 2015
Dan Spatz was named as the new Executive Director of the Hood River County Education Foundation, the board announced Monday. On Feb. 8 Spatz will step down from his post as Chief Institutional Advancement Officer and Executive Director of the CGCC Foundation at Columbia Gorge Community College. Spatz will begin his new, part-time, HRCEF position on Feb. 9.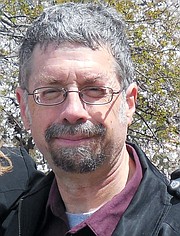 Spatz also serves on The Dalles city council, and has extensive experience in both grant writing and journalism. He is currently doing education consulting and facilitation.
Spatz wrote many grants for CGCC, and also served as the editor of The Dalles Chronicle from 1997 to 2006.

"I want to take some time and learn," Spatz said, noting that he views public awareness as the key challenge facing HRCEF.
"Spreading the word is critical," he said. "With any organization you have to keep things out in front of people on a continuing basis."
Spatz said, "Investment in education is the most important contribution society makes in its own future. The Hood River County Education Foundation is a key part of that investment, serving students through college scholarships, teacher grants and school district initiatives. I am honored and humbled by the opportunity to pursue this vital mission. I look forward to working closely with the community and foundation board in bringing that mission forward."
HRCEF Board President Chuck Bugge said, "Dan Spatz is very well-qualified to lead the Hood River County Education Foundation because of his extensive experience with education foundations in both Hood River and Wasco counties, and his management experience. He recognizes the critical role that public schools and colleges play in the economic health of our area. The Board is looking forward to discussing the ideas that he shared with us during the interview process, and expanding and improving the Foundation's mission."
Two new HRCEF Board members were also named at the meeting where Spatz was selected. Brent Emmons, Principal of Hood River Middle School, and Paul Lindberg of Providence Hood River Memorial Hospital, will join the Foundation Board.

The Hood River County Education Foundation (HRCEF) was founded in 1991 and manages over $1,000,000 in dedicated funds. Annually, HRCEF awards over $50,000 in college scholarships to graduates of Hood River Valley High School and to county residents who are sophomores, junior and seniors in college. Special donations to the Foundation have provided a classroom set of IPads, available for checkout by all schools. A 2015Foundation grant to Hood River Reads provides copies of the selected books so that students can participate in the community-wide reading event.
In addition, HRCEF provides $18,000 annually in Teacher Grants to Hood River County School District teachers and staff for innovative teaching ideas that cannot be funded within the regular school budgets. Applications for 2015 have been received and are currently being scored and evaluated.

Information about HRCEF college scholarships and how to donate are on the webpage www.hrcef.org.