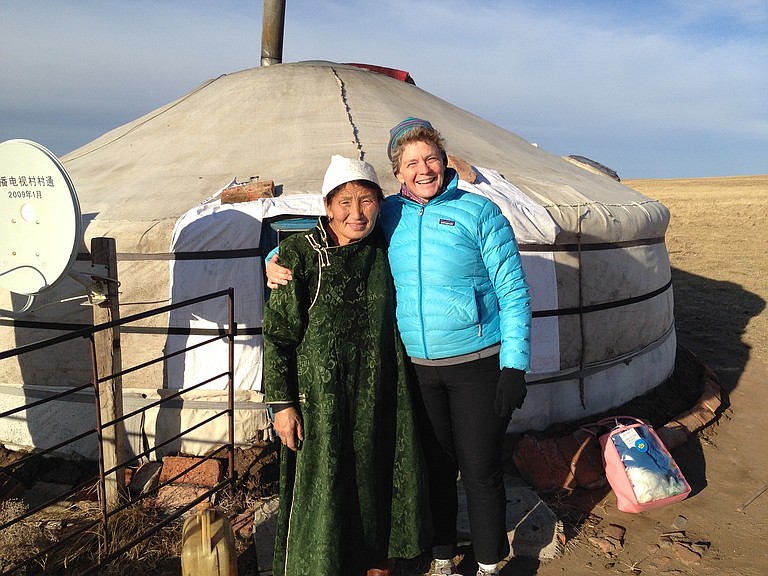 Wednesday, February 4, 2015
On a chilly morning last October, I awakened with a start, hardly realizing where I was. Sprawled across the top bunk of a "hard sleeper" on a swaying train deep in northern China, I was cold. The piped-in heat from earlier in the night was now gone, and the sweaty, sauna-like conditions had vanished, driven away by the sub-freezing conditions outside. Fighting against fatigue, and the clawing jet lag, it came to me — we were getting closer to our destination. For the next ten days, our team of 30 intrepid souls would be providing free dental and medical care to primarily semi-nomadic herds-people at the frontier town of New Barag Zuoqi near the China-Mongolia border.
Early in 2014, my wife Jan and I decided to pursue serving on a short term medical team overseas, something we have tried to do every few years or so. Sorting through a number of options, we chose to go with Global Health Outreach on their October trip to Inner Mongolia. The timing was good for us, and it was a bit of a comfort zone for me, in that I had already traveled and served with the team leader during another trip to Inner Mongolia in 2008.
The American part of our team would eventually number 17 altogether, including four family physicians (besides myself, one each from Alaska, Hawaii, and Texas), an OB/Gyn physician from Hawaii, a fourth-year medical student from Boston, a pharmacist from Alaska, a physical therapist from Montana, and a dentist/oral surgeon from Vermont. My wife Jan is an experienced OB nurse, and was joined by a two other nurses, one from North Carolina and one from Arizona. Other members of the team filled crucial roles in logistics and support. It was an eclectic but terrific group of people from all over the U.S., and we would spend an intensive two weeks together.
After months of careful planning and preparation, the journey for Jan and I began inauspiciously enough: We drove to PDX, and arrived at our gate. Fog in Portland delayed our flight to Seattle just enough, however, and we missed our plane to Seoul, Korea. Re-routed to Beijing after a further delay of several hours, we arrived at the capital's airport in the early evening, the city enveloped in thick smog. We soon learned that our one checked bag had been (mistakenly) sent to Shanghai . . . and that our flight to Shenyang (where we were to meet up with the rest of our team) had been cancelled. Discouraged but undaunted, we were able to quickly book an early morning flight to Shenyang, retrieve our wayward bag, and catch up with our team just prior to boarding the train!
In Shenyang, we had just a brief few hours to get acquainted with the other members of our team before the departure of the train which would take us far to the north. In addition to the Americans, 13 young adult Chinese and Mongolians would join us and round out the team, most of them university-educated and enthusiastic. Their primary role would be to interpret in Mandarin and Mongolian for us, but they often found other ways to make themselves useful, and their cheerful attitude and selfless work ethic were a continual source of comfort to their American counterparts.

After enduring the 19 hour overnight train ride defined by temperature extremes and tight quarters, we rolled into the station at Hailar, the largest city in north-eastern Inner Mongolia, our exhaustion tempered by expectation and excitement. As we hurried off the train with our copious luggage and supplies, we queued through the station and boarded a bus for the final 3 hour leg of our inbound journey. After the first few miles, we were truly in Mongolian prairie country, with rolling expanses of open grassland to the horizon in every direction, dotted here and there with small dwellings, yurts, herds of domestic animals, wild horses, and the occasional village.
We arrived at our final destination late in the afternoon, took our first look at the local hospital facilities where we would set up our temporary clinic, and then retired to our hotel. New Barag Zuoqi is a town with a population of perhaps 40,000, a mix of Mongolian and Chinese people at a cross-roads about 30 miles from China's border with Mongolia. Sponsored in part by the regional Red Cross, our team was committed to providing free medical and dental care to all comers for the next nine days, with local television being the primary means of advertisement.

We began our medical and dental clinic the very next morning. A typical clinic day would begin with a team gathering at 6:30 a.m. at our hotel for devotions and singing, followed by walking through the town square to breakfast at a nearby restaurant, then walking the remaining few blocks to the hospital building to start seeing our first patients at about 8:30 a.m. Our triage team would arrive a bit earlier to begin to bring order to the 80-100 people who would inevitably be chaotically milling about the clinic intake area, some having arrived well before dawn, and many having traveled for hours to reach us.

China is a nation full of enigmas, and one of them is their health care system. As a communist country since 1949, one might assume that there is universal access to healthcare for its 1.3 billion citizens. As I have come to find in my travels there, that is not the case. Patients are generally required to pay the full amount out-of-pocket prior to receiving service. There is no widely established national health plan, and only very recently has there been any kind of partial financial assistance available to help cover health care costs. Coupled with the spotty availability of competent health care providers and hospitals, particularly in rural and frontier areas, this reality has kept many people from obtaining even the most basic health and preventive care. It is precisely this gap in health care that our medical team was hoping to help bridge during our time there.
After our prospective clinic patients would arrive on premises, they would be triaged with the taking of a brief health history, recording of vital signs, then routed to their appropriate dental or medical provider. As providers, we would each be ensconced in our own rooms, with at least one or two interpreters to provide the critical informational support that allowed us to successfully care for each patient. Also, we would often have young Chinese doctors-in-training present as observers, giving us opportunities to teach and encourage them as we worked. Patients ranged in age from infants to octogenarians, and most adults described themselves as "herdsmen." Of course, we also saw merchants, laborers, students, housewives, and a smattering of unemployed. Common maladies we encountered included hypertension, heart disease, stomach pains, back pain, joint pain, respiratory infections and headache. Occasionally, we were confronted with more unusual conditions, such as brucellosis, and presumptive tuberculosis. No matter what the condition, our goal was to provide compassionate and clinically excellent care to every person we encountered.
Our clinic days would usually last from 8:30 until 5 p.m. or so, with a lunch break in the middle. On average, each of us providers would see about 20 patients a day, and by the end of our time there, we had given free care collectively to about 900 people. I still have snapshots in my head of several of these: The young female student with migraines, the elderly man tenderly cared for by his children after a devastating stroke, the local "bone-setter" curious about our western medicine, the large-animal vet struggling with chronic brucellosis … and so many others.
At the end of our last clinic day, as our team sat together in a "closing ceremony" presided by the matron of the hospital and the head of the local Red Cross, it was wonderful to see that our presence there had touched our hosts deeply and the warmth of their gratitude was a fitting reward. It was with an odd mixture of sadness and joy that we said our good-byes, encouraged by the reality that our time there had been a blessing to our hosts and to the many who had received our care.

As we traveled back toward our respective homes and jobs over the next several days, we relished our last few hours together with the teammates from China and America, with whom we had shared such a rich time of camaraderie and service. Jan and I were reminded yet again of the satisfaction and joy that comes from joining together to reach across the divides of language, politics, and culture, willingly using our collective skills and gifts to serve those less fortunate than ourselves, and then embracing the blessings of new friendships, good will, and a job well done.