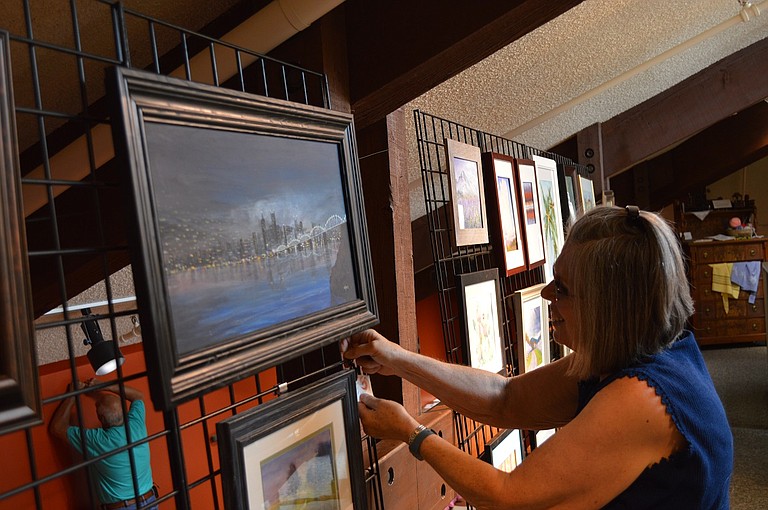 Originally published July 15, 2015 at midnight, updated July 15, 2015 at midnight
The Hood River Art Club — started in 1949 by a group of local artists — is celebrating its 66th anniversary with an art show July 10-18 at the History Museum of Hood River County.
The show, which will be open daily from 11 a.m. to 4 p.m. (closed Sunday) in the upstairs balcony, will feature special works from each of the club's current members, some of which will be for sale.
On the lower level will be paintings from some of the founding members, including Norman Tucker and Gilbert Clarke.
To conclude the celebration, an artists' reception will be held July 18 from 1-4 p.m., with refreshments and exhibits. Around 2:30 p.m., Marilyn Avolio, granddaughter of Percy Manser, will give a short talk about Manser, and at 3 p.m., artist Gayle Weisfield will relate stories about the classes she took with Phil Tyler.
IN THE BEGINNING
In 1949, a group of local artists put out the word that they would be meeting in the upper floor of Norman Tucker's father's feed store (now Discover Bicycles) in hopes of starting an art club.
More than 100 people showed up — both artists and those appreciative of the arts — and the Hood River Art Club was born.
Other founding members included a number of locally (and sometimes nationally) renowned artists such as Lois Talbot, Phil Tyler, Betty Dobson, Aatto (Otto) Annala, Percy Manser and Gilbert Clark. They held "spring and summer paint-outs," art shows and classes, and membership steadily grew.
Annala was a noted sculptor; Tyler, for his landscapes and Western scenes; Tucker, for his country-living and historical buildings; Manser, for his watercolors; and Clarke, for his colorful landscapes. Works by many founding members can be found at the History Museum.
"Today, their paintings are highly valued and sought after," said the club's vice president Lois Neufeldt.
Tucker served as the new club's first president, presiding over the monthly meetings and eventually offering painting classes, as did Tyler and Clarke. The feed store continued to serve as an exhibition hall for the club's paintings for many years. In the 1980s, members began showing and selling their work in the Diamond Fruit Company — "The Fruit Tree Gallery" (near what is now the Best Western Plus Hood River Inn) — thanks to Annala's connection with both organizations.
The club's mission was to gather like-minded artists and friends together, to educate with further workshops, films, and books, and to provide opportunities for members to show and sell their work.
Those objectives remain unchanged today.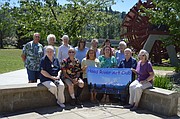 ART CLUB TODAY
The Hood River Art Club has 20 active members in varied mediums; current club officers are Joyce Uczen, president, Lois Neufeldt, vice president, Joann Gage, secretary and Kathy Duval, treasurer.
Members participate in several activities throughout the year, including booths at the Gorge Fruit and Craft Show in October and the Gorge Blossom Craft Show in April, both held at the Hood River County Fairgrounds. They also show their work in venues such as the Hood River County Library, the History Museum of Hood River County, and the Gorge White House.
In July, they can be found at the Hood River County Fair, where they are responsible for the art exhibit — someone must be onsite at all times. They also sponsor the cash photography prizes.
The club has continued painting over the years at a variety of local churches, and now calls the M1 modular building at Hood River Alliance Church, located at the corner of Montello and Rand roads, home. The club is currently on a summer hiatus, but will resume weekly painting sessions on Thursdays beginning Sept. 3 from 10 a.m. to 2 p.m. Those attending should bring their own projects, supplies and lunch, plus a $1 donation to cover any costs. Membership is not required to participate.
"Newcomers are always welcome to attend," Neufeldt said. "We have art classes, a friendly atmosphere, and learn from each other."
Yearly membership is $20 per person and is due at the September monthly meeting, also held at the church. The club meets every fourth Thursday of the month except in December and June, July and August, beginning at 1:30 p.m. Membership is not required to participate.
For more information, call club president Uczen at 541-308-0156.