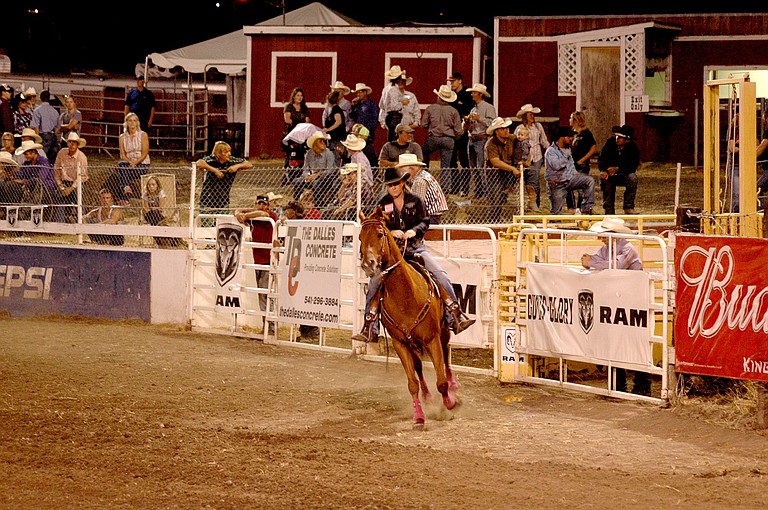 Celebrating its 50th anniversary, the Fort Dalles Days Pro Rodeo kicked off with the opening round of events that included Hood River cowgirls Crystal Beam and her daughter, Josee, on Wednesday at Milt Tumilson Arena in The Dalles.
Beam competed in barrel racing while riding her nine-year-old quarterhorse Shortcut around the three-barrel course while clocking a pretty quick time of 18.87 seconds.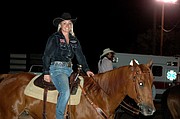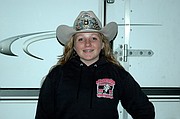 "We've been traveling together to many events this year, which has been a great experience for Josee, since it gives her something to do at the rodeo," said Beam, 35, who also enters Jackpot Rodeo events around the Northwest. "We're on the road nearly every weekend traveling to rodeos with my husband, Chad, and our six-year-old daughter, Charlie. We're having so much fun and Charlie enjoys riding her pony all over the rodeo facility while we're here. I have my own cheerleading section here tonight too with lots of family and friends attending, so that's really nice."
Wednesday marked the 11th rodeo Beam has competed in this year. She recorded a season best time of 17.90 at a rodeo earlier this year in Scappoose.
"It's really tough sometimes to make money, because we pay a $121 entrant fee and only the top six riders in barrel racing get paid (usually $1,000 or more)," said Beam. "We're racing hard and trying our best. If you don't finish in the top six though, you get nothing. We're fortunate to have a rodeo close to home though, because it costs money to tow a big horse trailer like this to other rodeos around the Northwest."
Chad did steer wrestling for one season, but he's no longer competing. The Beams operate their own business, Beam Excavating in Hood River. Chad didn't continue competing in rodeo because of the high risk of injury involved in the sport and he didn't want to jeopardize his career and get hurt, which would make it difficult for him to work.
Josee, who was selected as the Fort Dalles Riders Association Queen, participates in all four days of the rodeo, which concludes with Saturday's final round of events at 7:30 p.m. Josee, 14, rides her 21-year-old white gelding quarterhorse Casper in the introductions at the beginning of the program. Josee and Fort Dalles Pro Rodeo Queen Carsen Cordell of The Dalles also herd the calves and steers out of the arena after the timed roping events.
"I'm having a blast, because this is a really good experience for me," said Josee, an incoming Hood River Valley High School freshman. "Someday, I'm hoping to travel to rodeos when I'm an adult and I'm learning a lot, so I'll know exactly what I can expect to do. It's been one of the best rodeo seasons I've ever had and it's lots of fun. I was very excited to earn my selection as a Rodeo Queen too."
Josee suffered a head injury at age six when she fell off her horse and she was somewhat reluctant and a little afraid to continue riding at that point. Josee recovered from the injury though and then took riding lessons to improve her horsemanship ability. Josee enjoys rodeo tremendously now, while expertly riding around The Dalles arena. She'll continue her rodeo career while competing in the Oregon High School Equestrian Team meets throughout the year.
Crystal competed in the Northwest Professional Rodeo Association (NPRA) event, which is the 15th of 31 rodeos on the Oregon/Washington circuit. The next event on the NPRA schedule is July 23-25 at Longview, Wash. The top 12 entrants in the standings qualify for the NPRA Finals Sept. 25-26 in Prineville. Beam says her goal is to make it to the finals this year. Beam will enter her next rodeo Aug. 14 in Tygh Valley.
The rodeo atmosphere is certainly a unique and fun outdoor summer activity that family members and friends attend to watch the action from the grandstands while cheering for their favorite cowboys and cowgirls. Crystal's parents, Howard and Connie Anderson of The Dalles, watched her compete along with other family members as well.
Crystal grew up in The Dalles and always attended the rodeo with her family. She began horseback riding at age 10 while being encouraged to participate in rodeo by her parents and they bought the first horse for Crystal when she was 15. The Beams own a total of seven horses now.
Hood River cowgirl Carli Achziger was also one of the 40 registered barrel racing entrants Wednesday, but she was unable to compete, while recovering from injuries she sustained last weekend. Achziger was bucked off her horse while riding in a stable in Hood River and then was hospitalized in Portland while getting treatment for the injuries.