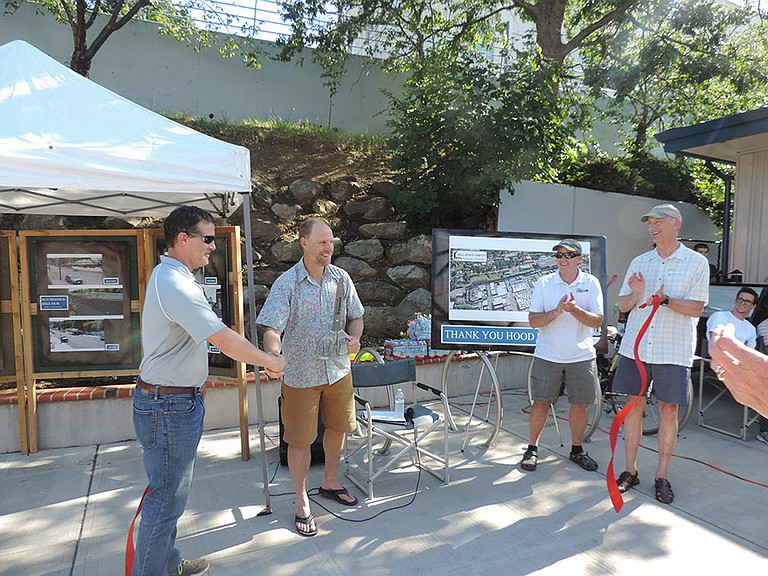 The new street trees added needed shade as the City of Hood River formally dedicated the 18-month State Street Urban Renewal Project on the warm evening of June 5.
Crestline Construction and Bell Design Company, lead contractors on the $5.4 million project, provided free barbecue as well as the plaque that is in place at Second and State streets on the wall of the new elevated sidewalk between Second and First streets.
The ribbon cutting by the Chamber of Commerce was just one part of a busy First Friday in downtown Hood River.
"We are here to celebrate the fact that millions of dollars of work have been accomplished here in the core of our city," Mayor Paul Blackburn said to the crowd of about 50 people assembled at the restroom/bike plaza at Third and State streets.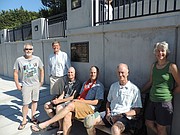 "From the computers all the way to the asphalt they made it happen, they did the 'think three times, measure twice, and cut once'," Blackburn said. The redevelopment brought new streets and wider sidewalks, benches and amenities, and undergrounded utilities on State from Sixth to Front and on Front Street and Oak Street from Front to First streets.
"I'd like to give a huge shout out to State Street businesses," Blackburn said. "That wasn't fun for us when we had a couple of winters of dirt roads. It felt like we were back in the old west. When you're digging up the main street of town it takes a while, you have to fill it back in, and it was tough and we made it through and look at what we have."
Blackburn recognized "the army of orange shirts," present on Friday, the employees of Peterson Brothers Concrete, and Schuepbach Construction, the two main concrete contractors on the project.
"We feel really privileged to have been able to be part of this and the trust the community and the city put in us," said city engineer Stoner Bell of Bell Design. "This was reflected in the input of the advisory committees and the public process," of designing and constructing the project.
"We feel honored to have been involved. It's kind of a responsibility to see it through and get it right. We had a great contractor who was able to work with us through the budget constraints and changes.
"We're already starting to see businesses open up to State Street, and to see pedestrians start to use the street, and that is what it's all about," Bell said. "We're expanding the merchant area and whole shop-live-play area," he said, quoting the Chamber of Commerce motto used in downtown banners.
"Plus we are maintaining it as a thoroughfare, so we have the sharing with the bikes, and you still need ways to get through town. I think we accomplished both," he said. "One of the big goals was dampening of the traffic because that was a big reason a lot of people didn't like (using State Street.)" Dampening was accomplished with signage, parking revisions, and "bulb-outs" at Sixth, Fourth, and Second streets.
Blackburn noted the presence of ODOT bicycle advisory group members, who are helping plan the series of "bike and hike hubs" in the Gorge from Wood Village to The Dalles.
"Everyone is in the design phase, except us — ours is built," Blackburn said. "This is our bike hub, we are so glad we have it, as biking is a big part of our community, and from here to Mosier is a nice ride." Blackburn introduced "Citizen Arthur Babitz," mayor from 2008-14, who has continued as a bicycle advisory group member.
A few details remain at the restroom-bike hub facility, including adding an information kiosk and the placement of public art. The three-foot pedestal for the "Art of Community" sculpture has been poured on the west side of the building, and the first work is scheduled for installation by late summer.
Babitz also guides the compilation of thousands of historic Hood River photos at the History Museum of Hood River, which Blackburn pointed to for historic perspective on the latest urban renewal project in Hood River.
"I was looking at photos from the time Mr. (Nathaniel) Coe first laid out Hood River in the mid-19th century," Blackburn said, including images of State and Third streets. Blackburn said planning in those days was based on the use of horses for transportation and commerce.
Blackburn said, "The scale was different, and over time it's not possible to make complete holistic planning. Over time, you make a better gravel street for the horses and then at some point it was asphalt, and you fast forward to the 21st century and we still have that façade of that building right there and you don't have the kind of infrastructure you kind of expect. Back then they didn't have running water or sewer and I'm pretty sure they didn't have broadband," Blackburn joked.
"Urban Renewal pushes the reset button because everything's grown, everything still comes down through town," he said. "I was told the intersection at 6th and State, they had to dig up several times. This is the hub of our city and it was aging, and now it's proper and fixed and Urban Renewal is a great thing."
Blackburn pointed to a recent media honor given to Hood River.
"Around same time Mr. Coe was laying out Hood River, Sunset magazine was founded in 1880s and a month ago they named us the Best Adventure Town in the West. Having the proper infrastructure for the Best Adventure Town is very important."