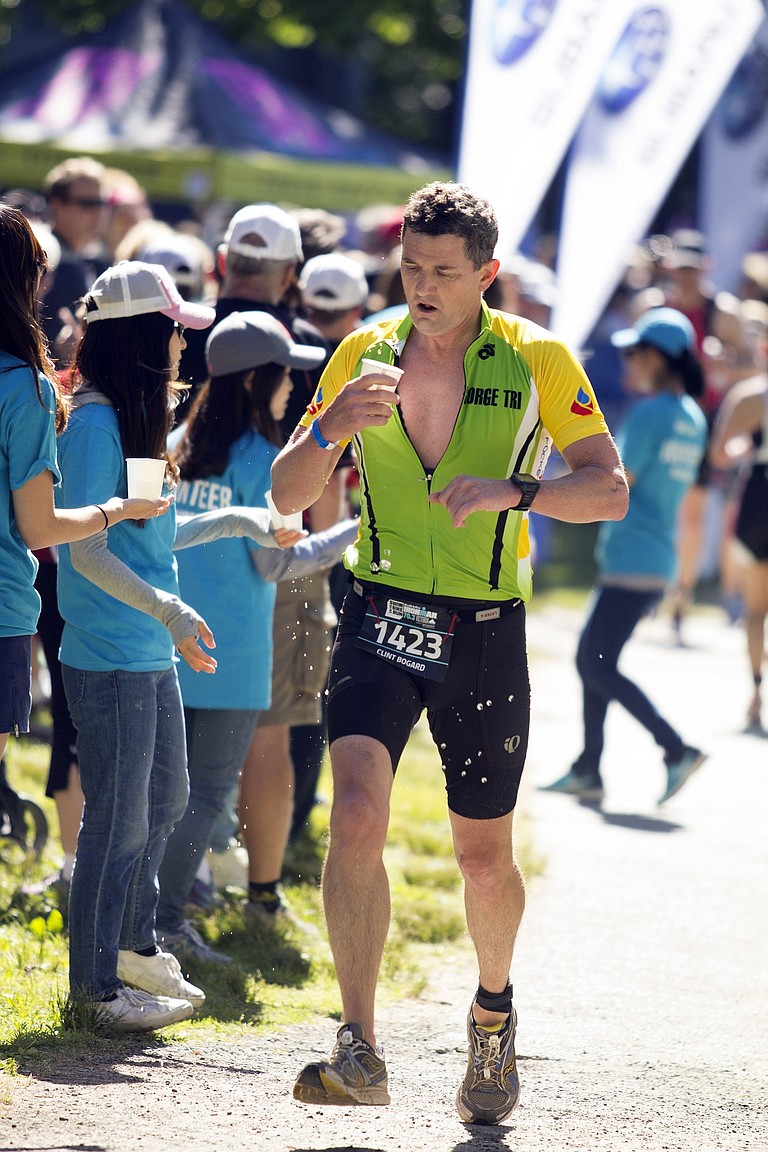 Last weekend, 18 members from the local Columbia Gorge Tri Club travelled to Victoria, BC, to participate in the Ironman 70.3 Victoria, with 1,622 total finishers listed for the race.
Ironman 70.3 represents the total number of miles in the race and is actually half the length of a full Ironman, which consists of a 2.4-mile swim, a 112-mile bike ride, and a 26.2-mile run (marathon) — raced in that order.
Columbia Gorge Tri member Patrick Hiller said that conditions were excellent and that, "compared to our usual conditions in the Gorge with swimming in a relatively cold river with current, windy bike rides and climbs and lots of climbing on our runs, Victoria greeted us with moderate temperatures, a warm, calm lake, a bike course with limited climbing and two running loops on a mainly shaded trail around a lake. For several it was their first Half Ironman event and they exceeded their expectations. For those of us who've done several, I believe all marked their personal best times on this beautiful and fast course."
One Columbia Gorge Tri member, Sasha Kirchner, crashed his bike and had to exit the race with a shoulder injury "but joined the group for the post-race activities after a visit to the local ER," reported Hiller.
"It was wonderful to wander through Victoria on Sunday night and Monday throughout the day and run into fellow Gorge Tri Club members – even though several of us were walking quite funny," Hiller said. "The positive vibes that everyone gets in this group are amazing. Several of us traveled with family and we were in constant touch with our fellow triathletes back in the Gorge who were well informed about our race progress."
Gorge Tri Results
Nicole Bassett - (Time: 6:02:01; Age 38; Div Rank 40; Overall rank 731)
Clint Bogard - (Time: 5:23:39; Age 48; Div Rank 45; Overall rank 358)
Patti Boyd - (Time: 5:32:45; Age 45; Div Rank 14; Overall rank 442)
Mark Frost - (Time: 5:21:03; Age 48; Div Rank 40; Overall rank 323)
Patrick Hiller - (Time: 4:50:30; Age 38; Div Rank 13; Overall rank 99)
Sasha Kirchner – DNF (bike crash)
Angela Krause - (Time: 6:09:31; Age 44; Div Rank 46; Overall rank 811)
Jeff Rippey - (Time: 5:31:10; Age 58; Div Rank 14; Overall rank 424)
Sonia Schuemann (Time: 7:07:13; Age 50; Div Rank 57; Overall rank 1210)
Kim Scott – (participated in Sprint Triathlon; results unavailable)
Andrew Stewart - (Time: 5:30:04; Age 38; Div Rank 54; Overall rank 411)
June Towne - (Time: 8:06:15; Age 63; Div Rank 16; Overall rank 1373)
Anne Tyynismaa (Time: 6:03:43; Age 23; Div Rank 7; Overall rank 749)
Edward Tyynismaa (Time: 5:33:37; Age 54; Div Rank 18; Overall rank 454)
Tatum Tyynismaa (Time: 6:25:24; Age 23; Div Rank 10; Overall rank 954)
Terri Tyynismaa (Time: 7:25:31; Age 52; Div Rank 60; Overall rank 1269)
Alex Trout – (Time: 6:00:24; Age 55; Div Rank 27; Overall rank 717)
Tammi Wimmer (Time: 8:06:46; Age 44; Div Rank 90; Overall rank 1374)