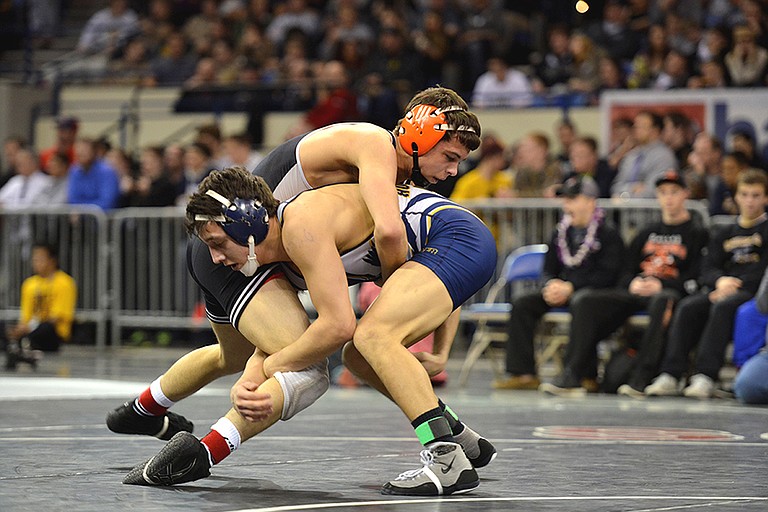 Surrounded on all sides by bright lights and the buzz of thousands of spectators, 12 mats filled the floor of Portland's Memorial Coliseum over the weekend for the 2015 OSAA state wrestling championships. Friday's preliminary rounds cut the 16-man brackets in half, and intensity picked up considerably Saturday, when the best of the best went toe-to-toe in the double-elimination tournament.
Four boys and five girls representing Hood River Valley High School were among the masses to advance to the tournament by placing among the top four at their regional qualifiers earlier this month. Below is a breakdown for each wrestler.
With 36.5 points, HRV finished at about the middle of the pack for team results. Hermiston repeated as team champion with 161 points, followed by Hillsboro (154.5), Sandy (147.5), Churchill (145) and Dallas (141.5) as the top five.
Christian Marquez, 132 pounds: In a much-anticipated rematch of last year's 126-pound state finals, Marquez and Dallas High's Matt Hofenbredl squared off in Saturday's championship match. Marquez advanced to the finals by steamrolling his first three opponents with a caliber of athleticism that few in the state possess. Three first-round pins put him well-rested going into Saturday night's showdown against Hofenbredl, who made his way to the finals with two pins and an 11-1 decision.
The two Oregon talents hadn't met on the mat since last year's state finals, when Marquez upset Hofenbredl — the two-time defending state champion — in a thrilling overtime victory.
This time around, it would be Hoffenbredl's hand raised at the end of six minutes, with a 7-1 margin over Marquez.
In a matchup between Marquez's fast-paced dynamic style and Hofenbredl's impenetrable defensive wrestling, it was Hofenbredl who eventually took control of the match and its outcome.
The first round ended scoreless; Marquez did a nice job of setting the offensive tempo but was unable to break Hofenbredl's defenses.
The second round started with Hofenbredl choosing the down position, and after getting returned to the mat three times, he managed an escape to take the 1-0 lead. Marquez answered quickly with an off-tempo shot that caught Hofenbredl off-guard, but the Dallas senior was able to counter and scrambled his way to a takedown with 30 seconds remaining in the match.
Down 3-0, Marquez chose the neutral position to start the third round. Hofenbredl shot a quick single leg and scored two more points in the first 30 seconds to take a 5-0 lead, and after struggling on the mat for the next minute, Marquez managed an escape with 20 seconds left in the match. Hofenbredl scored a third takedown in the final second of the match as Marquez left his legs vulnerable looking for a last-chance throw.
Jason Shaner, 120 pounds: Shaner joins a short list of HRV freshman who have advanced to the state meet over the years, and an even shorter list of freshman who have made it to the podium as a top-six placer. Shaner wrestled three matches Friday, winning two and losing one, and three matches Saturday, winning one and losing his final two to finish in sixth. Highlighting his tournament was a 22-7 technical fall over Bend's Cirus Tadjiki and an exciting 10-8 win over Woodburn senior Carlos Velasco in the consolation quarterfinals to secure a place on the podium. Shaner lost 9-1 to Hermiston's Andy Wagner, who went on to finish in third and lost by fall in the fifth- and sixth-place match over Dallas senior and No. 2 seed Nolan Miller.
Angle Jones, 106 pounds: Another freshman with great promise, Jones ended his breakout season with two wins and two losses at the tournament, including a heartbreaking last-second loss in the consolation quarterfinals that would have guaranteed a place in the top six. Jones lost his first match by fall, then rebounded with 6-3 and 3-0 wins to finish the first day with a shot at the podium. In a do-or-die match Saturday morning, Jones battled to the last second against Silverton's Jacob Whitehead. After trailing much of the match, Jones scored a reversal in the final minute to take a one-point lead. In literally the last second of the third round, Whitehead managed a reversal of his own to finish with the one-point victory, thus knocking Jones out of the placing round.
Junior Manzo, 132 pounds: Manzo earned his first trip to the state tournament with a fourth-place result at regionals, and for the HRV junior, being a part of the state experience was an accomplishment in itself. Manzo had a rough first match, as he was placed in the bracket aside No. 3 seeded senior Kyle Grahn of Sandy, who went on to finish third. Manzo wrestled tough against Grahn but lost 18-7. He then lost 14-11 to Springfield senior Gaven Patrick and was eliminated from the tournament.
HRV girls:
HRV wrestling sent five girls to represent the Eagles at a special exhibition state championship run alongside the boys tournament. The top four girls in each weight class qualified for the championship at a regional tournament earlier this season. One round was held Friday and the finals were Saturday. Based on results from the regional qualifier, HRV was awarded the girls team state champion trophy for scoring the most points and qualifying the most girls out of any other team in the state.
Jessica Dehart, 106 pounds: With two wins over the weekend, Dehart secured her fourth girls state wrestling title, all earned at the 106-pound weight class. Notorious around the state as a bruiser of both girls and boys, Dehart capped her outstanding high school career with two wins by fall. Having battled a knee injury all season, she will forgo the Oregon high school freestyle and Greco seasons to have surgery and hopefully recover in time for the USA Wrestling junior national tournament this summer.
Payton Rigert, 152 pounds: Rigert claimed her second straight girls wrestling state title over the weekend by picking up two wins by fall. For a late starter in the sport, the senior had an outstanding two years to end her career as an Eagle.
Sarah Sullenger, 113 pounds: A product of the Hood River Wrestling Club, Sullenger, a freshman, showed great poise under pressure as she wrestled her way to a state title as a freshman with two wins by fall. Her championship match — a third-round pin — was revenge against Triangle Lake's Bailee Davis, whom Sullenger lost to at the qualifier tournament.
Minique Yanez and Joanna Endow, 126 pounds: Yanez and Endow, both wrestling at 126 pounds, each lost their first-round matches Friday, which pitted them against one another in Saturday's match for third and fourth place. The two went head-to-head for three rounds, with Yanez finishing with a 7-1 win. Both are expected to be back next year ready to pick up where they left off.