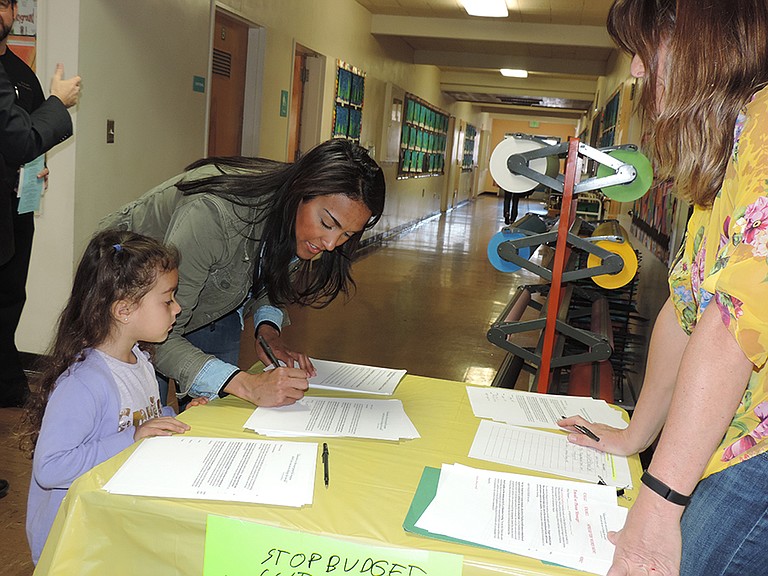 A rush-order letter writing campaign is underway at the urging of Hood River County School District officials.
The Oregon Legislature is slated to decide as early as Tuesday on a 2015-17 biennium funding package for K-12 school support, and under the $7.325 billion package, the lowest and most likely to pass, Hood River would look at $1 million in cuts.
(See hoodrivernews.com for a full version of this story.)
A second formula, $7.5 billion, would provide "fragile stability" for most districts including Hood River, according to superintendent Dan Goldman, who reported Wednesday to School Board following his visit to Salem earlier in the week.
He said that while both are larger than the current biennium, "neither option adds back anything cut in the last 10 years."
THREE FIGURES AND THEIR IMPACTS
According to Goldman, highlights (or lowlights) of the three main funding proposals include:
$7.235 million — "Could equate to the elimination of teaching positions raised class sizes, reductions in athletics, and other extra-curricular activities, or other program reductions."
$7.50 billion — "This funding level would allow us to maintain current class sizes, maintain curriculum and technology infrastructure."
$7.875 billion — This would allow the district to make "targeted investments" in instructional time, lowering class sizes, career and technical education, Advanced Placement offerings, engineering and arts."
Saying "a more thorough discussion on the Oregon education budget proposal is necessary," Goldman put out a call on Tuesday, after his visit to Salem, asking district patrons to let the Legislature know they support increased K-12 funding.
"Put bluntly, the $7.235 billion state budget is on the fast-track for adoption in Salem and will equate to an approximate $1 million reduction for our school district next year," Goldman said.
"The status quo does nothing for fixing the fact that we (Oregon) are the second highest in class sizes (nationwide) and the fact that we are near the bottom of the barrel in the number of instructional days," Goldman said.
A third formula, for $7.85 billion, seems so unlikely of Legislative approval that "we kind of laugh at it," Goldman said, "and it is still woefully low."
Parent volunteers set up letter writing tables Thursday at May Street Elementary during its annual art auction and lasagna feed. Residents were provided with lists of key legislators, and sample letters to sign, and "talking points" to use to draft their own.
One of those legislators, Rep. Mark Johnson, also serves on the school board.
"I have seen some really well-written letters. It can be very effective, and so much better than a form letter," Johnson said Wednesday.
Goldman described what he called a "gloomy" prospect for HRCSD funding in the next two years.
With anything short of the $7.85 billion option, cuts are inevitable, Goldman said. "I have informed my administrative team that everything is on the table. We are looking at everything.
"When cutting we will be cutting bone. There are no good choices," Goldman said.
The board adopted one resolution on school funding Wednesday, and asked Goldman to craft another, more specific one, for its next meeting, April 8.
The adopted resolution supports the Oregon School Boards Association's "Promise of Oregon" campaign. It states, in part, "we believe funding a strong system of public education is the best investment Oregonians can make to strengthen our economy, create thriving communities and improve the quality of life for every Oregonian." It states that "Oregon public schools have experienced a prolonged period of unstable and inadequate" state funding, and "the case must be made that the Legislature needs to prioritize investments" in education including full-day kindergarten (already done in HRCSD).
Board member Bob Danko said that the resolution is "the easy way out," and suggested adding a "whereas" to the OSBA resolution stating that "we need to raise revenue."
"The (OSBA) resolution is a political tool that we hope makes a difference," Goldman said, recommending against modifying it. After some discussion, the board asked Goldman to return with another resolution that "specifically addresses raising revenue."
Goldman's focus in recent weeks has been on machinations in Salem. He told the board that last week in Salem he heard testimony on all kinds of service budgets, ranging from early education to human services.
"I heard some very compelling things around why people can't make ends meet. There are a lot of important needs and not enough money to go around," Goldman said.
He said the K-12 system is one of those underfunded clients and "If we don't advocate for it, we won't get any of it."
He described the prospects for David Douglas School District, which without more funding will face furlough days and 30-40 student class sizes. (Hood River class sizes currently average 25-26 at the elementary level, and could increase depending on the budget outcome, according to Goldman.)
In his message on Tuesday. Goldman said, "As I've shared with you all before, Oregon schools have the second highest class sizes, some of the lowest number of instructional minutes for students, resulting in some of the lowest statewide graduation and literacy rates in the nation (of course Hood River County gets markedly different and better results as a result of our community's support of our local option levy and capital bonds and our fabulous teachers and staff). However, after nine years in a row of program reductions due to state funding shortfalls, a $7.235 billion state education budget will cause the Hood River County Schools to once again make unfortunate choices that will directly impact students."