Wednesday, March 18, 2015
Retired emergency room physician Bonnie New took to Salem Tuesday, proposing tighter gun safety measures to the Oregon legislature. Of the ten Oregon doctors who spoke to state leaders on March 16, she was the only one from Hood River.
The doctors were organized by national political activist group Americans for Responsible Solutions, which advocates gun safety reform.
New spoke individually with her district's representatives, Rep. Mark Johnson and Sen. Chuck Thomsen, both of Hood River, and joined a panel of doctors to present for other state legislators.
The doctors named three central pieces of legislature they would like to see reach fruition: universal background checks, bans on gun ownership for domestic violence perpetrators and stricter gun storage to prevent child access. (Sidebar, page A12)
"The legislation is definitely designed to be non-partisan," said New. "This should be the most bi-partisan support at the legislation that will come through this year."
The goal, she said, is not to take guns away from law abiding citizens. The measures are designed to prevent guns from falling into the hands of criminals or innocent children.
New worked in the medical field for 30 years before retiring and moving to Hood River in 2010. She spent 20 years of her career as a trauma center doctor in Houston. She treated gunshot wounds and knife stabbings on a nightly basis. Many proved fatal.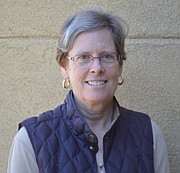 "It was very fast paced and you (didn't) spend a lot of time embracing the wide societal ripples of a single gunshot wound," said New.
New said gun violence leads to "ripples" of stress, fear and mental issues that aren't easy to trace and quantify. In addition to the thousands that die of actual violence, many more are victims of cultural fear.
However, the number of deaths alone is alarming to health professionals. In 2010, 32,000 Americans died of gun-related violence, according to a report by the Annals of Internal Medicine. More than twice that were injured.
In Oregon, the amount of gun-related deaths sometimes outstrips the amount of vehicular deaths. There were 420 gun-related deaths in Oregon in 2011, compared to 391 vehicular deaths, according to a study last July by the Violence Policy Center.
New hopes the political tide is changing to allow more robust regulations on firearms.
"This is a new and much more meaty effort than in the past," said New. "Doctors are slow to jump on bandwagons. So to get this is quite significant."
Physicians' gun law proposals
Universal background checks: Legislation would expand background checks to include all private sellers, including licensed firearm dealers and gun shows. This would not include transfers between family members.
Ban guns for domestic violence convicts: Legislation would prohibit individuals convicted of a misdemeanor or a domestic violence offense from possessing, purchasing or transporting a firearm — effectively synching up Oregon state law with existing federal law.
Safe Storage: Legislation would require the storage of firearms in a child-proof container with a traditional or trigger lock.