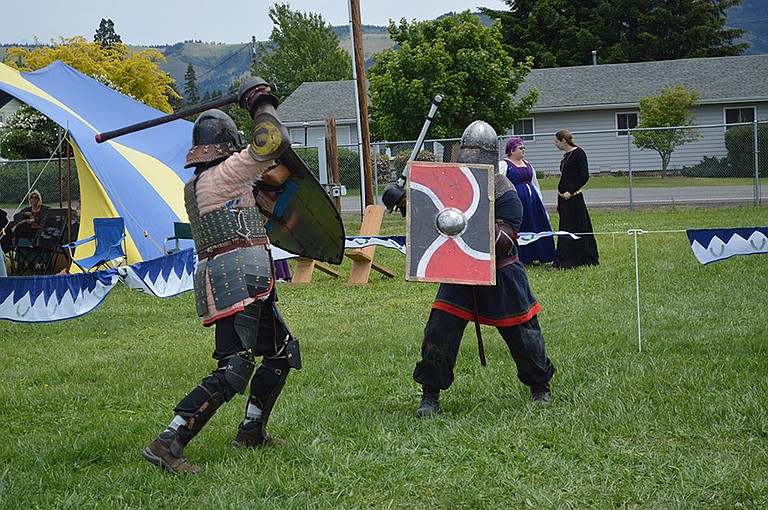 Before a backdrop of modern houses and irrigated orchards, an ancient battle raged at the Hood River County fairgrounds last weekend.
Knights and maidens from the Society of Creative Anachronism took over the site to host a grand scale tournament — nearly 800 people attended over the weekend, said local coordinator Jeremy Tate.
This year marked the first time the Columbia Gorge shire, Hauksgardr, hosted an SCA tournament. Members of the Northwest kingdom, An Tir, traveled from as far as British Columbia and Southern Oregon.
Tate, known as Marco Valentino by his medieval colleagues, leads the local shire of 15 people. The group meets at the Hood River County Library every first Thursday of the month, and practices combat at May Street Elementary — though they hope to relocate to the waterfront park in the near future.
Tate described the Society for Creative Anachronism as a combined social event and creative outlet. "You get to do anything you want, that you can think of in the middle ages, and you get to share your artistry with as many people as you would like to."
The international medieval society boasts 100,000 members in the U.S., Canada, Australia and several countries in Asia. What started as a backyard party in 1966 in Berkeley, Calif., with garbage can lid shields and broomstick swords has become a nuanced social event and a "martial art," said Sara Urdahl, SCA regional vice president.
"In a very modern, fast-paced society, it allows us to recreate some of the conditions that brought people together in ancient times," said Urdahl.
Urhdal explained that the SCA requires "an attempt" at pre-1700s garb and etiquette, which could span from ancient Roman times to the Renaissance. However, it's less about strictly adhering to history and more about joining in social camaraderie. "There aren't any stocks or gallows…we're in it for the fun," said Uhrdal.
At crowning events like the one held in Hood River, a king for the entire realm is decided in a trial by combat. Combatants fight with rattan sticks, similar in consistency to bamboo, to prevent injuries.
"It is not the person who hits his or her opponent who gets to call if the shot is good. It's on the honor of the person being hit to say that's a good shot — you killed me," said Urhdal.
In addition to combat, members were busy Saturday constructing costumes and props, playing violins and harps, and chatting with fellow members over red wine. Tents fanned out from the fairground entrances to the outskirts of its grassy field, near neat rows of fruit trees.
"It takes a ton of people, and a lot of people behind the scenes," said Christina Grant of Vancouver, B.C., a member of the queen's retinue.
Tate shared a similar sentiment. "It's very exciting … it's been hectic."