Wednesday, November 11, 2015
America's Veterans
It was our duty to fight rebellious nations,
the ones that lost their sanity, and dignity,
only to threaten humanity.
It was our duty to serve under oath, and honor;
to support, and defend the constitution of the United States against all enemies foreign, and domestic.
It was our selfless acts of courage that saved lives, with our lessons from all wars, and our brother/sisterhood that keeps the enemy away, still today.
It was hell to go through, and it will always be a family we belong to. For some, our hearts are scared from a loss we have shared, and for others, our minds overwhelmingly build up of things to do.
You may know us by several names: Soldier, Sailor, Airman—Jarhead, Leatherneck, Marine; we are America's Veterans.
We will always believe in, and defend the "Land of The Free," but as Americans, the "Home of The Brave," is a right for everyone that was won many decades ago.
Warm a veteran's heart this holiday, a simple "hello, and thank you for your service," will do.
God Bless America,
Sgt. Charles Ross,
Retired USMC
Hood River
Legacy
Kate McCarthy's legacy is so obvious when you drive, bike or hike in the Hood River Valley, Columbia River Gorge or on Mount Hood.
Kate was a tireless advocate for protection of our farm and forest land and for the protection of our beautiful and spectacular scenic places.
I was privileged to have worked with Kate for over 30 years and I have always admired her tenacity and drive to fight for the benefit of our community and the environment. She was awarded the Mazama's highest award as was my hero, the famous John Muir. Kate is my hero, too, and I am a better person for knowing her. May she rest in peace.
Ron Cohen
Mt. Hood-Parkdale
Not a park
I am the first to support having a park at the corner of Fairview and Belmont.
We can certainly use more trails, natural areas and maybe a dog park.
But what is proposed is a sports complex. A huge, intrusive, light and noise polluting conglomeration on land which should be protected and cherished rather than cemented over with 130 parking spaces. Yes, we need playing fields. But put them in an industrial area where the complex will be enjoyed rather than annoy everyone within hearing distance.
Fairview Drive is already a busy, dangerous street. People speed past children riding their bikes to school and people walking their dogs trying to enjoy the amazing views. The corner of Fairview and Belmont is already a nightmare for anyone trying to go in either direction. On weekends, there are always 30-40 cars parked all along the side of the street because people don't want to walk from the parking lots to the athletic fields. Few people walk to the fields at Westside so what's another two-mile car ride to go to the alternate land on Tucker?
Don't Hood River residents want there to be some green space saved as our housing boom continues to consume every vacant piece of land you see? Isn't our town's beauty one of the reasons we all chose to live here?
Please let your opinion be known at hoodriverparksandrec.org.
Susan Lannak, John Hlavac
Hood River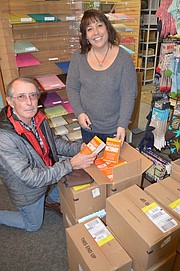 Keeping tradition
Every year, the Hood River Rotary Club gives a dictionary to each fifth grader in the county. For over 20 years, Sue Hull of Hood River Stationers provided the books to Rotary at her cost. Jessie Page, the new owner of Hood River Stationers, is continuing that tradition. That generosity frees up money to be used to support other valuable Rotary programs within our community.
Buying locally builds community. Local businesses support our community. We should support those businesses in return.
Thanks, Jessie.
Paul Crowley
Chair of the Rotary
Dictionary Program
Hood River
Inconvenience
I went across the Hood River Bridge the other day and the guy said they are going to stop selling tickets the first of the year. Why? Because they cost too much to print! So now we will have to dig through our car … or semi-truck … and find cash only or fill out an IOU. Really? No credit cards allowed.
The little Bridge of the Gods sells discount tickets and has run credit cards for years, yet the multimillion dollar Port of Hood River cannot afford to print tickets or put in a credit card reader. The only other option is the breezeway pass and many people I know are always having problems with the sticker or get emails about computer problems. The locals pay enough to the Port without more inconvenience and backup of people looking for cash.
Marie Parker
Hood River
Next stop, London?
What a pleasant surprise for my wife and myself to attend and enjoy "Grease." We are visitors from London, United Kingdom, and we accompanied our family to this wonderful performance on Nov. 7. Over the years, we have attended many theatrical events throughout the London area, but this production was one of the most enjoyable!
Well done to all the staff and students involved and thank you for a lovely show.
Why not, the next stop … a London stage?
Pat and Bob Flint
London, England
See 'Grease'
If you haven't seen HRV's production of Grease, GO! I went to opening night and was blown away by the talent of the students and the quality of the production. The band was on stage for the entire performance, with HRV's new music teacher, Dan Kenealy, conducting and playing in the band. The singing and dancing were a blast to watch; Rachel Harry's theatre students and Dan's music students collaborated beautifully.
The last shows are Friday the 13th and Saturday the 14th, from 7-9:30 p.m. Get your tickets early at Waucoma because they will probably sell out. I'm taking my daughter again on closing night. Hope to see you there!
Amirra Malak
Hood River
Don't miss 'Grease'
You don't want to miss this play. "Grease" is a chance for you to see the musical and theatrical talent of our HRVHS youth, directed by Rachel Harry with music orchestrated by Daniel Kenealy. Outstanding singing and choreographed dancing — truly a vision to experience.
Only one weekend left — Friday, Nov. 13 and Saturday, Nov. 14 — 7 p.m. shows. Come and support the talent. Leave with a new experience and the feeling that "they got it!"
Ann Zuehlke
Hood River
Disappointed
It's been disappointing to read the letters from Cascade Locks in support of Nestlé's project that involve harsh language aimed at those who do not support the project. The demeaning tone toward specific individuals is especially out of place in a county discussion about whether we will set the precedent that Hood River County is willing to become a water exporter. One would hope for a higher level of maturity when discussing these very important issues among neighbors and citizens of Hood River County, even when we disagree.
Everyone would like Cascade Locks to thrive, but many believe that corporations, such as Nestlé, do not really care about the communities they are courting. It says a lot, for example, that Nestlé would not pay any local taxes for five years after their plant was built to support the roads, fire and police protection they would receive.

I commend the Local Water Alliance and I will stand by them. I hope everyone shows them our support by signing the ballot initiative so we all will have a chance to vote on the future of our water.
Carrie Fuentes
Hood River