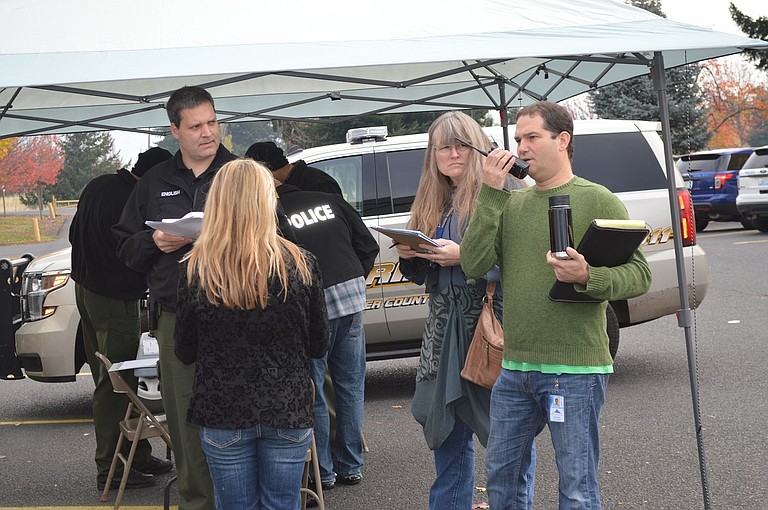 Wednesday, November 11, 2015
A drill challenged Hood River Valley High School to imagine the devastation of an active shooter on campus, and how local officials would coordinate a team response.
About 65 first responders, including Hood River Police Department and Hood River County Sheriff's Office, fire and EMS, Hood River County School District, hospitals, emergency management and 911 dispatch staff, gathered Saturday at HRVHS and closed the campus for a safety drill, simulating a four-hour active shooter event.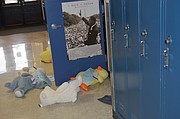 The main focus was communication — responders set up a dispatch station in HRV's main parking lot to communicate with officers and EMS crews inside, who combed the building for a theoretical shooter and victims.
Though sometimes light in tone due to the imaginary nature of the event, the drill's subject matter was grave — it tasked leaders with responding to a theoretical crime scene with at least 15 shooting victims.
Hood River County Chief Deputy Sheriff Brian Rockett served as Incident Commander in the drill, with Sheriff Matt English as drill evaluator.
"You need to present a picture of unification and collaboration," said English of a multi-agency to response to a school shooting. "It's especially valuable to plan, train and work together, when it's not a real incident."
English said a real shooting would be a coordinated regional effort, involving not only local agencies but large departments in the Northwest, such as Portland.
He explained Saturday's drill was part of an ongoing collaboration through the Hood River School Violence Prevention Task Force, which found its roots eight years ago in a program started by Michelle Hughes of the HRCSO Juvenile Department.
In addition to HRCSO and Hood River Police Department, several other law enforcement partner agencies participated, including Oregon State Police, Wasco County Sheriff's Office, Skamania County Sheriff's Office, The Dalles Police and Bingen-White Salmon Police Departments.
All five local fire agencies participated in the drill, including Hood River, Parkdale, Wy'East, Westside and Cascade Locks Fire Departments, whose responders "triaged and treated" patients on scene — stuffed bunnies, ducks and lambs with various injuries.
Paper tags attached to the plush animals showed human body diagrams with red spots for where the patient was shot or otherwise harmed.
"The bunnies are patients," explained Cameron Kiyokawa of Parkdale Fire as he plopped one of the stuff rabbits into a black plastic bag.
The purpose of the toy counterparts (donated to the fire department) wasn't exact medical accuracy, but was instead to include a more physical component of the process than "just paper," said Lt. Jessica Bennett of Cascade Locks Fire. Thus, the bunnies were bagged up and sent to Hood River Hospital and Mid-Columbia Medical Center in The Dalles for "further treatment" instead of onto stretchers for a ground trip or a helicopter life flight.
The main command center for communication was the north parking lot, where dispatchers helmed "The Beast," HRCSO's hulking emergency vehicle with four dispatchers inside. Within the school, HRCSO Sgt. Pete Hughes posted up in the library as a secondary contact point.
Hughes said in a real emergency situation, communications would be flooded. Thus, he brought his cell phone and several portable radios to at least have multiple methods.
School officials said in an emergency situation, a 1-800 FBI number would be opened up to help get information to responders and parents — local phone networks would likely crash with 1,400 students as well as parents, staff, media, and many first responders relying on their cell providers.
A media and public information station would be set up at an undisclosed site away from the school, with access roads to the campus closed off. Emergency managers requested not to release details regarding the maps used by first responders at the drill.
In total, 13 school district personnel participated in the drill, including HRCSD Superintendent Dan Goldman, who said the district considers school and student safety a top priority.
"We are grateful for the support of our local public safety partners to come in on a Saturday for drills and trainings such as these," said Goldman.