Saturday, November 14, 2015
Payton Rigert and Charley (Kayla) Boonstra, both Hood River Valley High School seniors, have been selected as October Students of the Month and were presented checks for $100 at a recent Lodge meeting.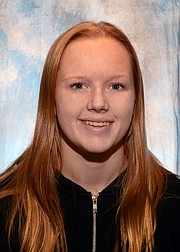 Payton is a very active young lady who is as comfortable speaking at a Toastmaster Speech Club meeting as doing battle on the high school wrestling mat. She is a member of the National Honor Society and a member of Leaders of Tomorrow, where they explore various businesses throughout the community and examine what makes them successful. She has taken many advanced placement (AP) courses, including human geography, calculus, government and economics, English and Writing 121-122.
She is a member of the HRVHS United Nations Council Club, participating in debates and meetings. She is a member of the Captain's Council, learning leadership methods and qualities as members of athletic teams. Payton is also a 4-H Club member and participates at the local, state and national level, and has been president of the local 4-H Club.
Payton is a member of the Northwest Jiu Jitsu Club and has a number of medals from competitive meets. She is a member of the high school wrestling team and is a two-time women's state champion, was the most improved wrestler her sophomore year, and last year won the Elk's Memorial wrestling tournament's upper weight Outstanding Wrestler Award.
She is a varsity member of the girl's water polo team, and as a junior participated on the high school robotics team, qualifying for state competition. In 2014, she traveled to India for a Rotary Youth Exchange program and attended the Jain International School.
Her volunteer work includes helping the wrestling team as a cycle-cross volunteer and helping with clean-up detail at the Gorge Marathon and community road project.
As a 4-H ambassador, she has run classes at a leadership camp and was a counselor for three years at Camp Morrow. In addition, she has worked at the Hood River County Fair, made signs for and hosted Tour de Coup, made baby hats for the Community One clinic and ran National Youth Science Day in Hood River.
She has worked at the state fair, is a member of the state fair 4-H advisory board and planning committee, and in 2014 attended the National 4-H Congress in Atlanta. She was a member of the National Youth Leadership team, serving as Master of Ceremonies. She created the Hood River Engineering Fair and gave a demonstration of STEM programs in the Hood River area.
Payton is the daughter of Trey and Deona Rigert. She has a younger brother, Carter, 15, and younger sisters Marisa, 12, and Jennica, 7. After high school, Payton will attend college in Kentucky at the University of the Cumberlands, where she would like to become a member of the women's wrestling team.
She wants to be a pediatrician. In her spare time, she enjoys spending time with her family and friends, and going on adventures in the beautiful Gorge.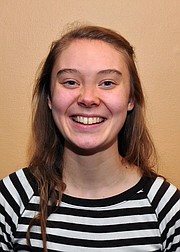 Charley is a young lady who has a definite and deep passion for all types of environmental issues, who has spent the last few years expounding and taking about why they are important.
She is a National Honor Society member and has taken a number of honors classes, including physical science, medical biology and honors English. She has also taken advanced placement human geography and U.S. History. She completed two college-level English classes her junior year, and this year is taking Writing 121-122. Charley has been taking piano lessons for the past seven years. She works as a counselor in the summer at Peace Village, which promotes peaceful conflict resolution. She also enjoys running and hiking.
Her volunteer work includes the FISH Food Bank, where she works at the front desk, helps box and pack food, greets people, and reviews registration papers. She works with Columbia Gorge Climate Action Network, who are active in climate work in the community and the world.
In 2014, she received the Tod J. LeFevre Sustainability Award for her work with other youth in the community to promote climate activism. This past summer, she traveled to Ashland with her youth group to work on a care farm for animals, and learned sustainable earth practices. Each year, she and others clean up the Columbia waterfront by picking up trash, testing the water and planting new vegetation.
Charley organized a community fundraiser with the purpose of bringing people together to talk about the threat of coal and oil trains going through the Gorge. She invited an environmental singer and songwriter and organized a potluck with food provided by local businesses.
During her sophomore year, she traveled to Yakima with her church youth group to work at summer school with young people living in poverty, and as a junior, she spent a few months working to create a curriculum for a middle school ecology program.
Charley is the daughter of Vicky Stifer and John Boonstra. She has an older sister, Seyeon Malott, a graduate of Oberlin College, and a younger sister, Everley, who is 10 and a fourth grader at May Street Elementary.
After high school, she will attend a four year university, with Whitman College and Evergreen State College her first choices. In her spare time, she enjoys cooking, hiking and spending time with her family.