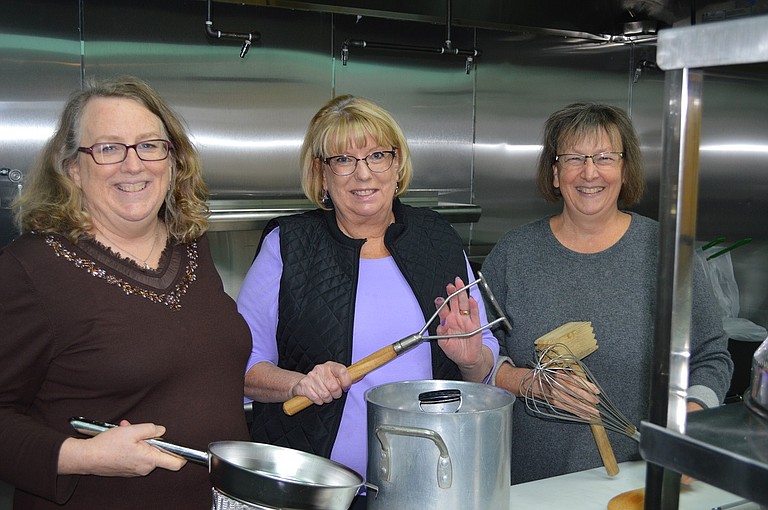 Wednesday, November 18, 2015
Churches, FISH renew Thanksgiving Dinner tradition
FISH Food Bank, Asbury Our Redeemer Lutheran Church, Riverside Community Church and volunteers from around Hood River are teaming up to serve a free Community Thanksgiving dinner at Riverside Community Church, 317 State Street, on Thanksgiving Day, Thursday, Nov. 26, from 1-5 p.m.
The dinner is open to any and all people, from singles to entire families.
Lead organizers Gean Rains and Deborah Chenoweth say much of the food has been donated already, including generous donations from Romul's Restaurant, Provvista, Hood River Coffee Roaseters, Boda's Kitchen, Wildwood Farm, Quercus Farm and others, but cash donations will help purchase the remaining food needed to feed the estimated 400 dinner attendees.
"For a $35 contribution, you can provide a complete, delicious Thanksgiving dinner to 10 people," says Rains. The dinner menu includes roast turkey or Tofurkey, mashed potatoes, gravy, herb stuffing, rolls, local winter squash and vegetables, holiday pies, coffee, ice tea, juice and milk. You may make contributions by going to the group's Facebook page, Thanksgiving in the Gorge, and clicking on the link to GoFundMe. You can also bring a check, the old fashioned way, to Riverside Community Church. Any contributions that exceed this year's needs will be donated directly to FISH Food Bank.
In addition to the dinner served at Riverside Church, volunteers will pack up dinners to deliver to people in their homes if they cannot come to the dinner downtown. "If you know of anyone who needs a home-delivered Thanksgiving dinner, please contact me at 541-399-2384," says Chenoweth.
Volunteers are also needed for a variety of jobs.
"If you would like to help prepare food on Monday, Tuesday and Wednesday before Thanksgiving, or serve food and seat guests on Thanksgiving Day, we could really use your help!" says Chenoweth. To volunteer, please call 541-399-2384.
Thanksgiving Planner:
All Week
The Hood River Aquatic Center will offer holiday open swims Monday, Nov. 23, through Friday, Nov. 27, from 1-3:30 p.m. The slide, rope swing, mats and basketball hoop will be available for use and the party room is available for rental. The pool will be closed all day on Thanksgiving, Nov. 26.
Nov. 23
Mount Adams Ministerial Association hosts the annual Interfaith Community Thanksgiving Service at 7 p.m., an evening of music, reflection, and gratitude at White Salmon United Methodist Church, 312 N. Main Ave. Dessert potluck immediately following in the fellowship hall. Mount Adams Ministerial Association represents faith leaders from across the Gorge, and provides emergency financial assistance to those in need in our community. All donations will go to our emergency fund to be able to continue to offer this valuable ministry. Join us to pause and reflect on all we are grateful for this season," said Bethel UCC Pastor Kelly Ryan. This event is free and open to the public.
For more information, contact Pastor Sam Geyer at 509-493-1308 or Ryan at 509-493-1747.
Nov. 24
Join the Hood River Valley Adult Center, located at 2010 Sterling Place, off of Brookside Drive, for a special turkey dinner with all the trimmings beginning at noon for $6. Reservations are requested; call 541-386-2060.
Nov. 26
Community Thanksgiving Dinner (see story, this page)
Turkey Trot, Mosier Twin Tunnels, 10 a.m. at Mark Hatfield Trailhead; register starting at 9 a.m. kids' 200-meter run at 9:50 a.m.
Choose the 12-kilometer, 5K and 3K run/walk
Cost is $15 for adults or $10 (no shirt) and $5 under 18, by Nov. 20.
Proceeds benefit Mosier Schools. (www.mosier school.com, email twintunnels@gmail.com, or call 541-478-3321 or Scott McMullen at 541-993-2090. Day of race cost is $15 for adults, $5, no shirt.
Nov. 27
The next Red Cross blood drive will take place on Nov. 27 from 10 a.m. to 3:30 p.m. at the Hood River Elks Lodge, Third and Cascade. Download the American Red Cross Blood Donor app, visit redcrossblood.org (sponsor code: HoodRiver) or call Margo Parker at 541-387-3669 to make an appointment or for more information. All blood types are needed to ensure a reliable supply for patients.
All blood types are needed to ensure a reliable supply for patients. A blood donor card or driver's license or two other forms of identification are required at check-in. Individuals who are 17 years of age (16 with parental consent in some states), weigh at least 110 pounds and are in generally good health may be eligible to donate blood. High school students and other donors 18 years of age or younger also have to meet certain height and weight requirements.
Nov. 27-29
Columbia Gorge Thanksgiving Wine Weekend, 11-5 p.m. at wineries throughout the Gorge. Special tastings, activities, donation opportunities benefiting local charities. More at GorgeWine.com.