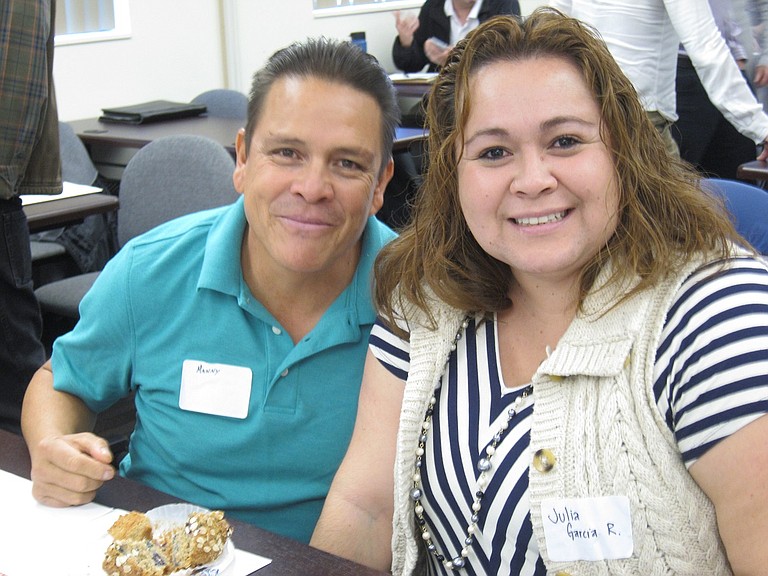 Originally published November 18, 2015 at midnight, updated November 18, 2015 at midnight
On Friday, Nov. 6, more than 50 people gathered at the Hood River fire station to explore ways Hood River can increase its investment in clean energy and benefit from local energy projects. On the same day that President Obama rejected the Keystone XL Pipeline, local government leaders, including city councilors and State Rep. Mark Johnson, came together with city staff, business owners, residents and regional experts to discuss Hood River's clean energy future.
Called "Making Energy Work for Rural Oregon," the workshop hosted by Gorge Owned and Sustainable Northwest provided an overview of the great work Hood River has already done to cash in on clean energy opportunities — from the Hood River Conservation Project in the 1980s to the Hood River Middle School's net-zero energy east wing to Tofurky's LEED-Platinum food manufacturing plant — and sparked interest in more energy- and money-saving opportunities available to municipal governments, commercial and industrial users, and residents.
"This day was all about Hood River," said Becky Brun, board president of Gorge Owned and the workshop co-organizer. Brun is also a Hood River City Councilor. "The goal of the day was to help people see that Hood River has been a leader in this arena and yet despite all the energy that's been saved, carbon emissions avoided and jobs created, there is still a lot more we can do."
Jim Walls, Director of Lake County Resources Initiative, kicked off the day by explaining how Lake County is on its way to becoming a net renewable energy producer.
With a population of 7,800, Lake County's economy was long dependent on forestry. In the last decade, it's invested in 22 renewable energy projects that are expected to save the county $38 million over the life of the projects.
One of the most anticipated discussions of the day focused on community-owned energy projects, such as solar installations on public buildings. Dan Orzech, General Manager of Oregon Clean Power Cooperative, explained the financial and legal framework for community-owned solar, using the city's public works building as an example. He estimates that state and federal incentives, along with Energy Trust of Oregon rebates, would cover 80 percent of the cost to install a 35-kilowatt system there.
Therefore, it would take as few as 20 people investing $1,000 each through a co-op to make the project a reality. Once co-op members receive a 2.5 to 3 percent return, the panels would belong to the city.
"The workshop pushed the needle on an issue that's becoming increasingly important to cities everywhere," said Peter Cornelison, a Hood River City Councilor and member of the Columbia Gorge Climate Action Network.
"Hood River clearly has the momentum to create a clean energy plan and launch additional renewable energy projects in their community. We're excited to see what comes next for Hood River," says Lee Rahr, Energy Program Director at Sustainable Northwest, and workshop co-organizer.

It became clear that some of the first priorities could be:
Create a Hood River Energy Plan, which would outline energy efficiency and clean energy generation goals and strategies to achieve them.
Invest in low-hanging fruit, such as LED lighting.
Determine the feasibility of renewable energy projects at the Hood River wastewater treatment plant and other city-owned buildings, including financing them with Oregon Clean Power Cooperative member dollars.
Relaunch GO! Solar, a "solarize" program that reduces economic barriers for people interesting in installing rooftop PV.
Mayor Paul Blackburn said, "I think we have some real opportunities for next steps in sustainable energy, including community-owned solar, cogeneration at the wastewater treatment plant, and I look forward to continuing those discussions."
A follow-up meeting to discuss next steps is scheduled for Wednesday, Dec. 16, from 8:30-10 a.m. at the Hood River fire station. Karen Chase, Southern Oregon Outreach Manager, Energy Trust of Oregon, will lead a discussion on energy planning.
About Gorge Owned GO! is a member-supported organization helping people invest in a strong local economy, healthy environment, and vibrant community in the Columbia River Gorge. Its programs include GO! Solar, Sense of Place Lecture Series, Green Drinks and GO! Local. For more information or to become a member, visit GorgeOwned.org. About Sustainable Northwest restores forests, rivers, and rangelands for healthier habitat and clean air and water. By bringing people together to find common ground, they are building a regional economy based on land stewardship and markets for sustainable wood and clean energy.
For more information visit SustainableNorthwest.org.