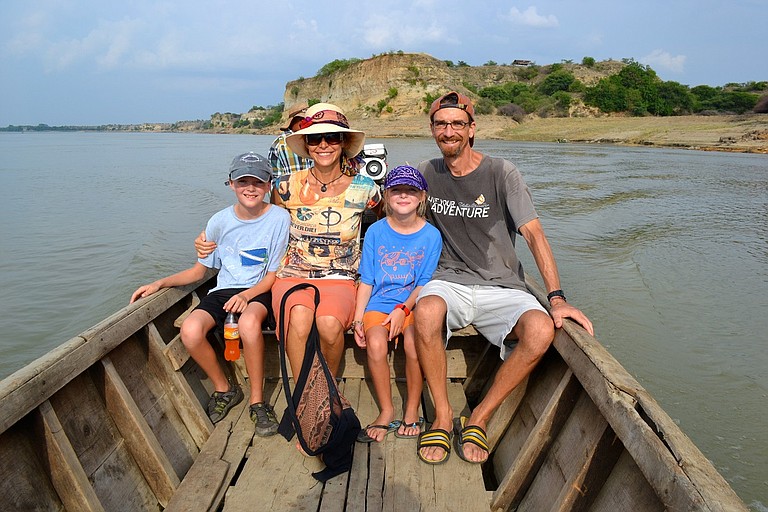 Wednesday, November 25, 2015
On July 15, 2013, a plane departed Portland International Airport bound for Bangkok, Thailand. On board this flight was our family of four from Hood River. We had packed into four plastic crates all the belongings we believed were necessary for the next year or more.
Our story actually began years prior to this. As former Peace Corps volunteers, we hoped to someday share an international experience with our children. After many family discussions, we attended a grueling three day international school recruitment fair in San Francisco. The end result was two signed teaching contracts at Ruamrudee International School (RIS) in Bangkok. We quickly called our children, Dylan and Annika, to relate the big news. "Hey guys, we're moving to Bangkok, Thailand!" They replied in chorus, "Awesome! ... Where's that?" Although we could point to Thailand on a map, we had little more information to offer on the subject.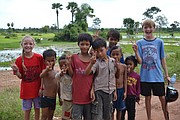 RIS is a large (1,300 students K-12) international school run by Redemptorist Catholic priests. The school adheres to international teaching standards and all curriculum is taught in English, which is a good thing because Thai is an extremely difficult language to learn. Nancy taught in a self-contained fifth grade class while Dwight was a special education instructor for the elementary school.
Although our teaching colleagues came from all over the world, an amazingly disproportionate number had ties to the northwestern United States. It is ironic that we traveled halfway around the world to give our children a multi-cultural experience and Annika's third and fourth grade teachers were both from Portland.
The school offered numerous extracurricular activities and Annika and Dylan were both on school basketball teams. Annika was also involved with the RIS choir and Dylan was the only reliable pitcher on his softball team. Nancy was able to partake in the yoga classes and our whole family also played pick-up games of ultimate frisbee, which was a very sweaty experience in the unrelenting heat and humidity.
Annika recalls, "On the first day of school, it was crazy because we had to take a motorcycle taxi up to the big road called Ramkhamhaeng, where we flagged down a taxi for the 15 minute commute to school." Navigating the infamous Bangkok traffic jams became a daily event.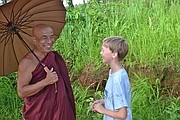 When Annika and Dylan walked into their respective third and sixth grade classrooms, they remember all the other students staring at them because of their fair complexion and blonde hair (the student body at RIS is 95 percent Southeast Asian). Despite hair color differences, both kids fostered lasting friendships with their classmates and both hope to someday return to Thailand to rekindle the relationships. Dylan remembers, "One great thing about Thailand is the people. They are almost always happy and friendly and you would never hear cars honking or people arguing or yelling. Maybe it has something to do with the peacefulness of their religion, Buddhism."
Although many people recommended that we live in the gated community adjacent to the school, aptly named "Perfect Place," we opted to live in the authentic Thai neighborhood of Mooban Sammakorn.
Here we found a blend of lakeside restaurants, open-air markets and oddly enough, a multitude of 7-11s (7-11s in Thailand number over 7,000). Our normal weekend routine involved a sweaty bike ride up to the market, where Dwight bargained for fresh fruits and vegetables while Nancy bargained for hill tribe clothing and amulets. This was followed by a walk along the pathways of the klongs (urban canals that provide transportation throughout the city) to the local government-sponsored sports facility for some competitive badminton.
On some weekends, we piled into a cab and headed to volunteer at the Camelian House, a Catholic-sponsored home for severely disabled children. Here we fed and played with the children. It was exciting to see their eyes light up when they saw kids their own age wanting to spend time with them.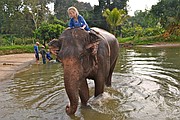 Bangkok's location as a hub in Southeast Asia offered a perfect starting point for exploring the area. We took every opportunity (three day weekends and longer breaks) to take buses, boats, trains and planes to various locations in Thailand and abroad.
During our two years living in Thailand, we zip-lined with gibbons in Laos, joined friends for a multi-day trek amongst the hill tribes in Vietnam, explored the ruins of Angkor Wat in Cambodia, visited floating villages in Burma, hiked up a volcano at sunrise in Bali, battled monkeys over our sunscreen in Malaysia, navigated the chaotic city streets and trekked through the Himalayan foothills of India.
On July 15, 2015, a plane departed from Bangkok, bound for Portland. On board this flight was our family of four from Bangkok. We had packed into four plastic crates all the memorabilia we believed necessary to keep the experience alive for years to come, including two Thai street cats. This time, we knew what to find when we landed.
We were back home to family, friends, and pets, to mountains and seasons, to the beauty of Hood River and all it has to offer.