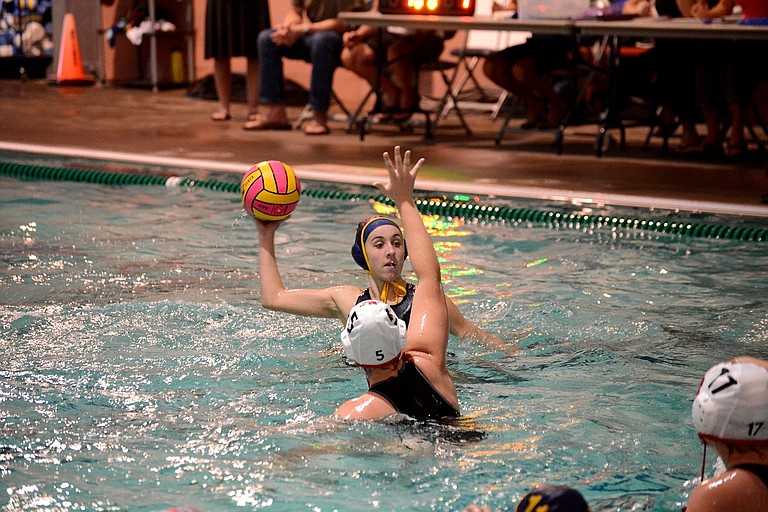 Saturday, October 3, 2015
This week's competition was against two new 5A programs in the Mt. Hood Conference that resulted in wins for both the HRV boys and girls teams. Both Eagles teams are 5-2 overall and 4-1 in conference.
Tuesday's game was against a Sandy team that is new and was made up of only freshman and sophomore players on the boys varsity. Hood River played a mix of JV and varsity players much of the game to work on specific types of offenses and defenses and ended up winning 10-3, largely because HRV was able to limit shots on goal.
Another reason for the JV athletes playing in the varsity game was that the Eagles coaching staff knew that Sandy would have been outgunned otherwise and HRV wanted to be good sports and encourage Sandy's nascent water polo program to grow.
"We really want to support all schools building their programs and don't want lesser experienced teams to go away discouraged," explained HRV boys and girls assistant coach Dave Robinson. "It wasn't long ago — three years — when the HRVHS boys team was in a similar situation. Sandy's head coach was definitely appreciative of our approach."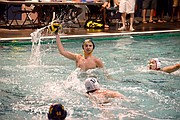 The boys' leaders were Cole Rothman and Myles Cameron with two goals apiece, combined with a goal each for Adam Cameron, Russell Grimm, Cam Marquez, David Walker, Chad Klaas, and Arthur Finstad.
In the girls' game, Sandy put up a good fight initially, but the HRVHS girls swimming speed and shutdown defense took over the game, represented by seven steals by Jamie Robinson, six by Rose Finstad, and an additional five steals by Lauren Orr. On the scoring side, Amber Kennedy led with three goals, Robinson, Marelie Vorster, Finstad and Orr had two goals apiece, with a goal each rounding out the scoring from Sloan Hall, Emily Burns and Jocelyn Pedrotti. The one goal against keeper Kat McElderry came from a 6-on-5 situation.
Dave Robinson said that one of the nicer goals of the evening was a cross-pool pass from Jamie Robinson to a driving Emily Burns, who then "executed a textbook wet-shot, a specialty move when a defender is right on your back and you don't have much room to work."
Girls coach Kellie Dunn was pleased with HRV's performance but also lauded Grant's performance, although scoreboard did not reflect the team's abilities.
"The girls came out strong. We hit Grant hard with solid pressure defense and worked the counter attacks early with (Robinson) scoring the first two or three goals that way, I believe," she said. "Grant was a legit force considering it's their first season as a team and we kept on the defense the whole game."
Rounding out the week against Grant High School, the girls took the win 11-1 and the boys also prevailed 13-1.
Robinson said that Tuesday's game against 6A powerhouse Barlow "will be night and day from this week as well as Thursday's game against 5A Parkrose, a future combatant for the State tournament." Tuesday's game will be held at the Hood River Aquatic Center, with the girls varsity game starting at 5:30 p.m. and the boys varsity game starting at 6:30.