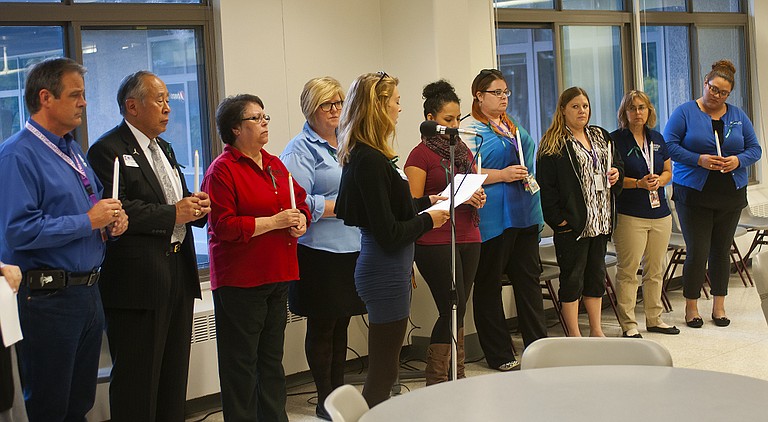 Saturday, October 10, 2015
A small group of student leaders, administrators, faculty and staff gathered at Columbia Gorge Community College Wednesday evening to honor the nine victims of last week's mass shooting at Umpqua Community College.
They joined community colleges throughout the state in remembering the victims and their families and expressing their support and condolences, signing poster-sized cards and posting photographs of themselves holding "I am UCC" signs with the hashtag "#IAMUCC."
"Today we are sharing collectively with thousands across the state as we gather, pause, and honor those that have been touched by the tragedy of Oct. 1," said CGCC President Frank Toda. "Yes, it is indeed a fearful thing to love that which death can touch. But more fearful still the loss of hope. Tonight we choose hope and not fear."
In an email sent by an Umpqua faculty member to colleges throughout the state planning vigils, on behalf of UCC, the writer said: "Thank you for lifting us up this night with your light and your prayers.
"We know that your hearts are with us. May the healing and love and compassion you send to us this night travel beyond all boundaries and return to surround and enfold you also."
"Our daily thoughts are with family and friends of those who were lost," said Bailey McManus, a student and president of the Phi Beta Kappa chapter at CGCC. "You can never completely get over the loss of your beloved. Take a look at the people next to you — they are your support."
"This has been a very difficult week for those of us in the community college community," said Lori Ufford, chief academic affairs officer for CGCC.
She has been leading changes in campus security procedures at the college over the past year as schools around the nation work to address safety issues on numerous levels.
She expressed her strong support for those at UCC. "We, and the entire state, have rallied around them."
Following statements and readings from Toda, Ufford and McManus, nine of those attending the ceremony were invited to the front of the room and given glowing candles, which they held as the names of the victims were read: Lucero Alcaraz, 19; Treven Taylor Anspach, 20; Rebecka Ann Carnes, 18; Quinn Glen Cooper, 18; Kim Saltmarsh Dietz, 59; Lucas Eibel, 18; Jason Dale Johnson, 34; Lawrence Levine, 67, teacher, and Sarena Dawn Moore, 44. After a time of silence, the candles were extinguished.
Michelle Cochran, student life advisor, then encouraged those attending to sign three large cards placed on nearby tables and encouraged everyone to show their support with photographs of themselves holding "I am UCC" posters laid out on another table and posting them with the hashtag "#I AMUCC."
The large cards, which will be sent to UCC, included a number of messages. "So sorry your campus has experienced this living hell. May some good come of this tragedy," one read. "Stay strong… and stay in school!" read another. "Love and strength from the Columbia River Gorge. We are UCC," read a third. And a more personal note as well, from a student: "Cuz, we will miss you so much, you are always with us in spirit. Love you always."