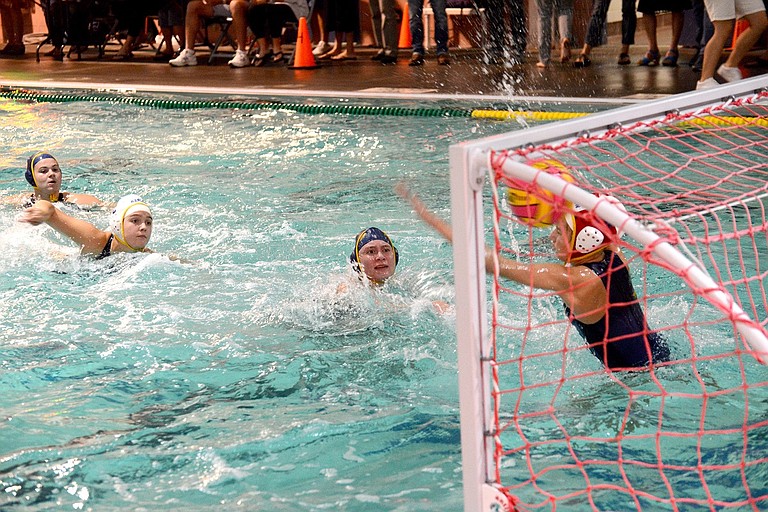 Saturday, October 10, 2015
The HRV water polo teams continued their season roll as they took on 6A Sam Barlow and 5A Parkrose High Schools this week.
The girl's team made an incredible effort against Barlow, a top 6A state team. After last year's sound defeat by Barlow by double-digits, the girls got off to a rocky start, spotting them five quick goals before settling down and fighting their way back. The girls lost 13-9, but showed their true strengths down the stretch.
"The girls never gave up and battled back impressively. We need to use this experience to build our confidence against stronger opponents so we start games as strong as we finished" said coach Kellie Dunn. Senior Jocelyn Pedrotti had a breakout game with four goals, followed by Lauren Orr with three, and one each for Rose Finstad and Marelie Vorster.
The girls went into Parkrose hungry after the loss to Barlow and took the match soundly 17-6. Once again, a strong Hole-D performance from Orr effectively shut down the inside game which left mostly outside, perimeter shooting. Kat McElderrey excels in the cage against these types of shots and shined with a total of thirteen saves. Once again Pedrotti made her presence felt with five goals, along with freshman Jamie Robinson's three goals and three assists. Ella Mudry had two goals and two assists, Finstad had two goals, while scoring was rounded out with on each from Orr, Sam Davies, Marelie Vorster, Peyton Rigert. Davies added two assists as well.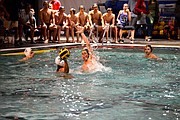 The boy's team made a big step forward in the Mt. Hood Conference on Tuesday with a 12-11 home game win over rival Sam Barlow High School. Their Homecoming week victory was especially satisfying in light of the 11-12 double overtime loss to Barlow in their last matchup in 2014.
"Barlow was definitely in our sights as our toughest competition in the conference, and we really prepared ourselves both physically and mentally to win," said coach Dave Cameron.
Arthur Finstad had an outstanding game, getting good front position at hole set which enabled him to make five goals. Goalie Adam Cameron also was one of the main contributors with countless saves; he even scored a full-court goal when he saw Barlow's goalie stray too far into the field in an effort to ward off a fast-break score by HRV.
"There are not many players who have the arm to pull off a goal from the other end of the pool, and it's definitely a crowd-pleaser," commented coach Cameron." The Barlow goalie also got an ejection during the game, leaving the goal wide open for David Walker to throw one in. The remaining points were scored by Russel Grim (2), Myles Cameron, Cole Rothman, and Chad Klaas.
At Parkrose on Thursday, the boys battled in another tough match that ended with a 10-8 win. "The Parkrose team has made huge strides since last year, and our boys were not expecting such a difficult game," said coach Cameron. "We also put ourselves at a big disadvantage with too many ejections, which made it easier for Parkrose to score in 6 on 5 situations. This will definitely be a main focus in our practices next week." Myles Cameron led the scoring against Parkrose with 4 goals, followed by Grim (3), Rothman (1), Klaas (1), and Blake Winner (1).
The boys team is now tied in first place in the Mt Hood Conference with a 6-1 record and is in first place in the 5A Metro Conference with a 2-0 record. The girl's records are 5-2 and 2-0 respectively and are positioned for a strong conference and state tournament run for the first time in the team's history.