Wednesday, October 14, 2015
The Horizon Christian co-ed soccer team officially clinched one of Special District 6's four postseason berths thanks to the Hawks' 3-1 win over Damascus Christian Monday afternoon in Hood River.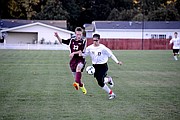 Horizon went up 2-0 early in the first half thanks to goals from senior midfielder Cameron Arrigo and senior striker/captain Salvador Ramirez. Damascus responded late in the first half with a header that found its way into the back of Horizon's net, but the Hawks shot back just a few minutes later with a give-and-go between senior midfielder/captain Kameron Brown and senior wing Cody Lingel, who scored the final goal. Horizon now has a 6-1 league record (6-4 overall) and are guaranteed to make the playoffs even if they lose the final two games remaining in the team's season. Currently, No. 20 Horizon is ranked second in the district, behind No. 13 C.S. Lewis Academy. Horizon next plays No. 44 Open Door Christian Academy (2-7 overall, 2-5 league) on Monday at 5:30 p.m in Hood River, for the team's final home game of the season. Above left, Ramirez (white jersey), fights with a Damascus defender for control of the ball, and Horizon's Makoa Whitaker (No. 17) does the same in the photo at above right.