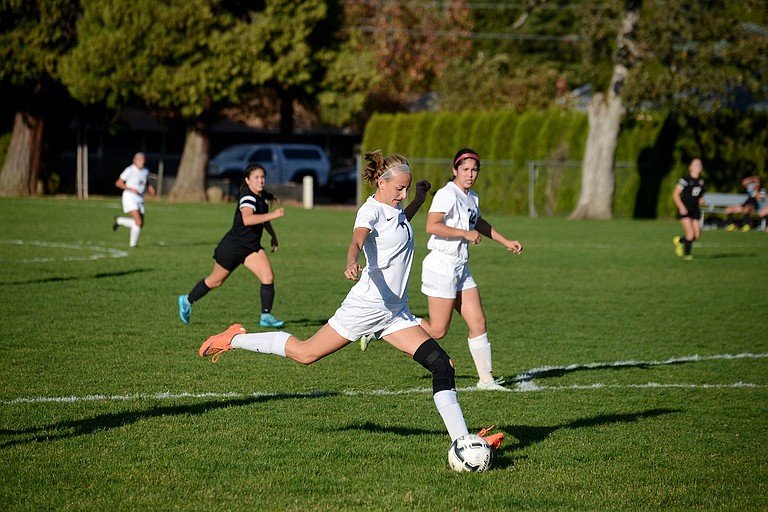 Saturday, October 17, 2015
Coach Kevin Haspela said at the beginning of the season that his HRV squad would be "the team to beat in the Columbia River Conference."
Four games into the Eagles' league schedule, Haspela has been proven right.
HRV (7-4-1, 4-0 CRC) had another productive week, knocking off The Dalles (3-7-1, 0-2-1 CRC), 3-1, in Hood River on Tuesday, then taking care of business on the east side of the state, defeating Pendleton (5-5-2, 1-2-1 CRC), 1-0, on Thursday.
This week's wins gave HRV a 4-0 league record and earned the team its sixth consecutive CRC title and a guaranteed spot in the 16-team state tournament bracket, the playoffs for which will begin early next month.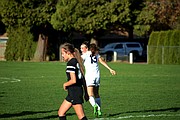 On Tuesday, HRV controlled most of its contest with The Dalles, though it took some time before the Eagles were able to find the back of the net. HRV drew first blood in the 32nd minute thanks to midfielder/forward Kassidy Davidson, who scored unassisted with a rocket of a shot from about 10 yards out that found the high part of the net. Three minutes later, middie/forward Claire Davies scored on a similar shot, assisted by Davidson and Erin Sutherland.
In the second half, The Dalles pulled within one off a counterattack goal scored by Emma Weir after an HRV pass was picked off at midfield and then sent deep into the corner of HRV's net.
HRV grabbed the insurance and final goal of the afternoon off the foot of middie/forward Sindy Magana, assisted by Davidson and Cielo Rivera.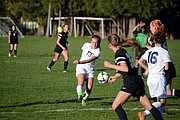 "Good goal produced by excellent timing and quick ball movement. Cielo Rivera sent a diagonal ball into the far right corner onto which Kassidy Davidson made a perfectly timed run. She found Sindy Magana on the far post who scored," Haspela said. "The late goal changed the feel of the game for us- like we proved that we deserved the win."
Haspela was pleased with how the team created good scoring chances as well as "penetrated deep and picked our heads up to find targets," while expressing concern that "we did leave the door open" to allow The Dalles to come back into the game.
"As we move toward playoffs we will need to be sharper with our shooting and can't afford to miss early chances," he noted. "In practice we will be focusing on developing courageous and assertive moves in tight spaces and quickly releasing shots."
Thursday proved a tougher contest score-wise, although HRV controlled possession and outshot Pendleton 17-6. Haspela said the team "ran into trouble early on and squandered several good chances." The Eagles didn't break through until the second minute of the second half, when Magana picked up a loose ball off an Ami Santillan dribble that had been stopped by a Pendleton defender and put it in the back of the net.
Pendleton created more than a few hairy moments for HRV in the second half as the Eagles clung desperately to their one-goal lead.
"Pendleton created some good opportunities in the second half and nearly scored on one play in which (keeper) Vanessa Silva came off her line to make a save at the (six-yard line)," Haspela said. "She couldn't grip it and Pendleton had a second attempt which Kara Kiyokawa cleared from the goal line. Kara, senior captain Jenissa Ramirez and sophomore Yahaira Chavarria served as the anchors for us in back relentlessly challenging and winning balls."
The Eagles will have their final regular-season home game Wednesday at 5:30 p.m. at Henderson Community Stadium, where they will now be playing to improve their 5A ranking, currently 12th. HRV wraps up its regular season Tuesday, Oct. 27 in The Dalles at 4 p.m. Then, the Eagles will face a to-be-determined opponent on Nov. 4 in the first round of the state tournament.