Wednesday, October 21, 2015
1915 — 100 years ago
At a meeting of the State Highway Commission, last week $90,000 was appropriated for construction next year of the Columbia River Highway between this city and Mosier. The appropriation was made upon Wasco County bonding itself for sufficient funds to construct the highway from Mosier to Fairbanks.
(Advertisement) Out-of-Door Portraiture — Mr. Wm. B. Dyer desires to announce the opening of Canyon Crest Woodland Studio, For Out-of-Door Photographic Portraits. Sittings by appointment. Phone 5532.
1925 — 90 years ago
Pine Grove is to have a new school building. At the election conducted at the school house last Tuesday afternoon, there were 77 votes cast. Of these, 65 were in favor and 12 opposed. For a number of years there has been strong agitation in Pine Grove for a new school house, one which would better comply with the needs of the children.
Governor Pierce and Director Jardine were here last week to inspect the proposed site of the new experimental farm to be established in this county and as the local branch of the Oregon Experimental Station. The tract is located on the west side, about two miles from town and includes a large variety of soils typical of this valley.
Now He Believes Mouse-Match Yarn
Local Fire Insurance Man Says Evidence Available At Fire Now Convinces Him
"I have often heard the story of the fire which started through a mouse chewing on matches, but I never believed it until last week," said Decatur Baldwin, local fire insurance man.
At the H.J. Graff country home, apple pickers smelled smoke and quickly located fire in the small room at the rear part of the residence. They at once obtained water and put out the fire. An investigation disclosed that the fire, which did small damage, appeared to have originated in a cardboard carton, containing waste paper.
But while Baldwin was trying to figure out how anything in the board could have been fired by spontaneous combustion, he noticed, on a shelf above the carton, a box of matches, all of which had burned heads. Then he saw mouse tracks and now believes that the box of matches became ignited when a mouse chewed on one, and one or more lighted matches fell onto the carton below, starting the fire. Thus an old, old story carries evidence of truth.
— Hood River News, October 18, 1935
1935 — 80 years ago
Within the next two weeks, depositors of the Butler Banking Company, in liquidation, will receive about $50,000, according to R. W. Coppock, representing the State Bank Examiner. The distribution will represent 10 percent on savings, and seven percent on commercial accounts, and checks will be issued as soon as they are available.
A report from the office of Public Librarian, Mrs. Eliza Waite, indicates that, during the month of September, 2,998 books were borrowed from the County Library, an average of 125 volumes a day.
1945 — 70 years ago
A plane was used for the first time to spray a Hood River Valley orchard when, on Wednesday, Sherwin Williams Company utilized a plane to apply Stop-Drop on the big Newtown crop of Walter Wells, of Pine Grove. Weather conditions were fitting, and it is stated the experiment was highly successful.
The Stadelman Fruit Company has purchased the R.W. Skibbe orchard property at Odell, and another highly-developed orchard of Hood River Valley is added to the several holdings of the Stadelman Fruit Company.
1955 — 60 years ago
Pickers are still in short supply in the valley, reports Boyd Jackson of the employment office. He reports a shortage of between 150 and 200 pickers, but turnover of workers with the completion of picking in the lower valley is expected to help the situation. Approximately 75-100 students have augmented the labor supply and 413 nationals are working, Jackson said.
Harvest of apple varieties on Malling IX root stock this week at the Mid-Columbia Experiment Station has resulted in interesting findings, but the Malling IX and other dwarf stock still are not recommended for commercial plantings in Hood River Valley.
1965 — 50 years ago
The men who keep vigil at the Hood River Bridge may soon have a new home, according to plans made by the Port of Hood River Commission. Bids have been called to replace the toll bridge house with a new covered plaza. Burton Badley, port-chamber manager, made a rough estimate that the new structure might cost in the neighborhood of $20,000.
Darkness closing in on both ends of the clock will signal the time for a clock change at the end of this month. Oregon goes off Daylight Saving Time, and back onto standard time, during the night of Oct. 30. The switch is scheduled about 2 a.m. Sunday, but most households will set their clocks back an hour before they go to bed Saturday night.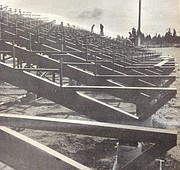 1975 — 40 years ago
A section of Hood River Valley High School's new bleachers will be reserved for donors when the school holds its inaugural football game Friday at the new stadium. Principal Charles Bowe said the seating was nearing completion Wednesday, with most of the walkways and seats already bolted into place. Temporary steps will be used to give access to the bleachers.
Good Turn Day Goodwill bags are being distributed to area homes this week by local Brownies, Girl Scouts, Cub Scouts and Boy Scouts. The public is asked to fill the bags with reusable clothing and other household articles, and place near the front door by 9 a.m. on Nov. 1. All materials collected will be repaired and sold in Goodwill retail stores. Funds provide wages and services for the handicapped.
1985 — 30 years ago
Much of the rockslide is cleared now, but Interstate 84 traffic in Hood River County faces an uneasy winter thanks to events that started early Saturday not far west of Starvation Creek. It was punctuated by a repeat on Monday morning.
Tons of rock tumbled from the face of an unstable cliff and onto I-84 about 2 a.m. Saturday. It completely blocked the eastbound lanes, and scattered some rock across the westbound lanes of the four-lane freeway. One of them was large indeed. A boulder more than four feet high bounced across the freeway, coming to rest against a structure near the Union Pacific Railroad.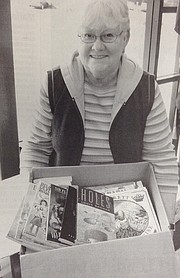 1995 — 20 years ago
There's one way to gage the popularity of the 13th annual Hood River Valley Harvest Festival: It all looks so effortless. Consider that, although 30,000 people are expected at Hood River Expo Center this Friday through Sunday, Oct. 20-22, Harvest Festival co-chairs Bill Baker and Ann Zuehlke are surprisingly calm.
Nearly 9,700 ballots will be appearing in mail boxes across Hood River County this week for voters to consider three issues in the Nov. 7 mail-in election. Ballot measures include a 20-year, $3.8 million Ice Fountain Water District bond request, an initiative to freeze further commercial development on some lands surrounding the Hood River Marina, and, for Cascade Locks voters, a 20-year $63.5 million general obligation bond request by Mt. Hood Community College.
2005 — 10 years ago
Monday's message that Hood River County doesn't have enough affordable housing or industrial lands was hardly new. But the united effort by three local government agencies to overcome these challenges, if possible, is a new step forward. "It's going to look pretty bleak and it is. But there are solutions out there and we can get through this. It's going to take work, it's going to take creativity and it's going to take imagination," said Hood River County Commission Chair Rodger Schock. He was joined by 25 other officials and citizen activists for presentations by Mike Benedict, county planning director, and Bill Fashing, the county's economic development coordinator.
— Compiled by Trisha Walker, news staff writer