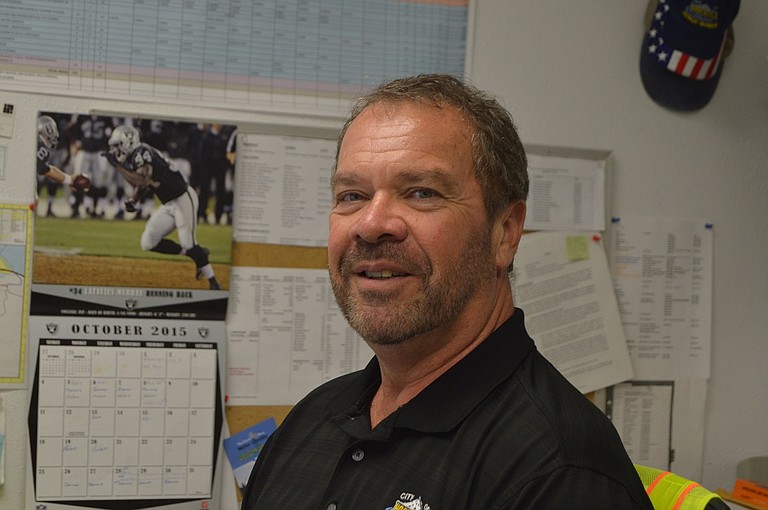 Saturday, October 24, 2015
What do sewer drains, city parks, chip seals and snow plows have in common?
They're all under the jurisdiction of the City of Hood River's Public Works Foreman David Smock.
Smock is in charge of keeping the city's infrastructure maintained and running — he and his crew are responsible for the city's streets, parks, sewer and storm water collection systems and the water system. That sounds impressive even before Smock breaks it down into approximates: 50 miles of water distribution mainlines, three reservoirs, 23 water pressure regulators, 30 miles of sanitary sewer and storm lines, 18 acres of maintained parks and 300 fire hydrants.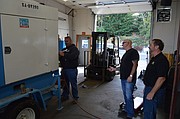 And that doesn't include the miles put on by crew plowing roads or reading water meters, or the number of street signs, lights and parking meters also in their care.
In short, "anything that comes through town is ours," Smock said. Everyone on staff is cross-trained to ensure there is always someone available to answer a service call.
"Sometimes it gets overwhelming, but it's exciting because always it's challenging," he said. "We're responsible for a lot of emergencies outside of the work schedule. My challenge is having the right guys do the job."
His crew of 12 has seen five new employees in the past three years, as more experienced members retire — thus the challenge.
"Adjusting the crew is not easy because half the crew is still learning all that we do," he said. "It's not as easy to schedule because not everyone has been completely cross trained. But we make it work.
"We have a great crew, a dependable crew," Smock said.
Smock moved to the area in 1979, from Milpitas, Calif. He started as a truck driver for Diamond Fruit, then moved to Luhr Jensen, then on to Carson Oil. When an opening with the public works department came up in 1983, he applied — and has been with the city ever since.
Racquetball Tournament David Smock serves as the racquetball director at the Hood River Sports Club, and has planned a Harvest Festival Racquetball Tournament for Nov. 5-8. Anyone interested is invited to play — contact the Sports Club at 541-386-3230 for details — or to stop by and watch.
From 1983 until 1996, he worked as a crew member, helping care for the city's parks, waterlines, sewer lines and roads.
"I like this part," he said of his foreman position, "but at times I miss going out to do a job. But I think I thrive on the activity, on the busyness of the job."
The yearly schedule board contains "more work that we can ever do," he smiled. "The crew likes to be busy. They like the variety of work we do."
Smock and his crew work with state and county departments, and have a close relationship with the Hood River County Public Works Department, located on the same 18th Street lot.
"It's a small community, and the county helps us because they're bigger and have a variety of things that we don't have, like a paint truck," explained Smock. "We're like the little brother. They help us."
He also works closely with Mark Lago, City of Hood River public works director, and Gary Lindemyer, project manager.
Lago has been Smock's supervisor for five years, and the two meet weekly to go over their work schedules.
"When I am uncertain of a decision I have to make or I need advice, I have learned to bounce things off of Mark," Smock said. "He's a big help."
As for Lindemyer, the two have worked together for all of Smock's 32 years in Public Works — Lindemyer was foreman when Smock was on crew.
"Gary and I have a close working relationship and we usually know what the other one is going to expect when it comes to projects," said Smock. "This is great for Public Works because Gary goes to meetings with the knowledge of what is needed."
On this particular Tuesday, Smock had two of his crew working on the reservoir in Dee, with another two painting traffic stripes on roads. He had just fielded a call about a water leak, and had two vehicles out getting parts in Portland and The Dalles. Oh, and four people were either on vacation or sick.
"You never know what's going to happen," he said. "It's a great outfit, the small being able to do what we do."
Even with that busy schedule, Smock encourages public input. Calls go through Marlo Messmer, office manager, and are then placed on Smock's desk for handling.
"We try to let people know that if they have any thoughts that need to be addressed, we are here to help," he said. "Our job is to maintain the city and improve on it when possible. Public input is helpful."
He uses snow as an example of this — city streets get plowed based on importance, with main thoroughfares plowed before side streets.
"If streets don't get plowed, don't get mad, just give us a call," he said. "We work by road priority, so we might not get to a side road right away. But give us a call. It's a good thing."
Another reason to call: Smock and his crew are getting catch basins ready for the likely fall and winter rains, and are encouraging residents to make sure the basins in front of their houses are free of leaves. However, if they're unable to take care of that themselves, a call to the office will bring someone out to help.
But the sooner you call, the better.
"We try to take care of it now, but as leaves fall, we just can't keep up," he said.
Smock has been on the job 32 years, so yes, he's eyeing retirement. But not just yet.
"I really enjoy my job, or I'd have already retired."