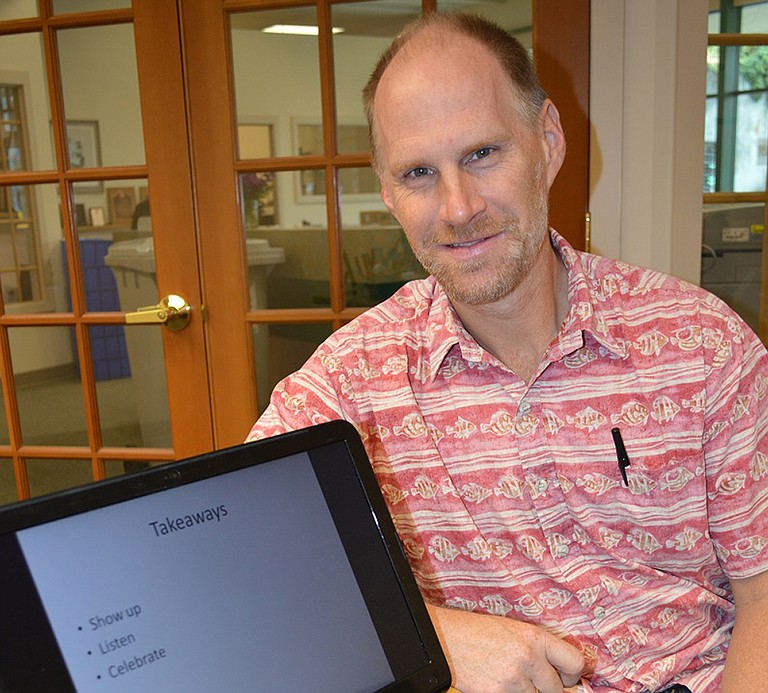 Saturday, October 24, 2015
Mayor Paul Blackburn spoke at a recent League of Oregon Cities conference on his efforts to connect with Spanish-speaking citizens. He will share with the Hood River Latino Advisory Council what he learned from officials from Cornelius, Independence and Estacada, who served with him in a Latino outreach panel, "Including Everyone."
Blackburn said he believes he is the only Spanish-speaking mayor in Oregon. While campaigning last year he spoke Spanish from the stump, and after one talk several Latino community members came forth to thank him.
"They were so appreciative, and I have used that as the center of my Latino Advisory Council outreach," Blackburn said. The council has met four times since February.
The Latino Advisory Council meets Oct. 28 at 4:30 p.m. at City Hall and anyone is invited.
Blackburn has since talked at a St. Mary's Catholic Church Spanish Mass and appeared on Radio Tierra and at area celebrations.
With Latinos forming 40 percent of the local school enrollment and "a third or more in the city and county," Blackburn said, "it is so it is very important we reach out to the Latino community. When I spoke from pulpit, the people were so grateful for that, and pleased have the mayor there.
"The priest said this is the first time we have had a city official speak Spanish," said Blackburn, who was elected in November 2014.
He has been a guest on Radio Tierra four times, speaking in Spanish and sharing what's going on in the city.
"It's been a great way to reach out," he said.
He said his "takeaways" from the League of Oregon Cities experience were: Listen, and celebrate your successes.
"In many ways (outreach) will be inadequate and fall short, but good things will happen," he said.
"Show up, figure out how to be there, if you don't speak Spanish, get an interpreter. There are places you would be welcome and folks would be touched and it would be memorable."
Blackburn said that at LOC he saw "some other people are further down the pike than we are: they have held town halls and hired interns to address some of these issues."
Asked how he will proceed with what he has learned, Blackburn said, "My next step is to share some of the things I saw with the advisory council and have them help me with some of the decisions like that. It's not just for me to decide."