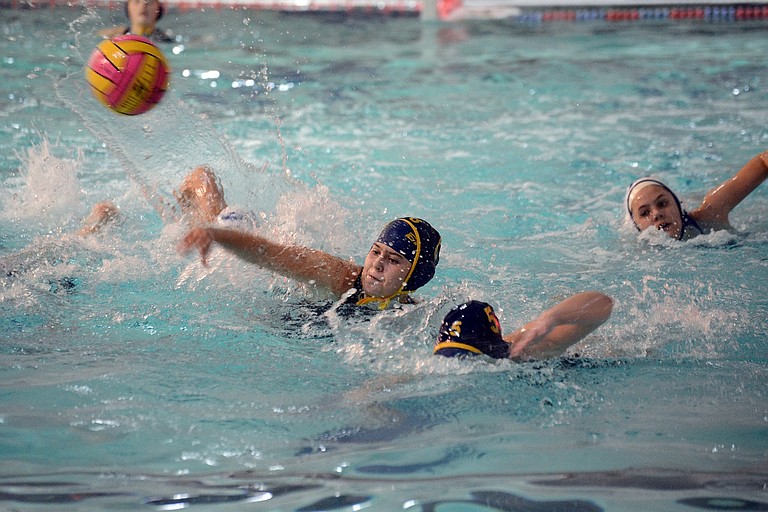 Wednesday, October 28, 2015
HRV boys and girls varsity water polo teams went into Hillsboro Saturday expecting stiff competition as they have a strong record to date and this was the teams' first meeting. HRV came out on top, edging Hillsboro, 7-6.
For the girls' varsity, the day started with a little drama as a flat tire en route to the away game marooned five varsity starters. After a successful negotiation with Hillsboro to delay the start, HRV's starters showed up to begin the game, but launched into battle with no warm up.
Hillsboro employed an aggressive "ball drop" defense, where multiple defenders drop on any interior offensive player receiving a pass. This requires recognition and communication on the part of the offense to quickly react and make the appropriate pass to a now open shooter. While HRV adapted, it still made for a challenging game against Hillsboro's relentless attack.
"This is something we have worked on in practice and big part of the girl's team's turn around this year — teamwork, awareness and communication," said coach Dave Robinson.
HRV was able to take advantage of this aggressive approach evidenced in two cases where Jamie Robinson beat her defender, drove to the interior drawing the defense and executed two well-timed passes to an open Rose Finstad for easy scores.
The game stayed tight until the end, where Marelie Vorster required pinpoint accuracy to score on a narrow angle over the goalie's outstretched finger tips to hit the cross-cage upper corner.
"This is a tough shot for any water polo player, but Marelie has shown the ability to hit this shot repeatedly, essentially winning the game in overtime against Sandy with two goals and again here, giving Hood River a goal at a critical moment in the game," added Robinson.
Leading 7-6 with 20 seconds left and a Hillsboro player bearing down on goalie Kat McElderrey, Robinson overtook the potential game winner and stole the ball to seal the victory.
HRV will meet Hillsboro again in their last home game on Oct. 31, which is a must-win for HRV to maintain an undefeated record and top spot in the Metro 5A conference going into state qualifiers.
The girl's leaders were Finstad with three goals; Robinson with one goal, two assists and seven steals; and a goal apiece for Erin Mayer, Vorster, and Lauren Orr. Sam Davies had one assist and two steals while Ella Mudry also had one assist and two steals. McElderrey was under fire continuously, chalking up 22 saves against six goals scored.
The girls are now 11-4 overall for the season and 10-0 in the Metro 5A Conference, holding down the top seed for the state qualifier tournament in Corvallis.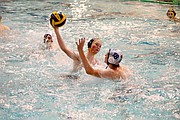 Boys defeat Hillsboro
The HRV boys water polo team extended its win streak to 11 with another decisive win, taking down Hillsboro 14-5. The large lead established by HRV allowed for many athletes to get playing time in Saturday's game. As of Tuesday morning, the boys water polo team hasn't lost in over a month since falling to Reynolds, 7-3, in Hood River.
Myles Cameron led the way for the Eagles on Saturday, scoring a team-high three goals, followed by Pelle Bergstrom (2), Russel Grim (2), Charlie Sutherland (2), Chad Klaas (2), Cole Rothman (1), Sam Einhorn (1), and Blake Winner (1), Adam Cameron and JJ Mears led the team in assists with two apiece, and Arthur Finstad led the team in assists, with two.
After hosting Parkrose on Tuesday, the HRV water polo squads travel Thursday for a game against Barlow, then return Saturday to host Hillsboro for the final game of the regular season. The boys start at 8 a.m. and the girls start at 9.