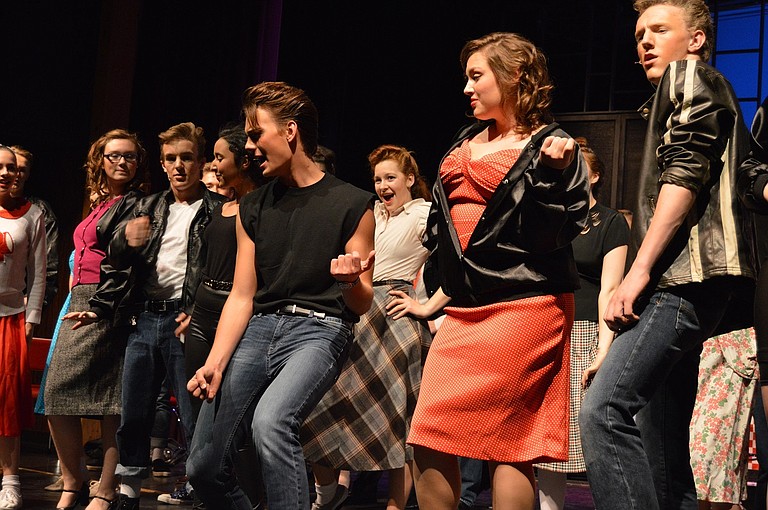 Wednesday, October 28, 2015
Longtime Hood River Valley High School Theater teacher Rachel Harry is debuting her first fall musical, "Grease," opening this weekend at the Bowe Theater.
And to fund it, she had to use her winter play budget.
"I have directed 24 of the winter plays here (and) I didn't have a budget to pay for this show," she said. "I used the winter play budget … and needed a musical that I felt had a good chance of raising enough funds to pay back the winter play budget, as well as give us a working budget for next year's musical."
She chose "Grease" because "the musical is very popular, a fast-paced comedy balanced with some serious, poignant moments, accessible music that everyone can enjoy, and a story of teenaged angst we can all recognize," she explained.
The musical showcases the talents of some veteran cast and crew — you'll recognize many faces from previous school plays, including seniors Claire Hamada (stage manager), Olivia Newcomb (Rizzo), Blaise Kaufman (Sonny/Johnny Casino), James Ryan (ensemble), Sienna Reynolds (ensemble), and Miguel Vasquez (Roger) — as well as new HRVHS music teacher Dan Kenealy.
"(Kenealy) has taken on the huge task of following a music teacher (Mark Steighner, who retired in June after 36 years) who set high standards for the music program," Harry said. "He is doing a terrific job of juggling all the roles, as a versatile teacher must in a small town. He is extremely creative and willing to work with my many changes in the original libretto and music."
But building the theater budget wasn't her only consideration when choosing "Grease."
"As a director, I am compelled to find stories that reflect the issues we as a society are dealing with: female and male empowerment, female dress shaming, and just a general questioning of whether misogyny exists in today's culture and to what extent," she explained.
The choice hasn't been without controversy. Harry has chosen to put on the original off-Broadway production, not the "watered down" college and high school versions that have debuted since. She gives the play a PG-13 rating.
"The notion of my directing 'Grease' certainly instigated some concerned phone calls and a few conversations in the produce aisle," she said. "I love controversy! It promotes conversation and a close look at our own values.
"Does 'Grease' objectify women? Men? That is for you to decide. I know it has prompted some very interesting conversations with my students."
The winter play, "Taming of the Shrew," will tackle some of the same issues, she added, and "should also invite a close look at these same ideas."
Although most people think of the musical as a love story between Danny (Onar Smith) and Sandy (Lauren Church and Lily Galvez share the role), it's really about how rock and roll music turned American culture upside down.
"This musical reflects the rebellious nature of teens who chose to deride the 'fake' perfection of such iconic movie stars as Troy Donahue and Sandra Dee," said Harry. "Sandra Dee was a popular female teen star of the '50s that many young girls aspired to, a symbol of 'feminine perfection' in every way. In reality, she suffered from anorexia, (and) drug and alcohol abuse. These street kids recognize a fraud and didn't feel they needed to fit into a culture that didn't reflect their values. Are they perfect? No, of course not. But 'Grease' is not here to promote a specific morality; rather, it is performed to allow us to take a look at a time period that inspired the rebellious nature of the 1960s in all its tattered and imperfect edges."
Though this is her first musical, Harry has had lots of help from parents and community members: Denise McCravey and Alison Church "have worked tirelessly on the program and organizing other parents," Kathy Peldyak is again leading the Costume Goddesses, Jeff Lorenzen "is remarkably adept at taking my crazy drawings and constructing safe, logical set designs," Shawn Meyle is helping with posters and video, and "local pros" Rod Krehbiel, Larry Wyatt and Lynne Thomas are back in the orchestra. She's also appreciative of the businesses who have donated money, time and help "to make this show so visually appealing."
And she's had plenty of help from her students as well, with Olivia Acosta, Anna Tichnor and Blair Holman serving as "dance captains," and a cast ready and willing to challenge themselves not only with the music, but with choreography.
"Over the almost 30 years I have been involved in the theatrical productions here, I have found the students to be a dream to work with," Harry said. "Their exuberance and positive energy is infections and keeps me young."