Wednesday, October 28, 2015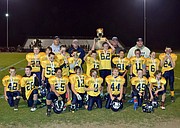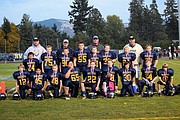 The Hood River Valley Youth Football program wrapped up another successful season this weekend, hosting the Gorge Youth Tackle Football League Championships on Oct. 24 at Hood River Valley High School.
The program, which is run by Community Ed as well as a volunteer action committee composed of parent volunteers, had a great year, culminating with the Hood River 5/6 Blue team winning their age group's championship, shutting out White Salmon, 30-0. They end their season undefeated.
"This is a fourth year in a row we've been fortunate enough to win that championship," said coach Justin Frazier, who coaches the team along with Pete Hughes. Erick von Lubken and Vince Wilson also serve as coaches for the Hood River program and saw the 5/6 gold team reach the podium, beating The Dalles 30-14 in the third-place game last weekend. Frazier said the team was "only a couple plays from going to the championship. The 3/4 grade teams didn't make it to the later rounds of the tournament, but had a good season learning and competing, with many players perfecting their skills to move on to the next level in 2016.
The Gorge Youth Tackle Football League is comprised of 17 teams around the Gorge with kids in grades 3-6. Teams are fielded by Lyle, The Dalles, Goldendale, White Salmon, Stevenson, Hood River, and Corbett, the latter of which is a newcomer to the league this season.
Frazier said the league focused on getting kids as much playing time as possible and dividing talent evenly among the 18-person teams.
"The kids had great attitudes," he said of this year's group. "They came to learn and really progressed and exceeded beyond my expectations with how they played."
Despite the gloomy weather in the morning, Frazier said the turnout was "great" this year, noting that "our community was able to raise $1,100 just through our concession stand alone" for youth football.
"There's been a tremendous amount of parent support," he said. "The youth program is really starting to grow."
The Hood River Action Committee wished to thank Rosauers and Dog River Coffee for donating items for the youth football concessions. In addition, the committee also wished to thank all of the parent volunteers for making the season a success.
With the season over, attention is already being directed to the 2016 season. Sign-ups for 1/2 grade flag football and 3rd-8th grade tackle football will open in April, with the season starting in August. Those with questions can call Community Ed at 541-386-2055.