Saturday, October 31, 2015
On the heels of HRV's performance at the Columbia River Conference Championship meet on Saturday, the Hood River middle school combined cross country teams had great races on Sunday at the Oregon State Middle School Championships, with the girls taking first and the guys taking seventh in the "superchamps" race.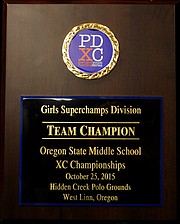 Despite the cold, rainy, muddy day weather at the course in West Linn, the girls put together a great race, beating some of the top teams around the state. Although many of the schools were larger than Hood River middle schools, coach Steve Wrye said that the girls knew from the start of the season that they were favored to win, as they finished second last year and had most of the team returning.
"All the girls knew they had to work hard on their mechanics and their speed throughout the season without peaking too early to win state, and they were great students of the sport," he said. "I really think if we went to the National Middle School Cross Country Championships, we would do very well — that is how talented our girls are."
The seven girls competing in the championship race were eighth-graders Lottie Bromham, Josephine Dickinson, Francis Dickinson, Eva Jones, Frances Melby, Terra Mikkelsen, and seventh-grader Chloe Bullock.
Bromham broke a county record this year for middle school runners, running an 11 minute, 23 second 3000-meter (1.86-mile) race, breaking the record of 11:59.84 she set last year as a seventh-grader.
The boys also put together a great performance, with every single runner recording his fastest time of the season in Sunday's race. The boys team included Omar Quintana, Raine Melby, Jackson Perkins, Oscar Powell, Gunnar McCaw, Ryan Salmon, and Clayton Cook.
The remainder of the athletes ran in the champs race and also did well, with many runners also setting personal records. The teams this year were coached by Mike Parkinson, Steve Noteboom, Alice Johnson, and Janet Cook and supported by Jen Bayer and Kim Rhylick. Team captain Reed Bauer, who was sidelined with an injury before the season even started, attended practices, coached a meet, and motivate runners all season long despite not being able to compete. Wrye also wanted to thank all the volunteers, as well as Community Ed.
The support of the community, as well as the interest of the athletes, has allowed the program to grow to 71 athletes this year, the most ever. The majority of the athletes were sixth graders, as the grade school running program started by HRV coach Brandon Bertram (who also serves as phys ed teacher for May Street and Westside elementary schools) is getting more students involved in running. Next year, Wrye hopes to have 100 runners involved with the middle school program.