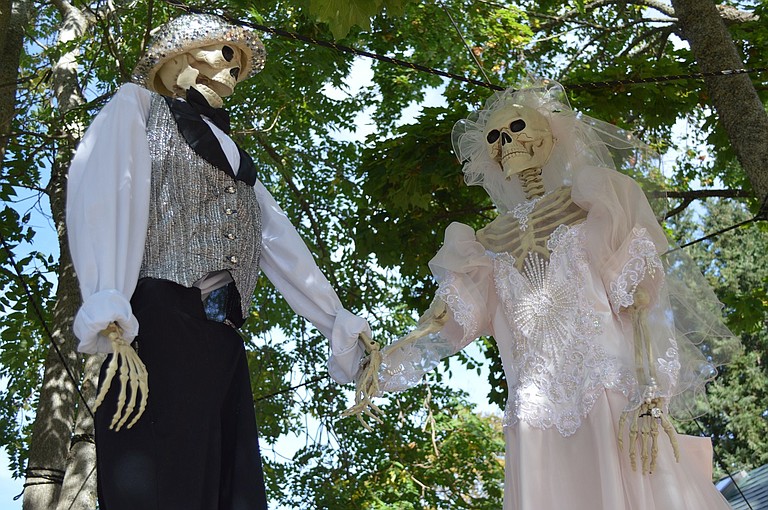 Saturday, October 31, 2015
Is your ghoul wearing Gore-Tex?
Heavy rain is predicted for the Gorge this weekend, just in time for trick-or-treating.
The first widespread significant rain storm of the season is expected to hit Oregon Friday and Saturday.
One to two inches are expected in the Hood River valley, along with heavy wind gusts.
Fortunately, many Halloween activities Oct. 30-31 are scheduled indoors, though some traditional Halloween events are outdoors, including Hood River's popular downtown Safe Halloween event. It happens rain or shine. Here's the street closure plan:
Oak Street, from First to Sixth, and side streets between Oak and Cascade streets, from 5 p.m. to 7 p.m.
Be careful on Second Street, where traffic will still pass.
Staying inside and want a scare courtesy of a home-grown ghost story? See page A3 for details on "Oregon's Door To The Dead."
Back to weather: The first major "atmospheric river" event of the season is expected, combining with a strong Pacific jet stream and a slow moving front to produce heavy rain and gusty winds. Rain is expected to begin by early Friday morning. Minor flooding is possible on fast-responding rivers and small streams along with isolated power outages due to gusty winds and leaf-bearing trees.
Halloween events:
Parkdale Pumpkin Fun Run, 9 a.m. at Rails End Park, 4965 Baseline Dr. 5-10k check in at 9 a.m.; 1 mike walkers at 10 a.m. Registration $5 walkers, $15 runners. Proceeds to Parkdale Elementary.
Harvest Hustle at Mid Valley Elementary. 5K-10K; $10 preregistration and $15 day of. Registration 9:30 a.m. More info at 541-354-1691 or mikka.irusta @hoodriver.k12.or.us.
Halloween lichen hike, 9:30-11:30 a.m. in Trout Lake. Sponsored by Cascade Mountain School. With Andrea Ruchty, Gifford Pinchot National Forest botanist. Suggested donation $20. More info at cascademountainschool.org or 503-310-8271.
Halloween at Hawks Ridge, 3:30-6 p.m., 1795 8th St. Find a Wonderland of candy, costumes and fun. Bring the family but be aware of the rabbit hole — you just never know what you will find!
Trick or Treat at Providence Down Manor and Brookside Manor, 4-6 p.m.
Halloween haunted house, 4-9 p.m. at the Elks, 1507 Cascade Ave. A Kidz Dental will hand out candy and toothbrushes. Positive Negatives will have photo booth. Haunted house open all ages. Free; donations appreciated.
Halloween in downtown Hood River, 5 p.m. Downtown businesses will be participating.
Trick or Treat at The Darling Boutique, 5-7 p.m., 114 3rd St. Free. take a quick detour off Oak Street; Disney characters giving out treats, pictures with princesses.
Halloween at Parkhurst, 5-7 p.m., 2450 May St. Safe Halloween.
Halloween community carnival, 5:30-8 p.m. at Immanuel Lutheran, 9th and State. Come anytime for games, prizes, candy, refreshments, photo booths, foosball, air hockey, black light Nerf, mini golf and more.
Wild Bill's Bingo at the Elks Lodge, fundraiser for Elks scholarship programs, 7 p.m. Open to the community. Minimum $250 progressive blackout each week. Hosted by the Elks and the Mid-Columbia Knights of Columbus. Dinners, starting at $8.50, are available from 5-7 p.m.
Halloween Walking Dead Woodstock Party, 8 p.m. at Skamania Lodge. Music, costume contest, snacks, cash bar. $15 advanced tickets, $20 at door. 21 and over. More info at 844-432-4748.