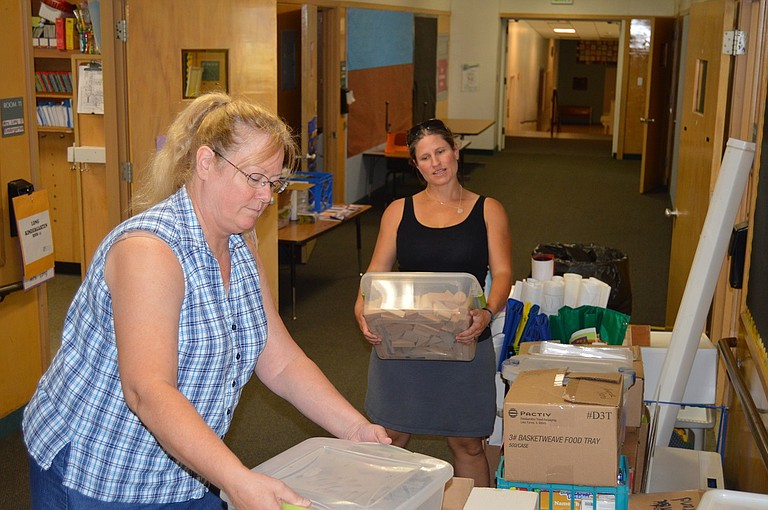 Wednesday, September 2, 2015
On Tuesday it all begins again, for students, at least.
New school year preparations began for staff and teachers in the last two weeks, month, or entire summer.
Sept. 8 is the first day of school (Sept. 9 and 10 at Hood River Valley High School).
KEY  DATES TO  REMEMBER
Sept. 1 — Student-Based Health Center at Hood River Valley High School opens, 8 a.m.
Sept. 2 — District in-service starts at 7 a.m., all staff gathering, Hood River Middle School
Sept. 2 — Volleyball, home v. Redmond, 5 p.m.
Sept. 3 — Soccer, home v. St. Helens at Westside, 4:30 p.m.
Sept. 4 — Football, home v. Woodburn, 7 p.m.
Sept. 8 — First day of school, Horizon Christian and HRCSD
Sept. 8 — First day for grade 6
Sept. 9 — First day for grades 7-8
Sept. 8 — HRVHS registration
Sept. 9 — HRVHS freshmen only attend; Sept. 10 upperclassmen, first day
Sept. 9 — School Board meets, District Office, 6:30 p.m.
Sept. 23 — School Board, Cascade Locks School, 6:30 p.m.
Oct. 30 — Senior photos due
We touch base here with some high points to know about for Hood River County School District and the county's largest private school, Horizon Christian,
"The first day of school is just around the corner and your children will soon be stepping onto school buses, walking through our school doors and into our classrooms, gyms, auditoriums and cafeterias," Superintendent Dan Goldman said in in his Aug. 31 letter of welcome to district patrons.
At Horizon Christian School, staff changes include a new primary principal, Renee Rieke, succeeding Kim Spotts, who retired (but still helps with volleyball) and new athletic director Brian Stenberg, a 2005 graduate of Horizon. Faith Kempf returns for her third year as secondary principal at the K-12 school.
Enrollment at Horizon is expected at 205.
In HRCSD, the expected number is 4,074, up from 4,026 last year.
"Here in the school district, support staff have been working hard to get our curriculum organized, buses tuned up, and our schools and classrooms cleaned and ready for students," Goldman said.
"It's crazy busy to get the whole system going, but all our schools and department are going gangbusters. In particular, our technology staff has had an impressive amount of work," Goldman told the school board at its Aug. 26 meeting.
A total of 39 new teaching staff members are getting settled into their spaces, and attending training and staff development. May Street principal Kelly Beard said Wednesday he had spent eight straight working days in staff development. Goldman said that after several years with no funds for professional development, a number of grant funded teaching opportunities "are helping teachers find new skills to reach all our kids, which is pretty much our mission."
In 2015, the district starts its sesquicentennial year — it was 150 years ago in November that local leaders founded the first Hood River school. The first board meeting was held on Nov. 11, 1865 in Nathaniel Coe's house; there were 17 students who attended school for 3 months, for which the first HRCSD teacher, W. B. Stilwell, was paid $90.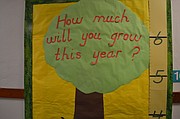 New HRCSD teachers had their orientation Monday and all HRCSD staff gather Sept. 2 at Hood River Middle School, which will be the location of one of the largest and most unusual capital improvement projects this year: a temporary boiler will be placed on a flatbed truck outside the building as the district undergoes the long-term project. This will ensure that the building is heated even though completion of the new boiler and extensive associated improvements won't happen before the cold weather sets in.
Since spring, the district has been engaged in a comprehensive planning effort to identify facility and infrastructure needs for the next 10 years. For the last few months, the district has contracted with a firm to analyze every area in a school district including classrooms, common areas (gyms, libraries, etc.), field spaces, roofs, HVAC systems, plumbing and much more.
"The data collection phase of this work is complete and we're moving into analysis, prioritization and recommendations," Goldman said. "This fall we will be engaging a Facilities Planning Advisory Committee made up of citizens, business owners, government leaders and school district personnel from across the county with the ultimate goal of making recommendations to the School Board. These recommendations may or may not include our School Board asking our community to support a capital bond levy."

Feedback sessions on facilities are tentatively scheduled for the end of September and beginning of October.
"This is an important conversation for our community and I invite you to get involved by attending one of a number of community presentations," Goldman said.
In June, the 98-year-old Hood River Middle School boiler experienced a catastrophic failure. The piping and other related systems are also 100 years or so old.
"The replacement process is slow going as we had to first abate any asbestos and then re-engineer a very complex boiler system," Goldman reported. "Long story short, we will likely have a temporary boiler system brought in that will sit in front of the school on May Street.
"This is an expensive, unplanned, and obviously necessary systems replacement," he said. "Luckily, we've been planful concerning our property and energy projects funds and will be able to cover these expenses without impacting our general fund." (Goldman noted that the same model boiler — the 1916 stamp date on it — is at Parkdale Elementary.
"Let's cross our fingers that the Parkdale boiler doesn't share the same fate," he said.