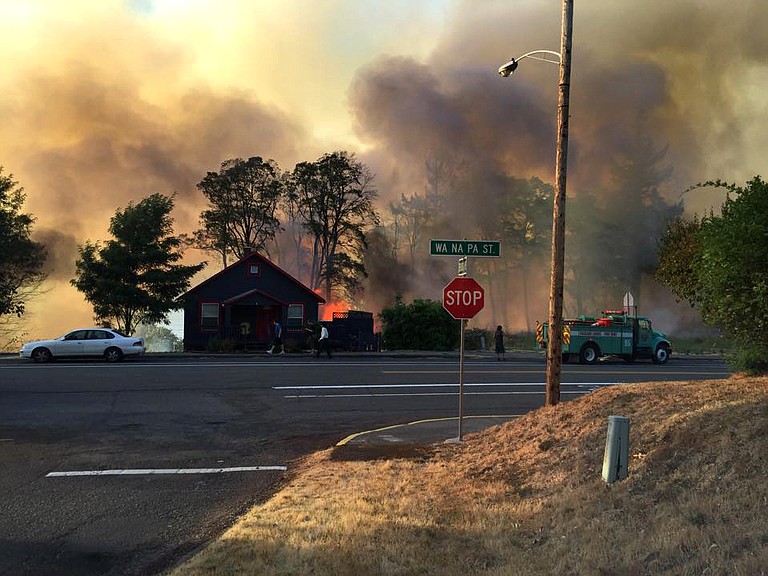 Wednesday, September 2, 2015
Gentle wings caused a tremendous brush fire Thursday in Cascade Locks.
Fire investigators determined the cause of the fire, which claimed two storage structures in a 2-acre blaze and prompted roughly 10 home evacuations, was a bird shorting out a city power breaker.
The dove hit an electrical switch on a power pole along Union Pacific Railroad's right of way southwest of Cascade Locks Marine Park around 6:35 p.m., igniting dry fuels in an arc, according to Lt. Jessica Bennett of the Cascade Locks Fire Department. The entire town lost power, an outage that persisted for more than three hours.
The fire broke out on flat ground and climbed a wooded hillside on the north side of WaNaPa Avenue across from City Hall. It destroyed a small shed at the top of the hill, next to a home on WaNaPa, and a Port of Cascade Locks storage shed at the base of the hill.
Firefighters saved the home just in time. The fire "blistered" the paint on the back wall of the house, said City Administrator Gordon Zimmerman, but did no further damage.
However, two storage sheds weren't so lucky. Both were consumed by flames — and one was housing propane tanks.
Two propane tanks in the Port's maintenance shed on Portage Road exploded sometime between 7 p.m. and 8, said Zimmerman, who witnessed the fire and helped manage crowd control until Sheriff's deputies arrived.
Other items lost in the equipment shed were fertilizer, light maintenance equipment and Christmas decorations. Paul Koch, Port of Cascade Locks Interim General Manager, said the Port has been conducting an assessment of all that was lost, which was not complete as of press time.
The Port was renting the shed from Union Pacific Railroad, which has a right of way on the rail side property. The storage structure was insured, Koch said last week.
Despite the exploding propane tanks, regional crews were able to subdue the downtown blaze within the next hour — the fire was mostly contained by 8:30 p.m.
U.S. Forest Service and Oregon Department of Forestry crews remained on scene throughout the weekend to put out hotspots and saw down hazardous trees.
The fire was the most destructive of the summer in Hood River County thus far.
Fire crews included Hood River, Westside, Wy'east, Skamania, with assistance from ODF, USFS.
Eight law enforcement officials — four apiece from Oregon State Police and Hood River County Sheriff's Office — came to the scene, managing evacuations and traffic in conjunction with ODOT. Exit 44 was closed due to the high amount of people "coming to watch," said Zimmerman.
A total of 20 to 30 homes were put on evacuation notice, but only 10 were required to leave their homes, in the nearby Lakeside neighborhood.