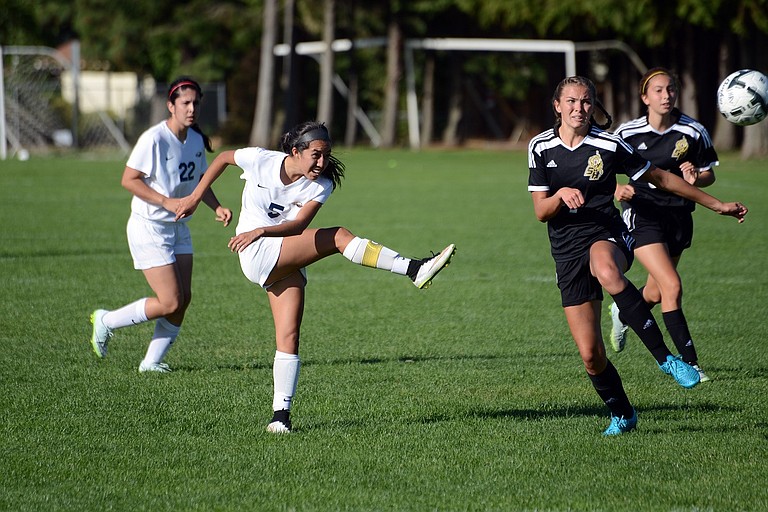 Saturday, September 5, 2015
The girls soccer program has dominated the Columbia River Conference for the past several years and coach Kevin Haspela, who is in his sixth year coaching the team, expects the Eagles will stay the course in 2015.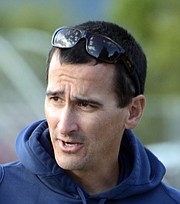 "This is a strong team with many skilled, fit, and experienced returning players. I am impressed by the amount of work the players put in during the off season," he said. "We lost five seniors, but return a solid core group of starters which allows us to pick up where we left off last season in terms of developing our system of play. The key to our success will be the mental aspect of the game-developing team unity, weathering storms, and believing in our shared vision for excellence as a team."
The strong roster has been buoyed by the amount of interest that has been shown by student-athletes in the girls soccer program this year. A total of 57 players on the roster this year, with 17 on varsity, 20 on JV, and another 20 on JV2. Hapsela noted that this summer was witness to the "best attended and most competitive tryout I've seen in my tenure as head coach."
Leading the team will be captains Jenissa Ramirez (defender) and Sophia Marble (defender and goalkeeper), who are both seniors, as well as captain Cielo Rivera (midfielder) who is a junior.
Haspela will also look for big contributions from four-year varsity player Kara Kiyokawa and Ramirez (a senior defender), who will anchor the defense, and expects Rivera and junior Mona Diaz to be "playmakers developing the attack." He added that junior midfielder/forward and last year's CRC Player of the Year, Sindy Magana, "brings great creativity and confidence" at the forward position for HRV. At wing and forward, Haspela said he had "an eager group," including seniors Kassidy Davidson, Savanna Brentlinger, and Jade Schumacher. In net Vanessa Silva, a junior who was named CRC Goalkeeper of the Year in 2014, "is looking strong again this season," according to Haspela.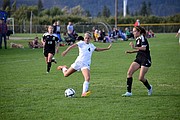 The Eagles have won the CRC every year since 2010 (although CRC was co-champions with Hermiston in 2012) and looks to make it a sixth consecutive title in 2015 as well as "advance to the semis or better" in the 5A state tournament. Last year, the team finished 8-5-3 for the regular season — including an impressive 6-0 record in league play with only one goal allowed — that garnered the team a No. 10 state ranking and a playoff berth. In the first round, the Eagles beat Wilsonville in overtime — marking the team's first state playoff win in years — then lost to first-ranked Rex Putnam, 3-1, in the quarterfinals last November.
Putnam will be part of what Haspela called "a challenging non-league schedule" this season, which also includes games against 6A team Central Catholic, and defending state champions Summit. Haspela added the CRC has also improved this season, but expects HRV will still be the team controlling the conference come late October.
"As always, we expect a tough game from Hermiston in league play, and Pendleton and The Dalles have improving programs as well," he said. "But, believe: we are the team to beat in the Columbia River Conference."
HRV wins home opener against St. Helens
The Eagles got off to a good start this season with a comeback 3-2 win over the St. Helens Lions Thursday afternoon in Hood River.
St. Helens scored the first goal about 15 minutes in, a ball from the right side delivered by Lions forward Ashley Giesbers that found the high left corner of the net. HRV knotted the game up 28 minutes in thanks to midfielder/forward Sindy Magana, who intercepted a goal kick 25 yards out to score an unassisted goal.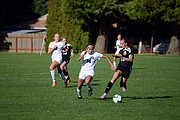 In the second half, Magana headed a through pass to forward Halle Campos who dribbled in to the goal box and scored on a high shot to the upper right corner. In the 65th, HRV showed off its footwork with a three-player combination pass in the box. Magana passed to midfielder/forward Claire Davis, who passed it to middie Savannah Brentlinger who struck a hard shot into the side net.
St. Helens answered in the 70th minute when Giesbers broke through the HRV defense and slotted a ball past Eagles' keeper Vanessa Silva for the final goal of the game.
Haspela said he was pleased with passing combinations, the number of scoring chances, the team's urgent playing style, and its ability to win the ball. However, he said HRV needs to do a better job of executing in the box and to provide more depth and balance on defense. "We are happy to get our first win, but also have a handful of lessons to learn from today's match," he said.