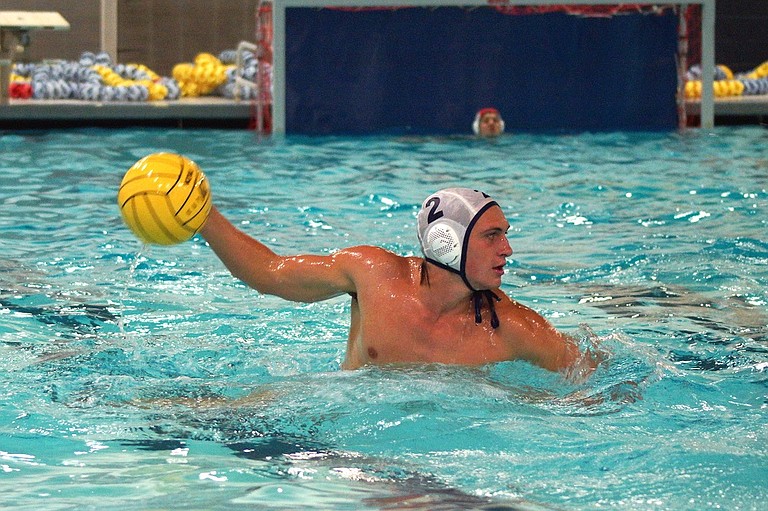 Wednesday, September 9, 2015
The Hood River Valley High School boys and girls water polo teams are both hoping to continue the success they had a year ago and maintain a positive atmosphere with their optimistic outlook for this season.
The boys squad, guided by head coach Dave Cameron and assistant Dave Robinson, has high expectations after enjoying stellar success last year when they took second place in the state championship tournament.
"We brought a trophy home, so I'm really proud of what the boys team accomplished last year," said Cameron. "This year we're going to reach the playoffs again and hopefully win the state championship and I think we'll have a good chance to do that. We only lost one senior from last year's team, so we'll have a strong squad that will be a top contender again for the state title."
The Eagles have an experienced varsity squad with seven seniors who will help lead the team in the pool. Those seniors include Charlie Sutherland, Russel Grim, Cam Marquez, David Walker, Arthur Finstad, Blake Winner and team captain Myles Cameron. Junior Adam Cameron, freshman Chad Klaas and sophomores Cole Rothman and JJ Mears are also key members of the team.
"Myles and Russel are capable of making some wicked fast shots," said Coach Cameron. "I have three freshmen (Pelle Bergstrom, Sam Einhorn and Klass) who are all capable of becoming strong shooters. However, water polo is a total team sport. If it weren't for our sprinters, attackers, utility players (Walker, Marquez, Mears, Winner), hole sets (Rothman, Sutherland, Finstad) and goalie Adam Cameron, the overall success of our team would cease to exist. These guys have the makings of a championship team and with their vision and hard work, they can certainly get it done."
Klass scored two goals in a scrimmage against Lakeridge Sept. 3 at Lake Oswego High School. Rothman, Myles Cameron and Grim are shooters who are expected to be the team's top goal scorers.
Cameron and his wife Renee organized the Eagle water polo team four years ago, while spearheading the development of the relatively new athletic program at HRV. The boys and girls junior varsity and varsity squads total 40 players. The Eagles play a 20-game schedule that concludes with playoffs and a state championship tournament (nonsanctioned OSAA event) in November.
"Water polo is a pretty exciting and intense game and I feel that the guys making an assist are instrumental in leading our offense," said Coach Cameron. "It's a really tough and physical sport that requires good swimming skills and players who are capable of quick decision making during the game. The popularity of the game is increasing very much in Hood River and it's a game that's here to stay."
The girls squad, in just its second year of the program, is led by first-year coach Kellie Dunn and assistant coach Robinson, who helps with both teams. The squad has eight seniors that includes Payton Rigert, Jocelyn Pedrotti, Erin Mayer, Emily Burns, Marelie Vorster, Casey Sherrerd, Annika Martinez and Sam Davies.
"The girls team has made remarkable improvement from last year, so I think that they're going to do quite well," said Cameron. "It takes time to develop a team and it might take a few more years, but they're getting stronger week by week."
Last season, the Eagle boys posted a 12-3 record while competing in both the Class 6A Mount Hood Conference and the 5A West Metro League. HRV had an undefeated record last year in winning the West Metro League title to earn a qualifying state playoff spot.
The Eagles boys and girls squads have identical home and away schedules. They opened their season Tuesday with a game at Aloha, which is followed by a jamboree Saturday at Barlow High School in Gresham. The Eagles first home game is Sept. 18 at 4:30 p.m. versus Reynolds at the Hood River Aquatic Center.
On Labor Day, the Eagle boys and girls team participated in the annual Roy Webster Cross-Channel swim in Hood River as one of the many support groups involved in the huge event.