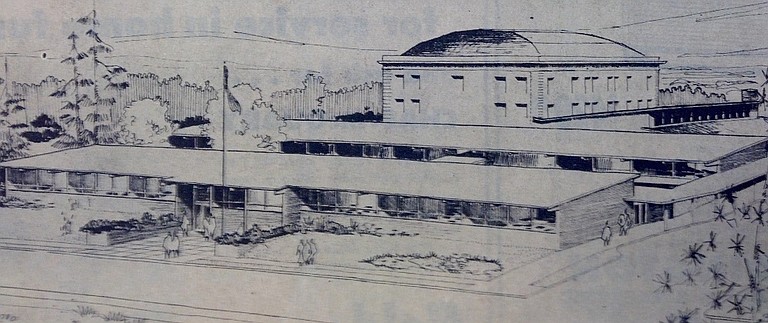 Wednesday, September 9, 2015
1915 — 100 years ago
Coming coincidentally with the holiday, the opening of the Mitchell Point tunnel Monday drew many from this city. There was a procession of teams and autos bound for the Point all day, while many cars came through from Portland, since the road in Multnomah County was open for the "Inspection Day."
1925 — 90 years ago
The long sustained struggle for a new school at Pine Grove is now about to be realized, for, in the near future, a special election is to be held, and the indications are that a new school project will go over with a big majority.
Cascade Locks Is Now Municipality
Cascade Locks is now the latest community of the Mid-Columbia area to take unto itself municipal status. On Wednesday of this week officials of the town near Bonneville Dam, arrived in Hood River and presented themselves at the County Court, where County Clerk Harold Blackman administrated the oath of office. Officials of the new municipality are: Captain Charles Nelson, mayor; W.J. Carlson, recorder; Mrs. Vera Sprague, treasurer; Aldermen: Carl Epping, Silva Perras, Ed. C. Clodfelter, Max Millsap, Julius Carlson and Mrs. Mae Silva. Colin Merrill is town marshal.
Residents met Saturday evening of last week at the IOOF hall with Mayor Nelson and councilmen to discuss the proposed application for a PWA loan to be used for improvements in the new municipality. J.F. Meager, from the Portland office of the PWA, explained various methods by which a loan could be obtained, and those present voted in favor of early application for federal funds.
Two major projects are now being contemplated by the new municipality, a city-owned water system, giving adequate fire protection, and a city hall. These projects are estimated to cost in the neighborhood of $75,000, and residents of Cascade Locks believe that the necessary loan can be obtained through the Public Works Administration, and can be self-liquidating.
The State Highway commission is now completing a standard width highway through the business section of Cascade Locks, and a number of buildings have been moved to the new property line. When the highway is completed, Cascade Locks will be one of the few communities of Oregon which will be able to boast that the State Highway commission solved its major traffic problem before it attained to municipal degree.
— Hood River News, September 6, 1935
Because the city council has decided that the streets of Hood River are not the place to park cars between midnight and 5 a.m., several of the traveling men who take in Hood River on their rounds have threatened to pass up local hotels and stay overnight at The Dalles. The city council has also decided that the duties of the night officers should not include keeping track of a number of transient cars parked on the streets, and if the traveling men who have been using the open street instead of paying a nominal garage fee do not like the change they are welcome to take their hotel business to The Dalles.
1935 — 80 years ago
There are a number of jobs available to women who are seeking work, according to Mrs. M.R. Catherwood, who is in charge of the Oregon State Employment Office, above the Franz Store, who suggests that all women who want work register at the office at the earliest opportunity. This office is now the clearing house for employment under the State plan and is in no wise connected with indigent relief.
Labor Day brought with it the closing of Cloud Cap Inn and this popular resort will remain closed until next year. Mrs. Dorsey Smith states that, during the past season, attendance at this mile-high resort has been much larger than in recent years, and a number of Hood River residents have taken advantage of the opportunity of enjoying a few days' rest in the keen air of this, the oldest of Mount Hood inns.
1945 — 70 years ago
Negations for a long-term power contract between the Hood River Electric Cooperative and the Bonneville Power Administration were completed on Friday when the board of directors of the cooperative executed a contract presented by H.R. Richmond, manager of Bonneville's Mid-Columbia district office. The cooperative plans to invest approximately $90,000 in distribution facilities to serve initially about 356 members. It is hoped service will start Jan. 1, 1946.
For the first time in a number of years, rain fell on Labor Day and the following day and, while it was appreciated by fruitgrowers, it did stop the picking of Bartlett pears for a couple of days — also for the first time in a number of years. As a result of the suspension of all orchard operations, the crowds in town were the largest seen in several years and all local stores did a capacity business.
1955 — 60 years ago
Proposed construction of a $440,000 furnished building to replace May Street School is expected to be voted on by the city district three early next month. The proposed structure would increase the number of classrooms from nine to 14 and would provide a cafeteria for a hot-lunch program and facilities for large banquets of a community nature, the school board explained.
Total enrollment in county schools exceeds that of last year but is not as great as anticipated, reports Superintendent George Corwin. Enrollment of 2,117 on Tuesday compares to 1,990 last year. Elementary registration is 1,491 and high school 528. Wy'east enrolment is 482 — 16 more than last year — and Cascade Locks has 130 elementary and 44 high school.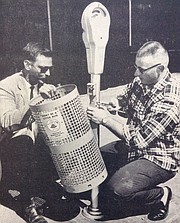 1965 — 50 years ago
Complete revamping of Hood River's city street names and numbers, effective Jan. 1, 1966, was ordered Tuesday night by the city council. They passed the motion without dissent after listening to a crowd of some 50 persons express views, pro and con, at a public hearing. The city council action brought both local government units in line behind the change.
Joe Laraway of Hood River topped all other fruit growers in open divisions at the state fair this week by winning the sweepstakes prize in horticulture for the best box of fruit. His box of Bartletts won the prize in its own category, then Laraway went on to top all other growers of all types of fruit. Bob Merz of Parkdale was another sweepstakes winner in horticulture. He won the potato trophy for his Burbank entry. Joe Sheribon and Dick Goe also collected blue ribbons for some of their entries.
1975 — 40 years ago
Cash and pledges went past the $9,000 mark early this week in the campaign to erect bleachers at the new Hood River Valley High School football field and track. Total monies secured so far puts the drive at over the halfway mark. Estimated cost of the 1,200 seat facility is between $15,000 and $17,000. Hood River Rotarians are directing the fundraising efforts. Co-chairman are Ken Medearis and Dick Nafsinger.
Hood River County Board of Commissioners were scheduled Monday night to either accept or reject a proposal to establish a mobile home zone in Odell. Instead they remanded the proposal to the County Planning Commission for consideration of a buffer zone. The proposal to establish a 30-acre site for 120 mobile homes on Chevron Road first went to public hearing before County Commissioners Aug. 18.
1985 — 30 years ago
Nearly half the tourists visiting Oregon in 1984 poured into the Columbia River Gorge and Portland areas — double the percentage reported in 1983, according to a Mid-Columbia Council of Governments report. With large numbers of those visitors drawn to Hood River by the local sailboarding phenomenon, members of the Hood River Port Commission were looking to the future — and hoping Wells Island would be included in that.
On Tuesday of this week, a production crew was shooting near Husum on the White Salmon River, making a commercial for Wrigley's gum; and next week a movie crew will roll into Cascade Locks to shoot scenes for a science fiction film entitled "Short Circuit." Port officials were told as many as 100 persons will come to Cascade Locks to shoot an action scene in the film, described as a family adventure movie.
1995 — 20 years ago
By the time more than 500 swimmers made the 30 to 40-minute trek across the Columbia River Monday, Hood River County Chamber of Commerce manager Tina O'Banion had already logged hundreds of hours organizing the popular event. And when the last swim cap was put away, O'Banion concluded a 20-year tenure as the organizer of the Roy Webster Columbia River Cross Channel Swim. O'Banion is retiring from her chamber position in November.
Hood River City Police won't have to go far when they set up in their new digs next week. The police station will move three blocks north to its newly remodeled offices at 216 Cascade, formerly the law offices of Parker, Bowe and Blakely.
2005 — 10 years ago
Gas prices jumped every day last week after eight Gulf Coast refineries were taken off-line by Hurricane Katrina. Motorists often grew angry when pulling up to the pump and seeing the price of regular fuel teetering near $3 per gallon — or even higher at some stations.
Russeting took the polish off the Bartlett pear cropped picked in August in Hood River County, but growers are hopeful for a hearty harvest of Anjous, starting this week. As Bartlett picking ends in most of the valley, the age-old problem known as "russeting" is widespread, diminishing the marketability —but not the taste — of the pears.
— Compiled by Trisha Walker, news staff writer