Originally published September 12, 2015 at midnight, updated September 12, 2015 at midnight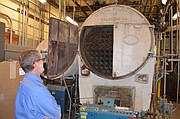 The century-old steam boiler at Hood River Middle School is now no more than a massive metal relic.
Principal Brent Emmons stands next to the boiler, the 1927 building's original heating unit, located in the basement. The boiler broke down last spring and needs to be replaced – but not just the boiler. The entire steam pipe system is too antiquated to replace or upgrade, according to a consultant who briefed School Board on Wednesday.
The plan is to install a used boiler from Gaston School District that will heat the school for five years, giving the district time to develop a longer-range plan.
In the meantime, the district will lease a temporary boiler that will sit on a flatbed truck on the south side of the building, to be hooked up this fall by the time cooler weather hits.
Emmons said steps will be taken to minimize the impact of noise and demolition activity on student learning. The old boiler will be cut up and removed.