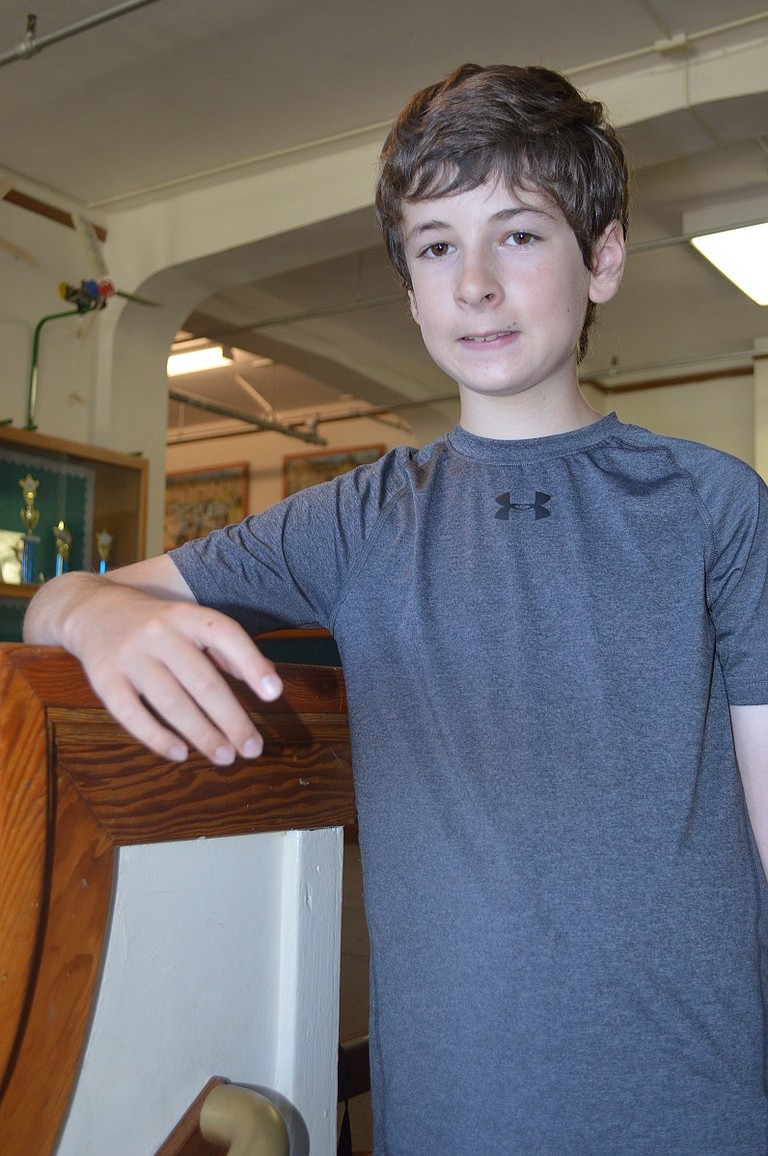 Wednesday, September 16, 2015
Sixth-grader Sean Counihan won the elementary division in the 7th annual Oregon Statewide Spelling Championship Sept. 5 at the Oregon State Fair, sponsored by Oregon Spellers.
Sixty-two spellers came from 26 counties and tested their spelling prowess in written format, and a "just for fun" verbal spelling bee drew crowds as children, teen, and adult fairgoers competed on stage before a panel of judges. (Hood River's Jacob Kaplan took third in the "just for fun" junior division.)
Words such as phosphorescent (a type of luminescence), sphygmomanometer (a blood pressure cuff) and irascible (easily angered) were par for the course for Oregon's best spellers.
"It was kind of tense, a little tough," said Counihan, a sixth-grader at Hood River Middle School, who qualified by winning the grades 1-5 contest in Hood River last spring. His parents are Jen Bayer and Tim Counihan.
"I had fun. I'm mostly surprised that I won," he said.
"Most of the words I didn't have too much trouble with, but once we went to tie breakers, the words got tougher. I'm pretty sure everyone was 'oh my gosh, oh my gosh' at some of the words. I didn't know who was in the tie breaker, who was breaking the tie, so that made it kind of tense."
The Oregon Statewide Spelling Championship is a written contest, not an oral bee. Contestants came from around the state after winning local and county spelling competitions. Contestants spelled one word at a time on paper, so Counihan does not know which specific word won it for him, but he thinks it was tessellate (to form or adorn with mosaics).
"It got a whole bunch of kids out in the first round," he said
"For a while, it was more about handwriting than spelling, because my wrist got broken (earlier in the summer)," Counihan said. "But things worked out well, having the brace off just in time for the test. My hand was still a little weak. I just went a little slower," he said.
To prepare for the event at the fair, all summer Counihan and his father did spelling tests "every day or every other day," 20 words at a time, using a list provided by Oregon Spellers Association, words they were told might be on the test. "They were really hard words," he said.
During the Spelling Championship, students competed in one of three divisions: elementary, middle, or high school. All participants, in each division, received the same words. Marianne Holtzinger, the emcee, pronounced each word, used it in a sentence, and then repeated the word again. The audience was invited to test their skills by spelling the contest words along with the students. First, second, and third place winners received monetary prizes, which were provided in part by the program's fiscal sponsor, the Oregon Association for Talent and Gifted.
Following the Championship, Oregon Spellers held its third annual Bee at the Fair — a "just for fun" verbal spelling bee. KATU's Emily Sinovic, sporting bee antenna, was the emcee for the event. She pronounced the words, used the word in a sentence, and repeated the word. Twenty brave children participated in the junior division and the teen/adult division had 26 spellers competing on the Creative and Artistic stage in Columbia Hall, which was filled to capacity. Family, friends, and spectators held their collective breaths as the spellers attempted their words. First, second, and third place winners were awarded prize bags and everyone who participated received a goody bag of Smarties, Nerds, and a Dairy Queen coupon.