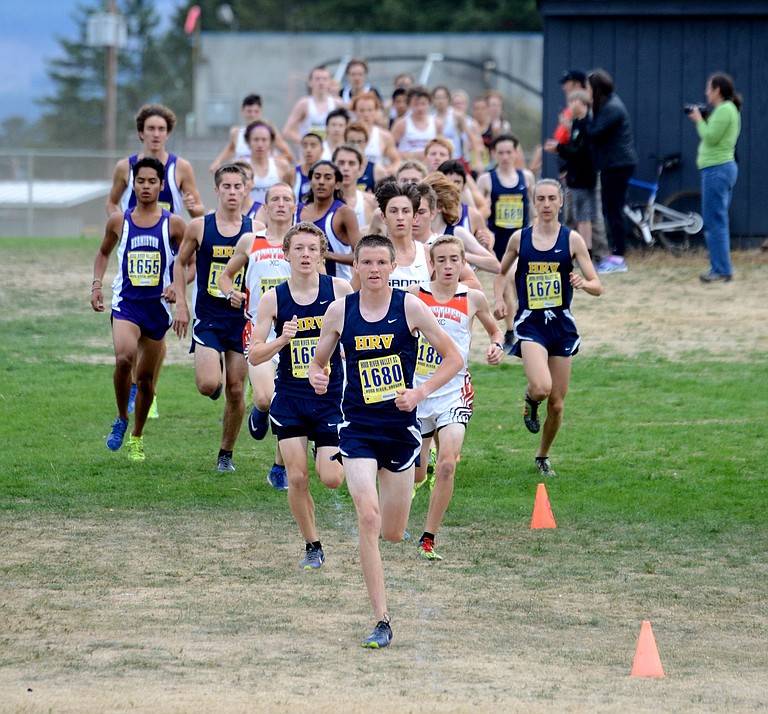 Saturday, September 19, 2015
It's only a few races into the cross country season, but on the heels of an all-around excellent HRV performance at a pair of invitationals this past week, the Eagles already look like they're in peak form.
After both the boys and girls varsity teams took first place at the Ultimook Invite on Sept. 12, the HRV harriers doubled down and pulled off the same feat at the Skip Sparks Invitational in Hood River this Wednesday, taking first place in front of a pumped-up crowd at Henderson Community Stadium. The girls competed against full teams of Hermiston, Sandy, Washougal, and Kennewick, while the boys competed against the same teams as well as Weston-McEwen and County Christian.
HRV RESULTS
Boys:
Justin Crosswhite (1st, 16:13.67), Quinn Fetkenhour (2nd, 16:30.28), Jesse Wiley (3rd, 16:36.42, PR), Jacob Bromham (13th, 17:16.17, PR), Connor Truax (15th, 17:54.32), Finn Peterson (18th, 18:21.31, PR), Muir Emmons (24th, 18:48.80)
Girls:
Lauren Robinson (1st, 20:13.18), Daisy Dolan (2nd, 20:20.40), Josie Peterson (5th, 21:14.80, PR), Victoria Kohner-Flanagan (11th, 22:20.11, PR), Sophia Marble (12th, 22:20.39), Natalie Lapierre (16th, 22:49.19, PR), Denali Emmons (21st, 23:36.42)
Photo Gallery
Skip Sparks Invitational 2015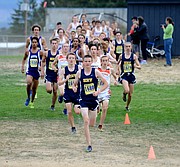 "Photos from the Hood River Valley Eagles' boys and girls cross country teams' victories at the Skip Sparks Invitational held Wednesday at Hood River Valley High School. All photos by Ben Mitchell."
"It's very impressive for back-to-back wins," said HRV coach Brandon Bertram. "It shows our depth and strength right now."
The HRV boys, who went 1-2-3 in the varsity race, scored 34 points, while the HRV girls scored 29. For the second race in a row, both the boys and girls bested their formidable Columbia River Conference Rival, the Hermiston Bulldogs, whose boys and girls teams came in second with respective scores of 42 and 40 points. While the HRV girls did a good job of scattering Hermiston's top runners, the boys had to deal with a tight Bulldog pack of five runners who finished in sixth, seventh, eighth, tenth and 11th place and were less than 17 seconds apart from one another. Halfway through the race, Bertram said Hermiston was actually beating HRV, but ultimately, the Eagles boys were faster, with Justin Crosswhite, Quinn Fetkenhour, and Jesse Wiley placing first, second, and third, respectively.
Bertram praised his athletes for their performances, but was cognizant of the fact that the team still needed to keep training hard, as beating the Bulldogs twice in the span of a few days had placed a giant target on the Eagles' collective backs for Hermiston to aim at during the final races of the season.
"It's obviously a huge confidence boost, because Hermiston is a good team," he said of HRV's finish, "But we're also aware that Hermiston, like us, tends to run fast at the end of the season… they'll be ready for us."
Though there were some threatening clouds in the sky on Wednesday, the rain held off and nearly absent winds coupled with temperatures in the high 60s made for some perfect running weather and great times for the runners.
Crosswhite, a senior and a captain of the boys team, led for nearly the entire race, completing the 5K in 16 minutes, 13.67 seconds. He was followed closely by classmate and fellow captain Fetkenhour (16:30.28) and Wiley, a junior (16:36.42).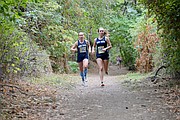 "He likes to get up front and be there and he likes to control the race," Bertram said of Crosswhite, who also won the race last year. "If you want to beat him, you have to run his race."
The boys saw improved times from last year's event and Bertram said he was particularly pleased with Wiley, who, like others, saw their summer training paid dividends with a time on Wednesday that was a personal record and over a minute and a half faster than last year's race time. Bertram also said that Jacob Bromham, a junior, also had a good race, setting a personal record with a time of 17:16.17 that was over a minute faster than his 2014 Skip Sparks race.
For the girls, captain Lauren Robinson had the fastest time, completing the race in 20:13.18, which was good for first place and almost 30 seconds faster than her last Skip Sparks appearance. Junior Daisy Dolan was just one place and seven seconds behind and her 2015 time of 20:20.40 was a 50-second improvement over the previous year.
But Bertram was especially impressed with the performance of frosh Josie Peterson who was the fastest of any freshman on the course, running a 21:14.80 and placing fifth overall.
"One of our themes this week was running through fatigue. Being able to run well when you're tired is a big piece of distance running," he said. "Peterson was very fatigued; I could tell within the first half-mile. But that's a big part of the girls running well was her being able to run well when she was fatigued."
The Eagles get some well-deserved rest this weekend and then will head to the Portland Meadows racetrack on Sept. 26 for the Nike Portland XC race (formerly known as Nike Pre Nationals) that Bertram said will provide HRV with good competition "against a lot of big teams."
Other races:
The Skip Sparks Invite was far more than just two varsity races: JV, middle school, and even elementary races were held Wednesday afternoon. And like in the varsity races, local teams dominated in the younger-level competitions. Both the boys and girls JV teams took first overall with respective scores of 41 and 24. In the middle school races, which were 3,000 meters in length, Hood River took first in the girls race (29 points) and first in the boys race (31 points).
The elementary race also went well, with approximately 100 kids in attendance. No times were kept from that event, with Bertram commenting that "the only result you needed was a smile at the finish, and we had plenty of those."
Bertram also wanted to thank all who helped out with the event, noting that it was a "community project" that couldn't have been pulled off without everyone's support.