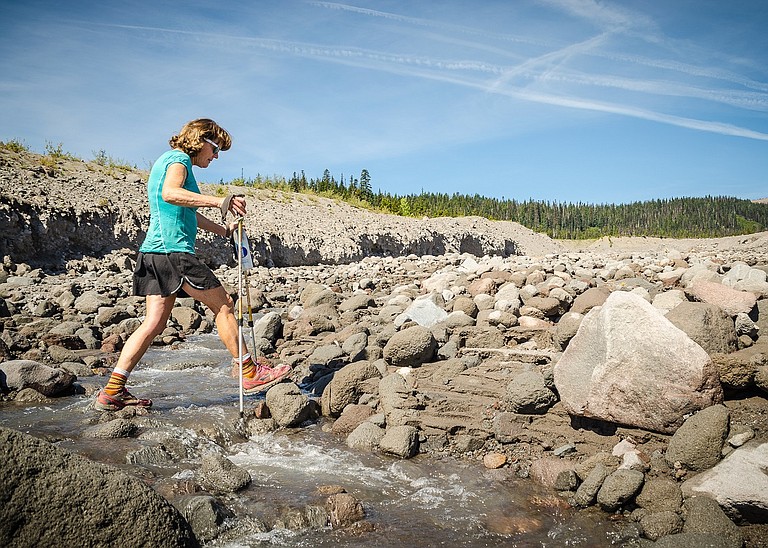 Wednesday, September 30, 2015
When I found myself jobless at the end of May, I decided to follow a long-held dream to solo-hike sections of the PCT (Pacific Crest Trail). Over these past three months then, I have lived mostly in my tent, while logging some 1,200 non-contiguous miles on the PCT. Doing so has awakened in me a deeper sense of self, an insatiable love of the outdoors, and a greater awareness of how in solitude, the wilderness is teacher, healer, and confidence builder.
Trail names are a common aspect of the PCT, given to hikers based on some unique happenstance on the trail. I was given the trail name Jelly Beans because of my affinity for these flavorful treats.
While there's no typical day on the PCT, here is a page taken from my journal while I was hiking the Sierra Nevadas of California, that gives a small peek into a day in the life: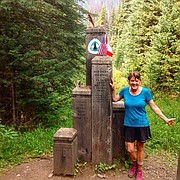 July 7, 2015
4:30 a.m. — As the first sliver of dawn permeates my tent, I am gently awakened to birdsong and the forest rustlings of a new day.
5:30 — I unzip my tent door, and shiver when a sheath of ice slides down my rain fly. Brrrr! But I am heartened by the sun's rays, so I crawl out my tent and retrieve my food-filled bear canister (required while hiking in the Sierras) from its nearby perch. On this frigid morn, my numb fingers struggle to maneuver the lid's locking mechanism, and several minutes of aggravation pass before this hungry hiker is able to access her food.
6:00 — I move quickly to keep warm: breaking camp, packing up and simultaneously eating a bagel slathered with peanut butter.
6:30 — Stuffing two protein bars into my coat pocket for a midmorning snack, I heft my 32-pound pack onto my back and set off, having tied my wet rain fly, cape-like, onto the outside of my pack, so that it might begin drying as I walk.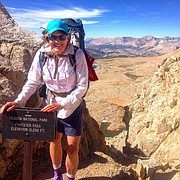 9:30 — I rock-hop across a rushing creek, but slip midway and find myself struggling as the icy, forceful water pushes me downstream. I'm relieved to finally make it across, and as I stoop to refill my water bottle, I am soon joined by thru-hikers (those hiking the entire 2,650 mile PCT from Mexico through to Canada): Hobbit Feet (from South Africa), Doc (from Germany) and Big Bird (from San Francisco).
10:15 — After a pleasant chat with my supportive trail family, we separate and continue north, each marking our own pace, mindful of the PCT mantra to "HYOH: Hike Your Own Hike."
11:30 — A lightning storm breaks out as I climb a mountain pass. I hurriedly pull on my rain gear, counting the seconds between lightning and thunder, so as to determine when it is safe to continue over this exposed ridge.
1:00 p.m. — As soon as I'm safely over the mountain pass, I stop for lunch, giving my feet a much-appreciated break. The rain has abated, so I spread my down sleeping bag (damp from last night's condensation) on a large rock to dry, while I plop on a nearby log, savoring a tortilla with cheese.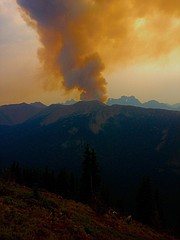 2:30 — The PCT crosses a forest road, where I encounter a Trail Angel (a stranger providing an unreciprocated act of kindness to hikers), offering Trail Magic (the gift of food or drink appearing on the trail). Pat has fresh fruits, homemade brownies & potable water for all hikers passing by. I am touched by the outreach of this stranger and am soon filled with both gratitude and her tasty treats!
3:30 — I traverse another narrow cliff edge as seems to be the daily norm in the Sierras. I carefully pick my way along the eroded sections, where a misstep could lead to a disastrous fall from this precipice. Truly, the PCT has forced me to confront my fear of heights, as my only recourse at such harrowing moments is to push through my fears — or to turn around and go home.
5:00 — I'm cold, wet, tired and ready to stop for the night, but find myself in a blustery, sodden lake basin, where I'd rather not camp. I continue walking then and soon spy a black bear and her two playful cubs in a nearby meadow. Watching the cubs tussle and romp brings to mind the wrestling antics of similarly youthful two-legged creatures.
6:30 — Twelve hours, two mountain passes, one lightning storm, a scary creek crossing, 11,000 feet of elevation change and 19 miles later, I choose a secluded wooded area in which to pitch my tent. Exhaustion vies with hunger as I change into my dry fleece layer, dig out my book, and nestle into my cozy sleeping bag, reading by headlamp.
8:30 — As the encroaching twilight brings closure to my day, I am filled with a deep peace, reflecting on today's challenges and obstacles, as well as on the trail family and trail angels who encourage me. In the stillness of the surrounding wilderness, I contentedly drift off as the woodland chorus sings me to sleep.
About the Author
A single mom of six adult children, Davidson is officially back home now in Hood River, re-assimilating to life off-trail, while actively job-hunting. Her backpack remains by the door, ever ready for its next adventure; and she's been spotted sneaking off to hike between job interviews. In recent years, when not exploring nearby trails in the Cascade Mountains or the Columbia River Gorge, Davidson's passion for hiking has meshed with her zest for travel, leading her to climb Mt. Kilimanjaro in Tanzania, backpack in Patagonia, trek the Torres del Paine circuit in Chile, explore glaciers in Argentina, and hike ancient Inca trails in Machu Picchu, Peru. You can read more about her escapades at lostinthewilds.blogspot.com.